Super Scotland dominate Run Stirling with seven sets of team golds !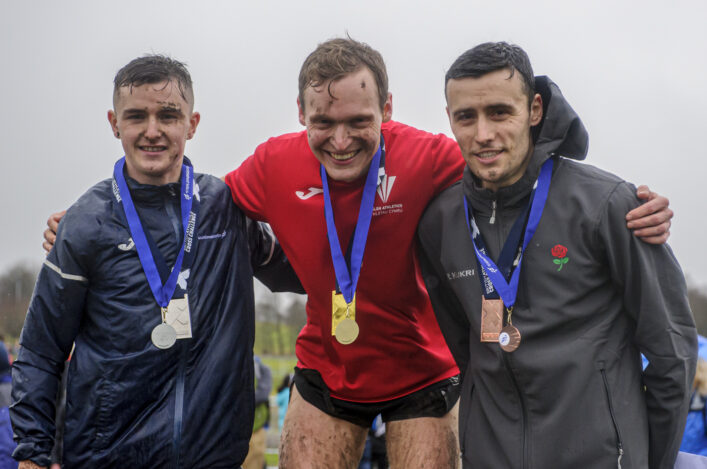 Home Countries XC International winner Kris Jones of Wales is flanked by silver medallist Jamie Crowe of Scotland (left) and Adam Hickey of England (all photos by Bobby Gavin)
*NOTE: We will have a separate report on Scotland U20 Women gold glory and a separate report on the Inter-District XC Champs (through Sunday and Monday).
Scotland re-wrote the Home Countries XC International history books to claim two sets of team golds despite appalling conditions underfoot and overhead at Run Stirling.
The Senior Men and our U20 Women won their particular 'Battles of Stirling' across the stamina-sapping mud and sodden turf of Kings Park.
There were a clutch on individual medals there and, in the Celtic XC International, Scotland delivered a raft of impressive performances to beat a regular path to the podium there, too.
In fact, overall, Scotland landed no fewer than seven sets of team gold medals out of 10 available!
Photos on Facebook by Bobby Gavin
Andy Butchart had insisted Scotland could 'dominate' in pre-race interviews and that forecast came good despite losing out personally on the top three as Welsh athlete Kris Jones, who lives in Scotland and represents Dundee Hawkhill Harriers, took gold.
Jamie Crowe delivered a fine personal performance to take silver and eclipse his Central AC team-mate Butchart, who was edged into fourth on the line by England's Adam Hickey.
But with Lachlan Oates of Shettleston home in sixth place (eighth overall), and crucially ahead of the third Welsh counter, Scotland took the Men's Home Countries XC golds for only the second time – to repeat the 2012 success of a team led in Glasgow by Derek Hawkins.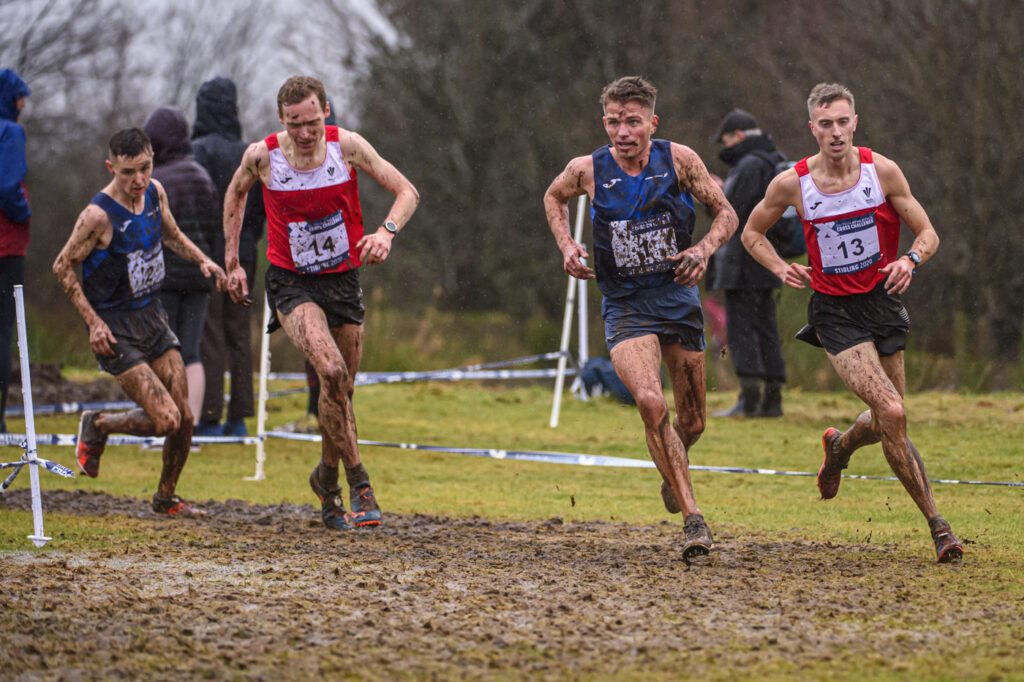 Mud-bath .  . . Andy Butchart and James Hunt are chased by Jones and Crowe in the Senior Men's race
'We're delighted to win the team golds and it was a really strong effort by the boys,' said Jamie.
'I've trained at Kings Park many times over the years, while at Uni in Stirling and with Andy Butchart with Central AC, and I've never seen it as muddy. I also train with Kris in Dundee, so I know how good he is.
'So I'm chuffed to get second place in that kind of race and it just takes things on a wee bit for me after good progress in 2019.'
Like Jones, Butchart was among the many fallers on a day when athletes competed against the course and the conditions as well as the opposition.
'I took the lead then took a really bad fall and so as soon as I hit the deck, I thought 'that's it',' said Andy.
'I wasn't that keen when I saw the course with it being so muddy. It was just a matter of if you were fit and you could stay on your feet, you'd win the race.
It was like an absolute mud-bath so you don't get any traction. Kris is really good at these kind of conditions, having been in the mountains and everything. He's so good in the mud so he's just going to run away.
'So it was a hard day and while cross country is fun I can't say I enjoyed that one.'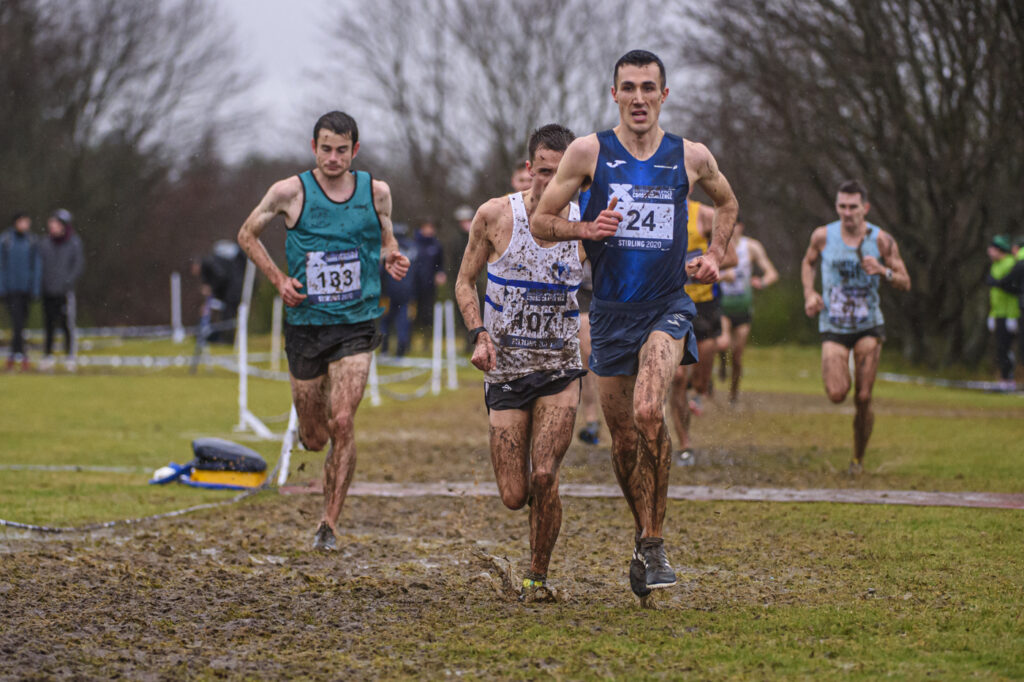 Ben Greenwood has a superb run to win the U23 Celtic gold medal 
Ben Greenwood of Perth Strathtay had a superb run to win the U23 Celtic XC individual gold and lead Scotland to success in that competition as he was backed up by Jack Leitch (Edinburgh Uni) and Hamish Hickey (Central AC).  James Donald backed up the counters.
'That's three decent cross country performances I've put together this winter and I'm really pleased with that one today against strong opposition,' said Ben, a track specialist at 800m not so long ago.
'It was a bit different from cross country in America, that's for sure. There you see people dropping out because it 30 degrees!'
GB international Kate Avery had looked favourite for the Senior Women's race and she justified that label to take gold from Abbie Donnelly and Bronwen Owen. Scotland's Mhairi Maclennan was just outside the medals in fourth.
'In terms of conditions, that plays to my strengths,' said Mhairi.
'I'm not where I want to be with fitness but it was so good to be back. I've had 4 weeks training uninterrupted now so it was so good to be out there, especially in Stirling.
'I could hear people cheering my name the whole way round and it was so motivating. I love racing here and I love racing against those girls so it was good to be back.'
'I'm training for a half marathon at the moment. I'm planning on doing the Barcelona half in mid-February which sadly means I'll miss the Scottish XC Champs which is really tearing at me heart strings to miss that.'
Annabel Simpson of Fife AC (ninth) and Nynke Mulholland of Inverclyde AC, in 10th on her Scotland debut, were the other counters, backed up by Fiona Brian of Metro Aberdeen.
Scotland took silver medals there in the Home Countries competition with England the clear winner.
Scotland U23 women won gold in their Celtic XC match in fine style with Zoe Pflug taking the individual silver and Holly Little the bronze.
Constance Nankivell was the third counter in fourth place to make it nine points to Ireland's 12. Kerry Macangus backed up the counters.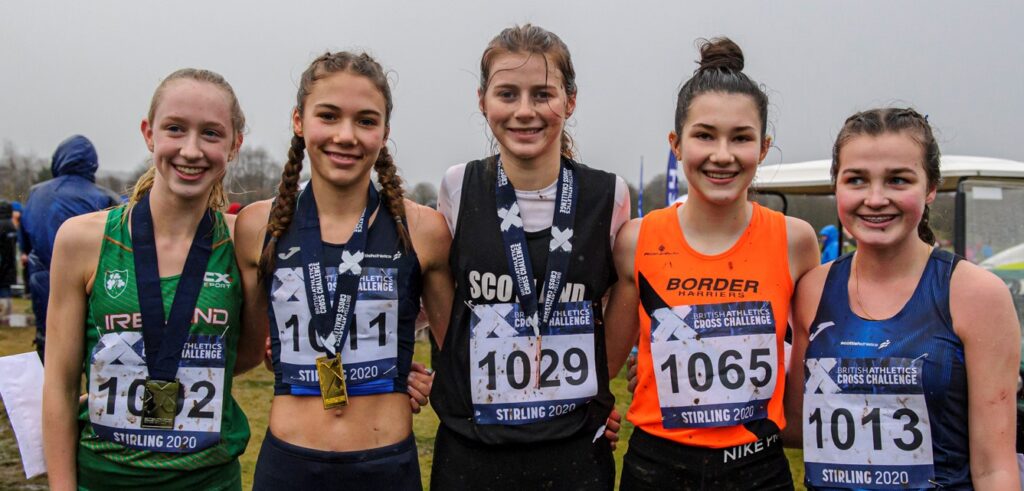 U17 Women line up with Anna Hedley (second left) winning that race 
It was a similar story at U17 level with again some terrific performances by athletes wearing Scotland vests.
Anna Hedley of Fife led the way emphatically in her race as she followed up a Liverpool Cross Challenge win with a clear victory here.
'I wanted to get out and get ahead and then keep pushing on because you don't know if others behind might be able to work together a bit,' said Anna.
'But I loved it today and it was a boost after the 3000m indoors last week, which knocked my confidence a little bit. I do love cross country and I'm pleased to win this one after also taking the victory in Liverpool.'
Meredith Reid of Glasgow School of Sport took a Celtic XC bronze in third and Julia Cash of Giffnock North for a team win with just eight points from Ireland and Northern Ireland. Anya Maclean backed up the counters.
The Men's U17 race saw a Celtic XC gold for Andrew McGill of Livingston on his Scotland debut. That helped lead Scotland to team golds there, too, with Harris Paterson of Giffnock taking a bronze medal as Lucas Cairns of Inverness finished fourth. Sam Griffin backed up the counters.
In the Men's U20 race there were silver medals for Scotland in the Celtic XC competition.
Ben Shaw of Giffnock was the first Scot home in 11th place and followed in by Christian Graham of Lasswade in 15th and Kristoff Hornyik of Dundee Hawkhill in 17th. Ryan Donald backed up the counters.
The team took bronze medals in the Home Countries event with England winning that race and North of England the bronzes.

Tags: Celtic International XC, Home Countries XC International, Kings Park, Run Stirling