'Home Countries teams at Euro Cross could help development' – Paula Radcliffe
'Exciting year ahead for athletics in Scotland' – Mark Munro
Paula Radcliffe has delivered her support for an ambitious blueprint which would see Scotland and the other Home Nations compete at the Euro Cross.
The issue has been raised with both British Athletics and European Athletics by the scottishathletics hierarchy over the past 12 months and early-stage discussions are on-going.
Under the plan, full teams from Scotland, England, Wales and Northern Ireland would compete at the annual Euro Cross event instead of the GB and NI selection which habitually dominates team medals.
Ian Beattie, chair of scottishathletics, and Mark Munro, chief executive, firmly believe that raising the prospect of 40 athletes competing at European level – with male and females teams of six at Senior, U23 and U20 plus the Mixed Relay – would be a massive incentive for those in contention and their coaches and clubs.
In short, it would significantly boost the already-thriving cross country scene in Scotland and help athletes gain valuable and enjoyable experience of European competition, either as a career high or a platform to further representation.
Radcliffe, who commentated on the 2019 event in Lisbon, has vast experience of the event and indeed won the Euro Cross gold at Senior level in Edinburgh back in 2003.
Guest of Honour at our FPSG Awards Dinner, Paula spoke about the plan in a video interview and then raised it during commentary from Portugal with Steve Cram.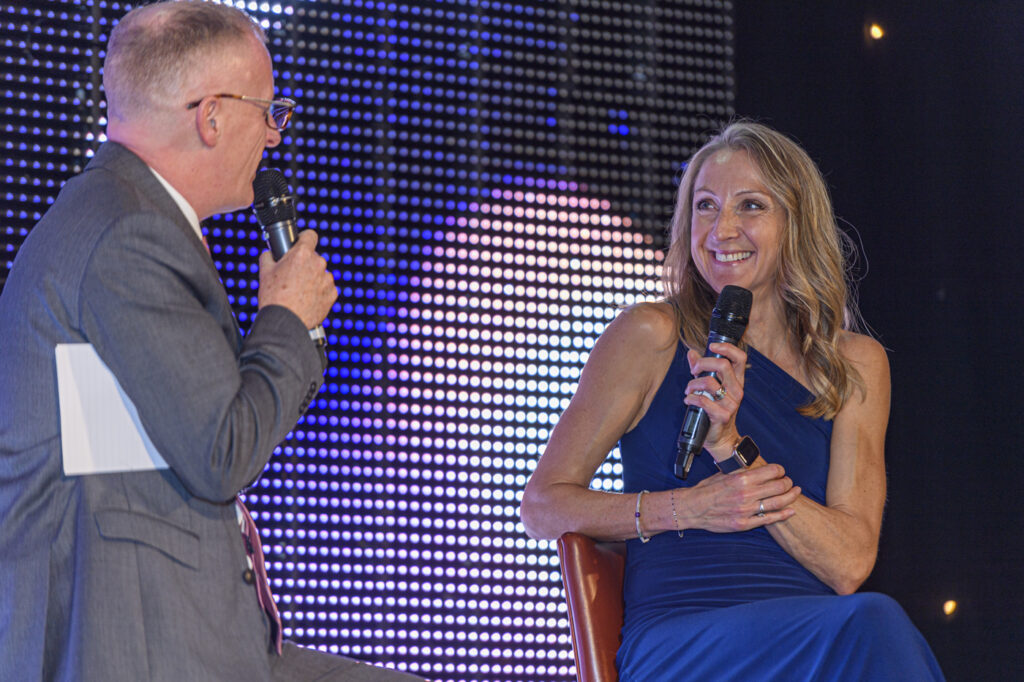 Paula Radcliffe chats with Bryan Burnett at the FPSG Awards Dinner (photo by Bobby Gavin)
'I absolutely think this idea could work for the Euro Cross,' said Paula.
'I guess it is kind of going back to where we were at one stage with Scotland and other Home Countries competing in the World Cross.
'With the depth of medals British teams have achieved, and the success there's been over the recent years, it is fair to say the event has become dominated by GB.
'I think this way it would spread it out a bit and give a platform to other Scottish, English, Northern Irish and Welsh athletes to move into teams and gain some experience of international cross country.
'And actually that is what the Euro Cross should really be about – an opportunity for athletes from European countries to gain experience of international competition before then looking to move up to the World Cross or to the Olympics and Worlds on the track.
'Clearly it would open that door for a number of other athletes from around Britain to get that chance and I think fundamentally that would be a good thing.'
Callum Hawkins and Andy Butchart have each won individual bronze medals at the Euro Cross in recent years while representing GB and NI while a whole host of Scots have won team medals.
Mark Munro said: 'Scottish development and success is recognised by British Athletics, who have also committed to find opportunities for more Scottish and home countries athletes to compete within a European context, potentially starting with the Euro Cross Champs. We will 'watch this space' closely.''
The plan has no bearing on GB teams at global track and field events like the Olympics and World Champs.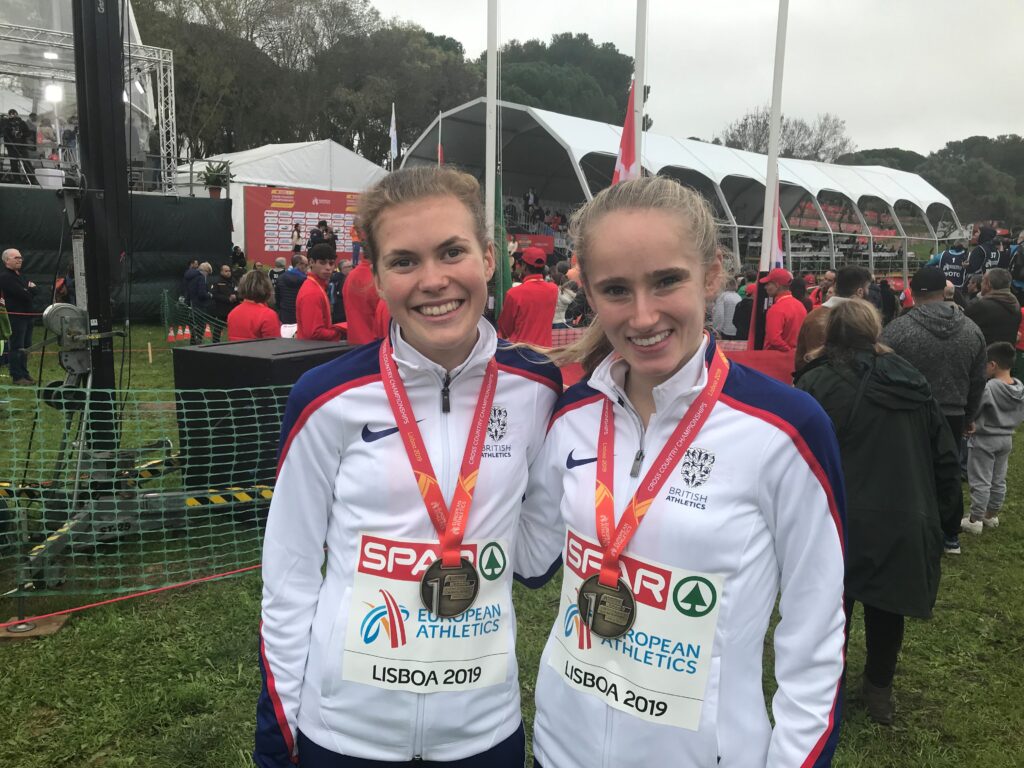 Megan Keith of Inverness Harriers and Cera Gemmell of Team East Lothian at the Euro Cross in Lisbon (photo by Mark Pollard)
Tags: Euro Cross, Ian Beattie, Lisbon, Mark Munro, Paula Radcliffe