Five go to Lisbon! Scots prepare for Euro Cross action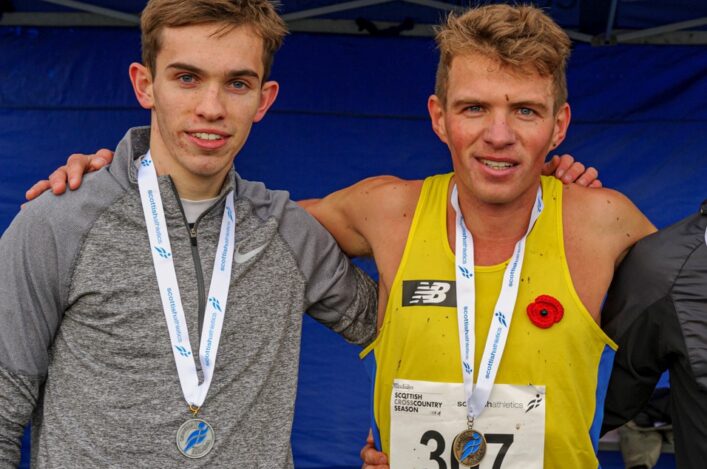 BBC Scotland coverage from Lisbon
Five Scots are headed for the European Cross Country Champs this weekend – with the cohort our strongest representation in the main races with GB and NI since 2104.
Former Euro Cross medallist Andy Butchart leads the GB team who will travel to Lisbon and he's joined by fellow Scots Sol Sweeney, Megan Keith, Cera Gemmell and Hamish Armitt.
Butchart was involved back in 2014 when six Scots formed part of the British team as Callum Hawkins went close to a medal when finishing fourth in the Men's U23 race.
The Central AC athlete won bronze at the Euro Cross in Samorin, Slovakia, back in 2017 and he was fourth the previous year when Hawkins won bronze in Chia, Italy.
Sweeney is with the Men's U23 team as he competes for the first time at this event while there are maiden GB vests for U20 Women Megan Keith of Inverness Harriers and Cera Gemmell of Team East Lothian.
Cera's delight at first GB vest – East Lothian Courier
Hamish Armitt of Giffnock North AC also wins his first representation at this level with a selection for the U20 Men's team for Portugal.
'It's great to have five athletes from Scotland on the team and at the trial in Liverpool there were probably three or four more who I imagine went very close indeed in the selection discussions,' said Sol.
'I've not been to a Euro Cross before and that's the same for Megan, Cera and Hamish so it is a positive for athletics in Scotland that we're getting new names .
'I was pretty close to the U20 team a few years ago and won a GB vest for Holyrood for the Great Edinburgh International XC off that performance but it is great to be part of a strong British team for Lisbon.
'It is a good way to end 2019 because the year didn't quite turn out as I had hoped or planned.
'There were some good moments, with a sub-four minute mile indoors at one stage, but I had a stress fracture towards start of the outdoor season and then an issue with my lung at the end of August and that cost me the British Champs.
'Training has been good for the past number of weeks though and the cross country season has gone well so far so hopefully I can run well in Portugal.'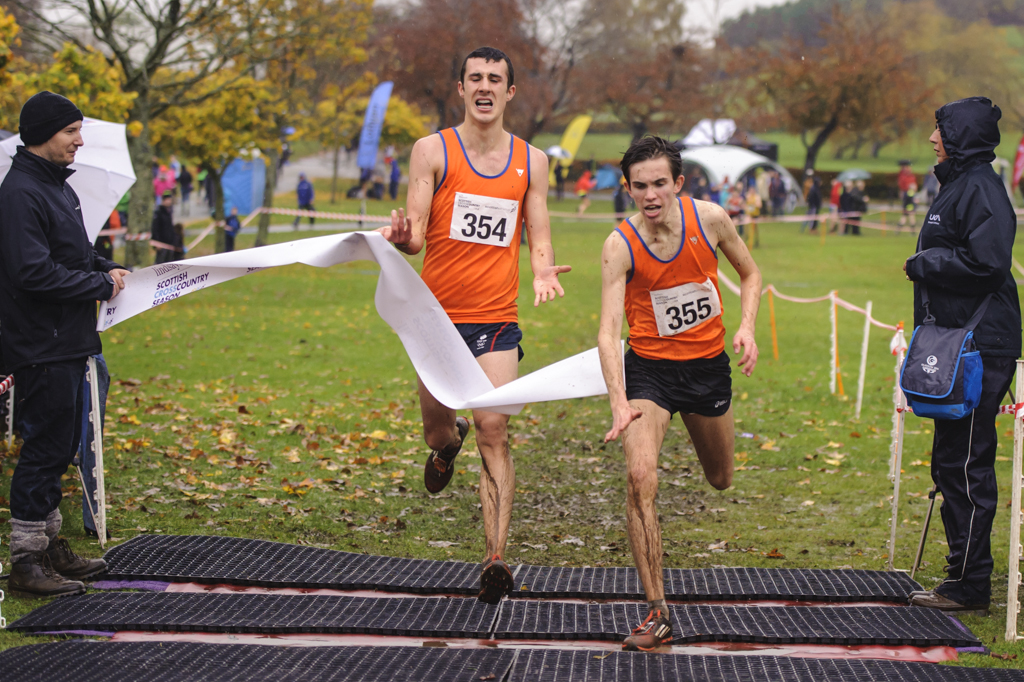 Back in the day . . . this was a Short Course XC U17 race at Bellahouston in 2015 and a Perth Strathtay 1-2 as Sol Sweeney pipped Ben Greenwood on the line (photo by Bobby Gavin)
Now regularly representing Glasgow Uni, where he is a third year Economics student, Sol started out some years ago with Strathearn Harriers before moving to Perth Strathtay when around the age of 14.
Ben Greenwood became a regular training partner and with the 800m runner having been fourth at the 2017 Euro U20 Champs on the track (as well as also competing at the World Youths and winning bronze for Scotland at the Commonwealth Youth Games in 2015, this weekend's Euro Cross appearance for Sol completes a great double for the Perth club.
'I started out with Strathearn and was probably about 14 when I joined Perth Strathtay Harriers. I came more from XC background and Ben was quicker on the track with his 800m speed.
'I would say he pushed me on at that time and then after a few years I was maybe pushing him on in XC sessions.
'We've had different paths in terms of Uni and Ben going to America for a spell but we've both had some injury issues in the past year or so and it was good to see him win the East League XC meeting at Broxburn recently.
'Perth Strathtay are a good club and I guess it is really nice for them to have seen the way we've both developed.'
As well as the Scottish quintet, Welsh athlete Kristian Jones, of Dundee Hawkhill Harriers, is named in the Senior Men's team, too.
*Moira Stewart, the Cambuslang Harriers athlete who represents the Czech Republic, will also compete in Lisbon for her mother's homeland. Moira took silver at the Lindsays National XC back in February and won the Czech national title last week.

Scots on the GB and NI team for Euro Cross on Sunday 8 December in Lisbon
Senior Men
Andrew Butchart (self-coached; Central)
(Kristian Jones (Swansea/Dundee Hawkhill Harriers)
U23 Men
Sol Sweeney (Andy Young; Perth Strathtay)
Junior Men
Hamish Armitt (Giffnock North)
Junior Women
Cera Gemmell (Henry Muchamore; Team East Lothian)
Megan Keith (Ross Cairns; Inverness)

Tags: Andy Butchart, Cera Gemmell, Euro Cross 2019, Hamish Armitt, Lisbon, Megan Keith, Sol Sweeney