SWiS award success; Mel Edwards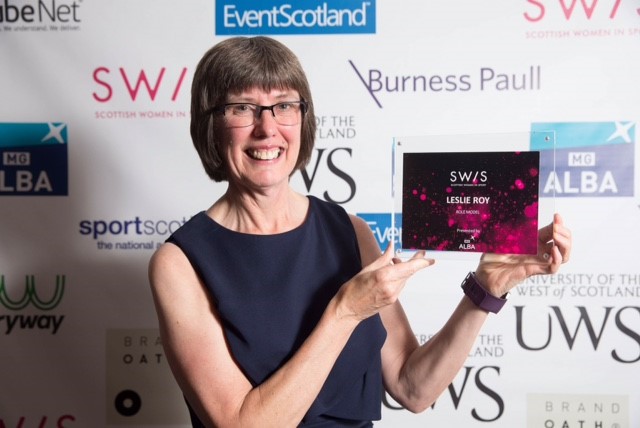 Leslie Roy displays her SWiS Role Model of the Year award (photo by Jeff Holmes)
The Scottish Women in Sport Awards in Glasgow proved a great night for our partners, jogscotland, and a couple of well-known names in athletics.
With a series of nominations across a number of the main award categories, the gathering in a Glasgow hotel for the SWiS 2019 Dinner was always liable to be a special occasion for our sport.
And Leslie Roy, our President for eight years up to last month's AGM, emerged as the MG Alba Role Model of the Year award as great recognition for her sterling efforts.
jogscotland were the winners in the Frame Innovation in Sport award, and jogging group at Dundee International Women's Centre were short-listed for Kubenet Communities Club of the Year.
Among the achievements noted in the nomination for the Frame Innovation in Sport award was the work done by our Community Strides project, which has seen women from BME (black & minority ethnic) communities in Dundee and Edinburgh supported to become more active.
Inverness Harriers athlete, Megan Keith, took the sportscotland Young Sportswoman of the Year award, with Megan currently combining her athletics with an impressive orienteering career.
There were also short-list places for Laura Muir, Law and District AAC official Sadie Newell and jumps coach Linda Nicholson.
+++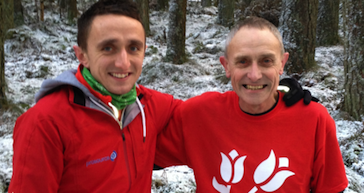 scottishathletics send our condolences to the family and friends of Mel Edwards, who has passed away at the age of 76 after fighting cancer.
He was the Aberdeen athlete who kept racing against the clock, setting new milestones and proving that age is just a number.
And he was also the man with the initials MBE – Meldrum Barclay Edwards – who ended up receiving an MBE for his services to sport and charity.
When his son, Myles, was married just last month, Mel found the inner strength to attend the wedding in Aberdeenshire, where he delivered a "powerful" speech.
Mr Edwards was born in the Granite City in 1942 and graduated in civil engineering from Cambridge University.He subsequently enjoyed a prodigious international career,  locking horns with many of the greatest names of his generation, including Commonwealth medallists Lachie Stewart and Ian McCafferty.
Renowned for his intensive training regimes of around 100 miles per week, his marathon personal best time of two hours, 18 minutes, 25 seconds would still place him high in the contemporary British rankings
Read more here about Mel Edwards.
+++
Tags: jogscotland, Leslie Roy, Mel Edwards, Scottish Women in Sport Awards