District XC Relays entries; Scottish Half medals; Glasgow XC sessions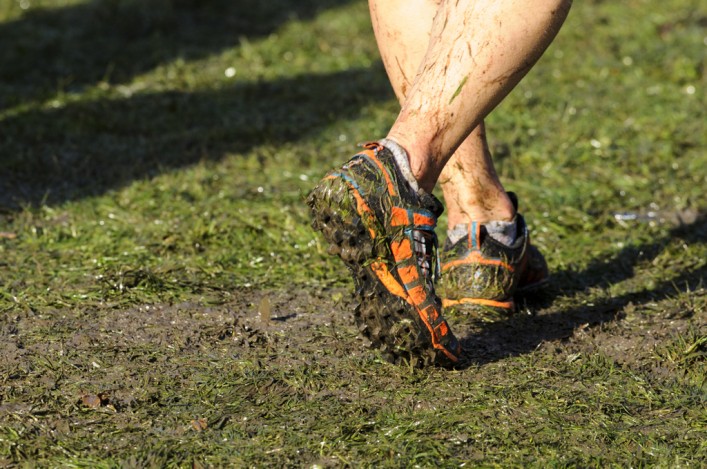 The District XC Relays are now looming large and we want to thank clubs, athletes and coaches for your support.
Entry lists show a remarkable 2563 names for the races across the three venues around the country on Saturday 12 October.
It's up by almost 40 athletes on last year and demonstrates once again a commitment to competition by clubs which has put cross country in Scotland in a good place in the past few years.
In fact, there were significant rises in numbers for the events in the East at Livingston and in the North at Gordonstoun, with only a drop in the West at Kilmarnock.
All the information around each of these events is listed on the dedicated pages on our Events Section and entry lists are now lodged there, too. Courses maps and event information downloads can be viewed.
Each event features four races – Young Females, Young Males, Junior/Senior/Masters Women and Junior/Senior/Masters Men.
+++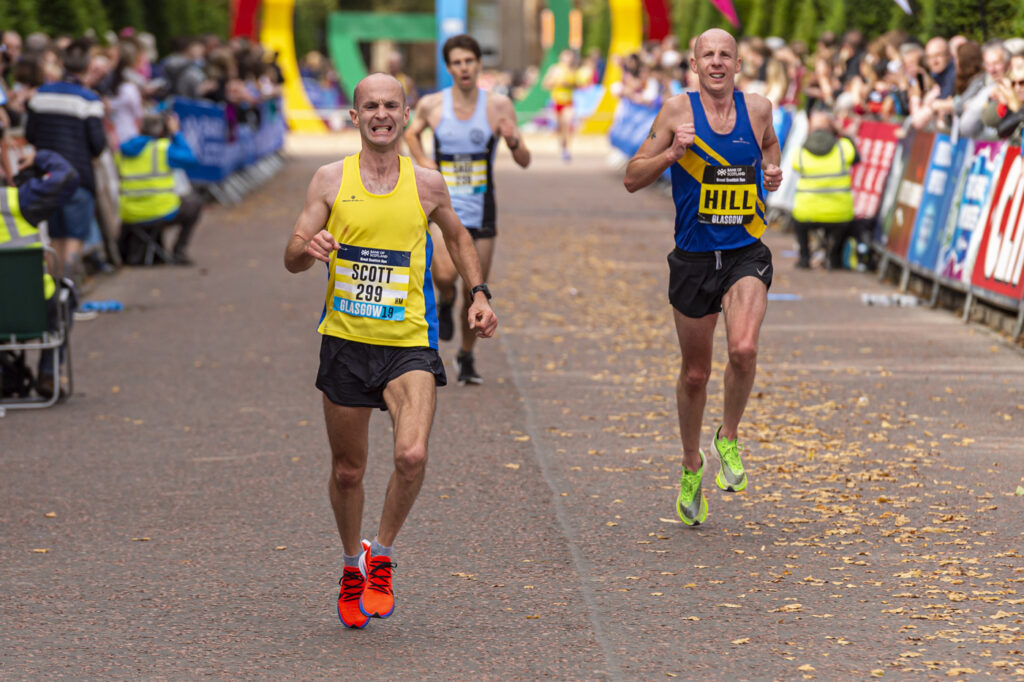 Central AC's Scott Brember on his way to M40 gold at the Scottish Half Marathon Champs (photo by Bobby Gavin)
Great Scottish Run report – with link to all results
Bellahouston Road Runners are our Women's team gold medallists in the Scottish Half Marathon Champs.
Following on from the Great Scottish Run in Glasgow last Sunday, we're pleased to confirm a few more medal positions (with the recipients to be contacted in due course with their medals).
Bellahouston Road Runners took the Women's golds by a single point thanks to the efforts of Catriona MacDonald, Ann Robin and Katie Mathieson. Edinburgh AC just missed out, as they landed the silver, with the bronze medals headed for Garscube Harriers.
We have previously confirmed that Shettleston Harriers won the Men's team golds with the silvers won by Fife AC and the bronzes by Cambuslang Harriers.
In accordance with a new approach to road races, we now award Masters medals in 10-year age brackets.
Scottish Half Marathon medals will be awarded thus:
M40: 1 Scott Brember (Central AC) 71.02; 2 Donnie McDonald (Inverness Harriers) 71.15; 3 Kenny Campbell (Cambuslang Harriers) 71.24
W40: 1 Avril Mason (Shettleston Harriers) 79.05; 2 Ann Robin (Bellahouston Road Runners) 86.33; 3 Karen Kennedy (PH Racing) 88.18
M50: 1 Duncan Ryan (Perth RR) 78.38; Howard MacIver (Stornoway RAC) 78.54; 3 James Mayers (Musselburgh AC) 81.50
W50: 1 Ana Richardson (West End RR) 87.10; 2 Claire Mccormick (Bellahouston Harriers) 98.03; Gail Murdoch (Carnegie Harriers) 98.37
M60: 1 Andrew McLinden (Hamilton Harriers) 85.26 2 John Crookston (PH Racing) 85.28; 3 Des Dickson (Cambuslang Harriers) 89.05;
W60: 1 Liz Dawson (Annan and District) 1.53.47; 2 Maria Dale (Perth RR) 1.55.59; 3 Lana Hadden (Metro Aberdeen) 2.01.03
With thanks to John Rodger and Ron Morrison
+++
The Glasgow Athletics Association have once again set up a schedule of XC Sessions for the winter period.
Six in all are planned between mid-October and early February with the clear plan being to prepare athletes for the Lindsays National XC at Falkirk in February next year.
Saturday 18 October is the first date with the venue being Bellahouston Park and will involve up to 10 x 3 minute reps with 90 seconds recovery.
At all sessions, athletes should arrive warmed up ready to go for 10:30am start.
Pre-Christmas dates and venues:
Saturday 18 October – Bellahouston Park;  Saturday 2 November – Pollok Park;  Saturday 16 November – Tollcross Park
All of the GAA sessions are suitable for athletes U15 and upwards.
+++
Tags: Bellahouston Road Runners, District XC Relays, Gordonstoun, Great Scottish Run, Kilmarnock, Livingston, Scottish Half Marathon Champs