Scots land three sets of team golds in Wales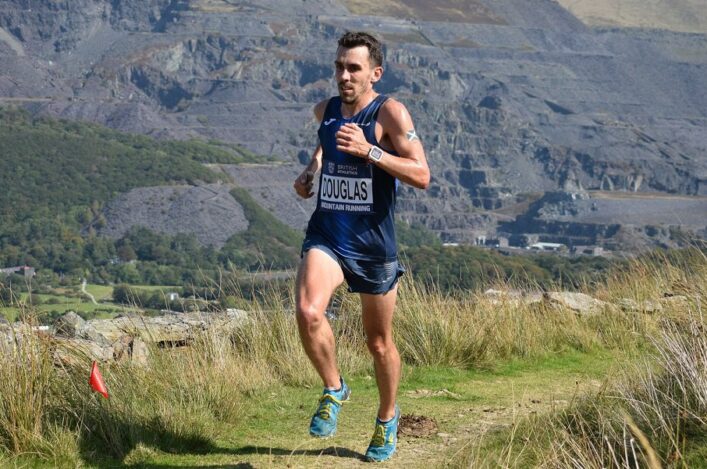 Andy Douglas on his way to the win at Llanberis (photo via British Athletics)
From Bill Breckenridge in Wales
Photo album on Facebook by Graeme Dunnett
The annual British Athletics Mountain Running Championships took place on the hills surrounding a very sunny and unseasonably hot Llanberis in the heart of Snowdonia.
Saturday's races also incorporated the trials for the World Mountain Running Championships.
The Scottish team was a mix of youth and experience with Hamish Wolfe, James Dunn and Hamish Battle picking up senior Scottish vests for the first time and Catriona Graves and Caroline Marwick doing likewise for the ladies.
None of these competitors are strangers to racing in the hills, though, and all their experience was required as they negotiated a very testing 12.5k and 710 meters in very hot and fast conditions.
British Athletics website report with link to Results
It fell to the most experienced team member to lead by example and Andy Douglas did just that. Despite the weight of expectation he hit the front early building a commanding lead and crossed the finishing line over two minutes ahead of his nearest rival Joe Steward from England.
Some intelligent pacing by James Espie secured sixth place ahead of team counters Hamish Wolfe in 9th and Gavin Bryson in 12th.
The rest of the Scottish sextet, James Dunn and Hamish Battle, ran strongly to finish 14th and 22nd respectively. Scotland men thus did more than enough in an excellent collective performance to take gold medals in the team prize ahead of England with Wales in third.
Experience seemed to count equally for the Scottish women with seasoned competitors Miranda Grant and Jill Stephens leading the charge.
With only four athletes competing, the women could not afford any mistakes and they did not disappoint. Brave runs also from Catriona Graves and Caroline Marwick secured much deserved silver medals in the team competition behind England.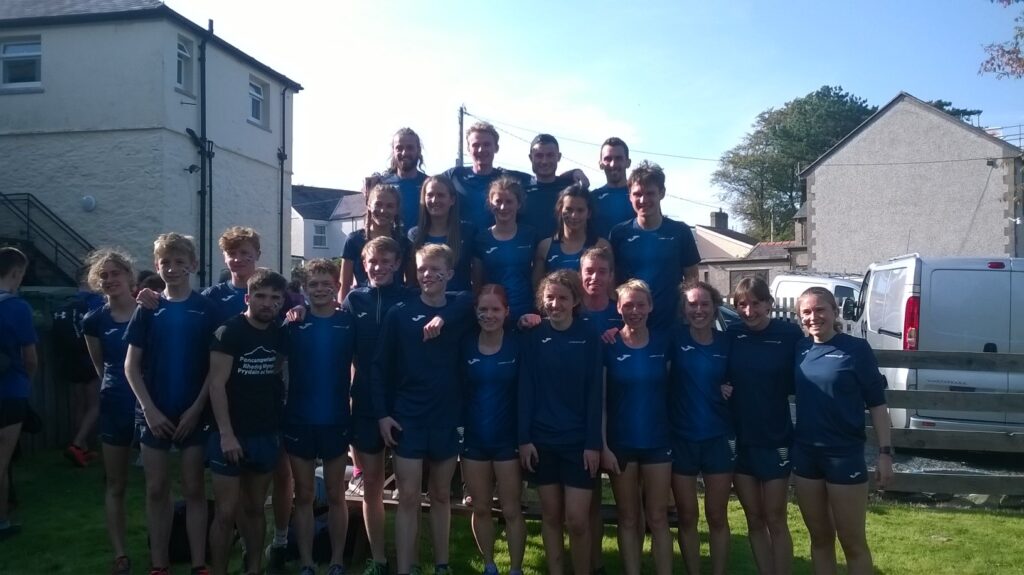 Scotland Senior and Junior hill teams gather at the event in Llanberis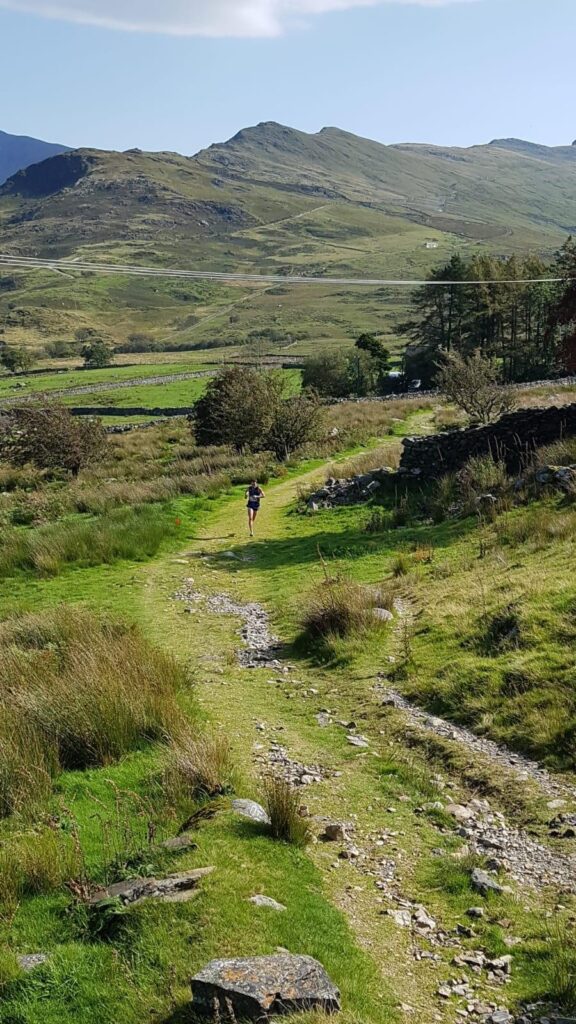 Out in front . . . Scotland's Andy Douglas on his way to the British Champs gold in Wales (photo by Graeme Dunnett)
+++
Scotland's junior hill runners made the trip down to Llanberis seeking to defend the Edinburgh trophy they won in style last year in Ireland. Ultimately, they were to lose out on that by just four points in the overall scoring.
It became evident long before the combined U17 and U20 females made the start line at 10.30am that it was going to be even hotter despite the strong winds.
The course was a classic up and down out and back route to the top of Moel Eillio with 450m of climb squeezed into 7k. The Scottish Team were more than up for the challenge though as they attempted to defend their title.
There were some outstanding individual performances over the course of the morning led by Lauren Dickson who stormed home to win the U20 Female race and secured team gold with help from Grace Molloy, Lynn McKenna and Rhona Mowat.
In the U17 race Anna Hedley led the way finishing in an outstanding second place. Strong runs from her team mates Bridget Harley, Pippa Carcas and Helen Chong held off England to take another set of team golds.
By the time the junior male race got under way at 11.30 it was clear that the conditions were playing a major factor and several of the Scottish athletes suffered in the heat.
Despite this team, honours were still secured with the U20 men of Hamish Hickey (fourth), Sunny McGrath, Tom Berry and Eoghann Gollan toughing it out to take team silver.
The U17 men seemed to fair slightly better in the conditions with strong runs from Struan Bennet, Harry Henricksen, Harry McGill and James Connelly. Another team silver behind winners England was in the bag securing valuable points for the overall competition.
Despite a very strong defence the Edinburgh trophy was eventually relinquished to England who emerged narrow overall victors beating Scotland into second place by four points and Wales in third.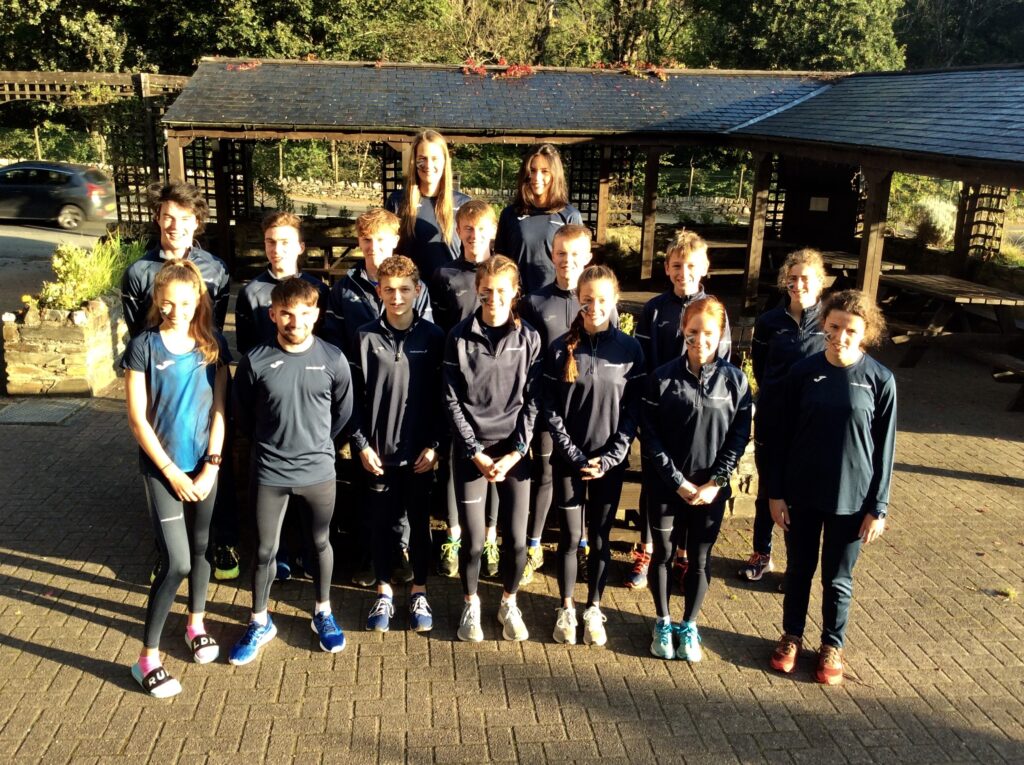 Scotland teams at the JHI event (photo from Bill Breckenridge)
With thanks also to Angela Mudge
Tags: Andy Douglas, Anna Hedley, Junior Home International, Lauren Dickson, Llanberis, Wales