Key question for athletes: 'What can I do today to be better?'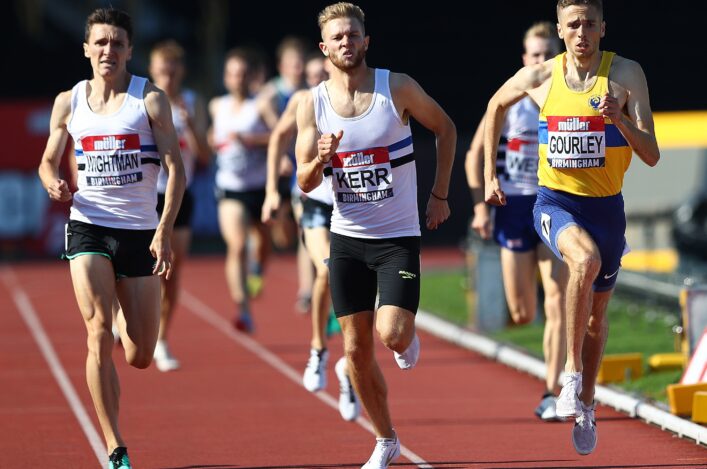 Scottish 1-2-3 – as Neil Gourley (on right) leads home Josh Kerr and Jake Wightman in Birmingham (photo via British Athletics/Getty Images)
Keeping up with the medal rush has become an absolute pleasure 
Neil Gourley has publicly thanked Chris O'Hare, Jake Wightman and Josh Kerr for raising the standards in Scottish 1500m running.
The new British champion showed them exactly how grateful he is in a way each of that trio will understand completely – by beating them on the Alexander Stadium track.
Gourley's grin in Birmingham as he edged out Kerr and Wightman fully captured the emotion and passion of the moment.
It rubber-stamped the Giffnock North AC athlete's selection ticket for the World Champs in Doha and he topped a third successive Scottish 1-2-3 on the podium after similar outcomes in 2017 and 2018.
But, as he explained to scottishathletics, it takes a daily dedication to doing the right things to compete with Britain's best in this event.
'There is no way I would be at the level I am at if it wasn't for the efforts and achievements of Chris, Jake and Josh,' he said modestly.
'I know every day the level I am striving to reach. If it was not for the level they have reached and the records Chris has set and the medals Jake won last year in Gold Coast and then Berlin, then there would not be that daily emphasis for me on trying to be the best I can be.
'To have any chance of beating them, I need to work hard and do the right things every single day.
'I don't think I'm as talented as these guys – so I need to do all the small things right and that means dedication and sacrifice every day.'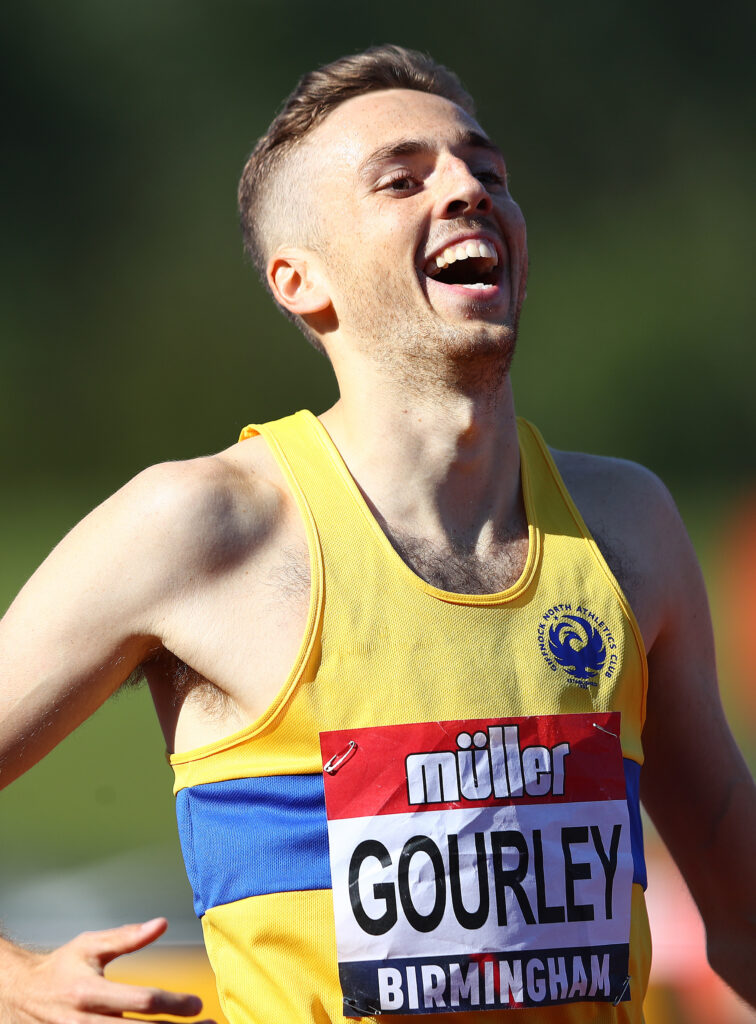 Joy unconfined . . . Neil Gourley celebrates his 1500m victory at the Muller British Champs (photo via British Athletics/Getty Images)
It's a marvellous mantra for athletes at any age and stage in Scotland and Neil's own career has had more than its fair share of roller-coaster moments.
He was too young and not quick enough five years ago to really contend for the Glasgow 2014 Commonwealths and he missed Gold Coast 2018, too.
In 2017, he was a medal prospect for the 1500m final at the European U23 Champs – after winning bronze in the same event two years earlier – but finished fourth in the final in Poland.
Last summer, after finishing third in the British Champs and Trials and third at the Athletics World Cup, he was passed over for Berlin 2018.
And then there was still more misadventure and at Glasgow 2019 when struck down by illness between an assured heat and a final he never raced. Ill luck, in fact.
'The low of Glasgow 2019 were hard to take and not being able to participate in that 1500m final in my home city wasn't something I could get over in a couple of days,' he said.
'Maybe if it had been somewhere else in the world I could have said to myself 'next time'. But I don't know if I will ever get over that one because there may well not be a 'next time' in Glasgow.
'I'd a mid-season lull this summer, too, and five weeks ago I don't think anyone would have forecast Sunday's outcome – and I probably didn't believe myself.
'But Glasgow 2019 was a big motivation and I managed to persevere. Coming down the home straight you just think about the people who have supported you and backed you when you are down and I managed to deliver for them.'
The Scottish domination of the 1500m bears repetition. With Chris O'Hare in sixth and Stephen Mackay in 12th place it was five Scots in the 12-strong final.
Jemma Reekie took silver and Jenny Selman of Fife AC was fifth in the Women's race with club-mate Steph Pennycook in 12th to make it three Scots in the 12-strong final.
So that is eight Scottish athletes out of 24 finalists – claiming four of the six medals. It's remarkable, really.
Josh mentioned the Scottish connection in his BBC interview immediately after the race and of course he is very much a graduate of the Edinburgh AC group once coached by Dave Campbell before he moved to New Mexico.
'I'm super-excited about making the team,' he said after that silver medal-winning performance in Birmingham.
'It's going to be such an experience doing it outside the UK.
'I was in London two years ago and that was easy because we were at home with the support here, so going away and getting the experience of being on the road and competing at a major championships is going to be an incredible one.
'The big thing this year was about peaking at the right times. That's why we planned to get the qualifying time early on in the year – and then look to change it a bit with some 5000 and 800 runs.
'You had to try and come back up for the Trials and then hopefully for Doha.
'I didn't perform even close to my best in London so making amends for that is another factor this time around.'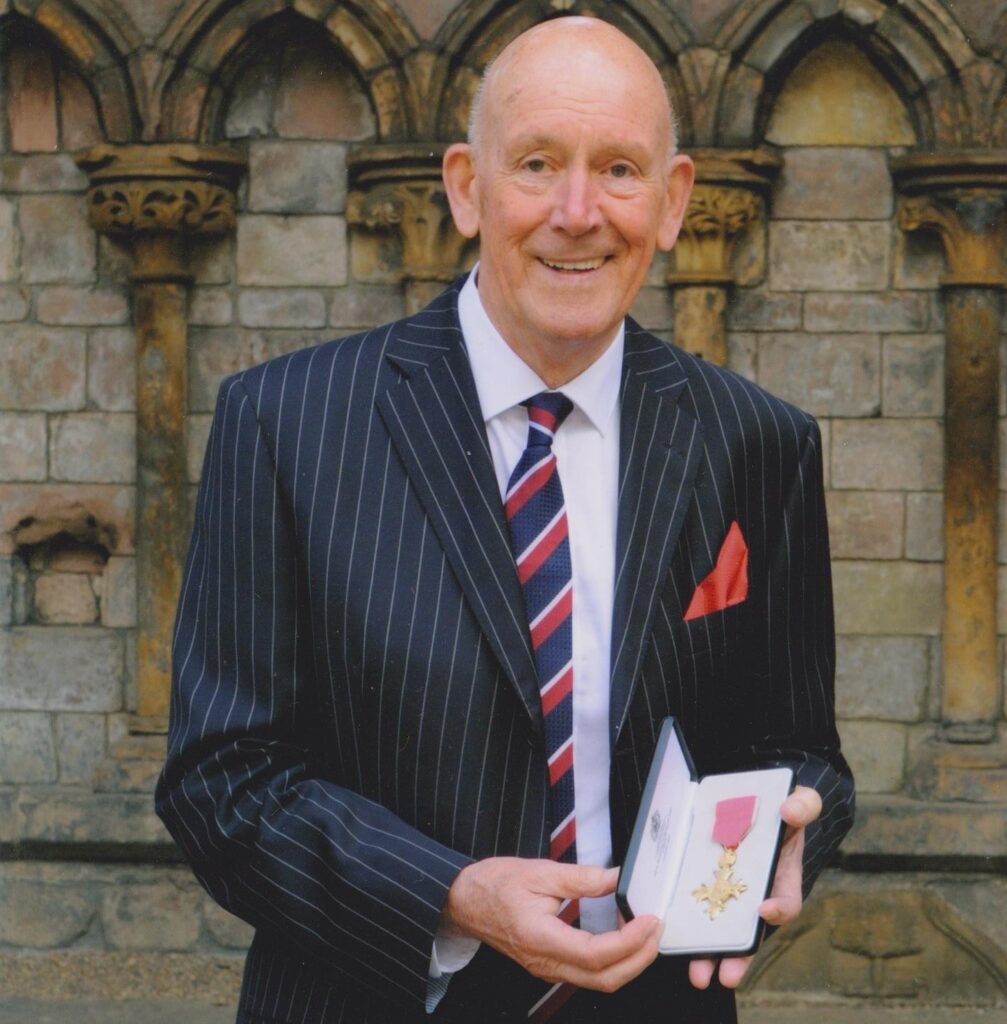 Dave Campbell with his OBE for services to athletics – he was an early influence on Josh Kerr (and Chris O'Hare)

Tags: Birmingham, Chris O'Hare, Jake Wightman, Josh Kerr, Neil Gourley