'Keeping up with medal rush has become an absolute pleasure'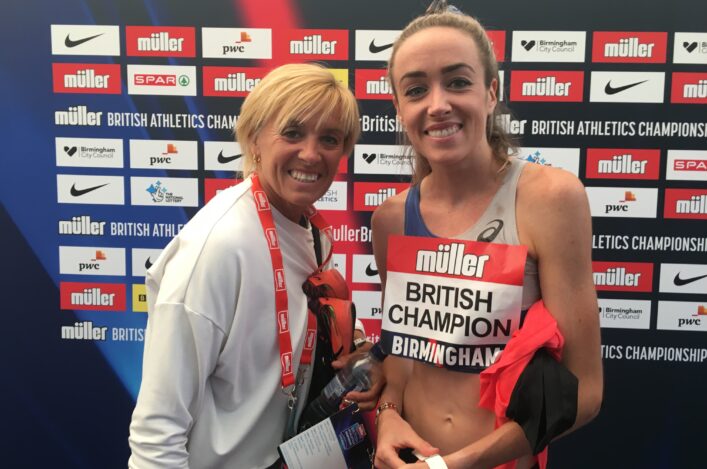 Eilish McColgan savours British Champs gold in Birmingham with mum and coach Liz (photo by Sue Gyford)
WATCH our video interviews on YouTube
By Peter Jardine, Head of Communications
Perhaps it was the smoke rising from the laptops of the scottishathletics Communications team deep inside the Alexander Stadium 'Mixed Zone', where athlete interviews are conducted, as furious efforts were made to keep up with the medal rush.
Perhaps it was the actual queue being formed by Josh Kerr, Neil Gourley and Lynsey Sharp as they patiently awaited invitations to chat on camera to their home governing body.
Or perhaps it was the #SALbelong social media spike on Twitter as word spread far and wide of Scottish success in baking Birmingham.
Whatever the reason, the man from Athletics Weekly duly felt compelled to ask the obvious question.
'Eh, excuse me, I've not been keeping a tally but it certainly feels like another good day for Scottish athletes at the British Champs?' queried Jason Henderson, the publication's long-serving editor and respected athletics aficionado.
'Yes, it's 14 at the moment with the Men's 800m final to come (Guy Learmonth's photo finish silver duly made it 15).
'And six golds so far. And the 1-2-3 in the Men's 1500m was an all-Scottish podium for the third year in a row. And Laura Muir isn't here,' came the instant-and-jubilant reply.
'And Eilidh Doyle and Steph Twell are missing, too,' quickly added our own Sue Gyford, in between multi-tasking that took in live Tweeting, photographing medallists, Instagram posts and recording video interviews for our YouTube channel. (This is what we routinely do now.)

Attending the Muller British Champs over the past few years has become an absolute pleasure and a career highlight for SAL Comms.
The recent medal success record now reads 15 in 2019 to back up a run of 17-18-17 over the previous three years.
That's four years of very solid medal-winning performances by Scottish athletes backed by their coaches and clubs.
It should be noted, too, that the quality of competition has risen in the past couple of years since British Athletics made it mandatory to compete when seeking selection for major events. The no-shows are pretty much a thing of the past (Muir's injury this year now an exception).
So the medals are hard-earned and merit attention.
Sunday, in fact, really was a bit special. Discounting two walks events, where Scotland has no representation, there were 54 medals on offer in 18 events. Scottish athletes went home with 11 of them – just over 20 percent.
As always, that has to be set against a population rate of 8 percent for Scotland against the UK.
Why are Scots performing so well?
It's hard work by athletes and coaches and a clear pathway, of course. Plus the imponderable called momentum. And arguably also a togetherness and feeling part of something which keeps athletes wanting to step up.
Neil Gourley for his part credits the trail blazed by Chris O'Hare and medals won by Jake Wightman as fuelling his own career. Local rivalry, played out across the globe with Chris, Neil and Josh Kerr in America, at its very best.
LISTEN – Chief Executive Mark Munro chats to BBC Scotland 
'There's a great group of Scottish athletes at the moment and that's one of the reasons I came back after quitting the sport for a couple of months last year,' said British discus champion Kirsty Law.
Kirsty has reduced her working life, with assistance from her employers at NHS Rampton Hospital, in order to commit more to athletics. Others are doing the same.
That dedication shines through, at many age group levels, in Scottish athletics.
Nobody who meets Nick Percy, who completed a discus British title double for Scotland, is left in any doubt that this is a young man deadly serious about his sport.
Nick and his family are putting in thousands of miles in the car and on the ferry from the Isle of Wight to compete. He is unbeaten in the UK this season with wins in the England, Scottish and British Champs and the Manchester International.
As well as the discus double, there were two medals in the High Jump as Allan Smith took gold and Nikki Manson her fourth British Champs bronze.
Jax Thoirs is right back to form clearing big heights and winning silver. Courtney MacGuire wasn't far away from making it a pole vault medal double.
In the sprints, Alisha Rees and Adam Thomas each made the 100m finals and Beth Dobbin and Zoey Clark were medallists at 200m and 400m.
Indeed, in women's events, there are Scottish medallists in British Champs this year at 200m (Dobbin), 400m (Clark); 800m (Lynsey Sharp); 1500m (Jemma Reekie); 5000m (Eilish McColgan); 10,000m (Steph Twell).
Remember, that's without Muir and Doyle, very consistent performers in recent years in this regard.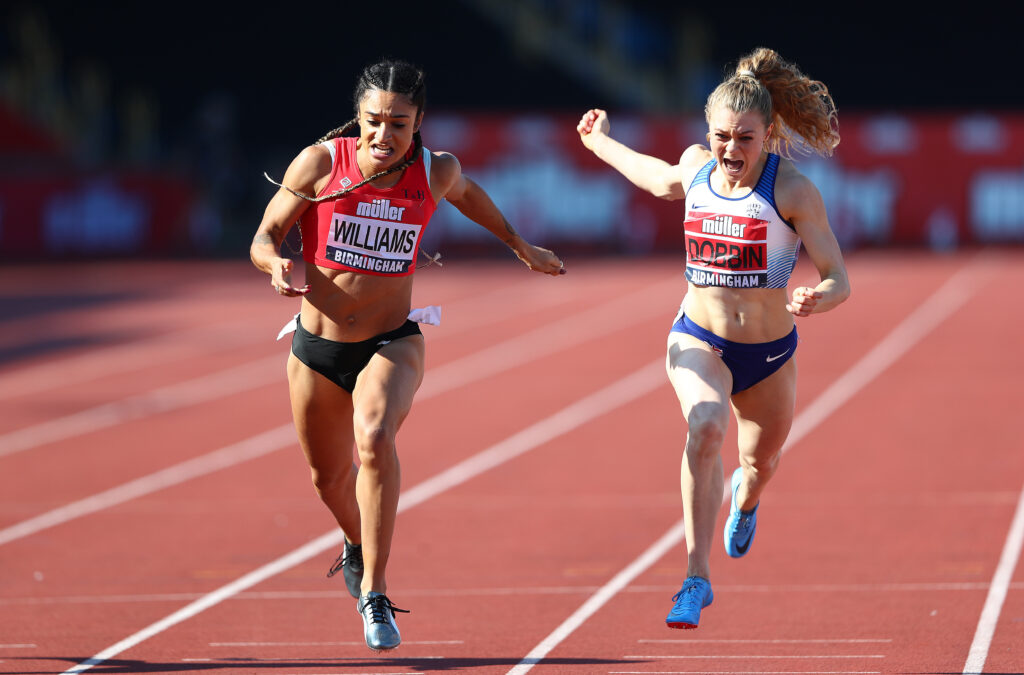 Beth Dobbin stretches for the line as she makes sure of a top two finish to secure her place for Doha (photo via British Athletics/Getty Images)
And it just feels as if there's so much more happening besides just the medals.
Sarah Warnock was involved in a Women's long jump final where the quality line was akin to a Europeans or Commonwealths. Sarah finished sixth with her 6.42 windy jump her best for a five years, with a legal 6.39m in there, too.
Henry Clarkson had leapt to an outdoor PB in the Triple Jump final a little earlier – the young Scot again involved in a high level competition.
In similar fashion to Sarah, Fife AC's Jenny Selman had one of her best track performances when taking fifth in the Women's 1500m final. Stephen Mackay ensured it was five Scots in the Men's 1500m final with a really good run on Saturday evening.
A little further down in terms of age and the experience of Birmingham this weekend should really help the likes of Cameron Wright, Kerry MacAngus, Eloise Walker, Sarah Calvert and Stephen Mackenzie in future years.
So the reasons to be cheerful really are multiple and it certainly feels as if they stretch beyond the obvious headline acts of the 1500m and the 5000m gold double for Eilish McColgan and Andy Butchart.
Next year, the British Champs move to Manchester as the Alexander Stadium is redeveloped for the Commonwealth Games.
There are never any guarantees in sport but the portents for 2022 already look pretty good . . .
Tags: Alexander Stadium, Birmingham