GAA Miler Meet review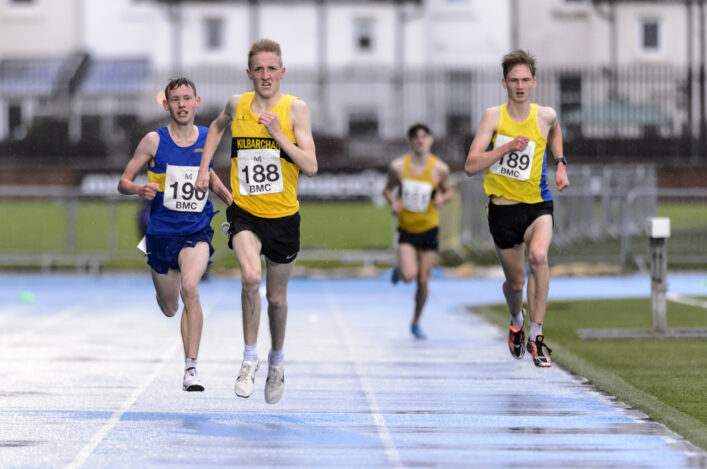 Cameron Wright of Kilbarchan AAC and Lewis Raeburn of Shettleston battle for Scottish U20 3000m gold and silver (photos by Bobby Gavin)
Wet and windy conditions didn't deter more than 200 athletes at the GAA Miler Meet at Scotstoun on Friday night.
The event featured the Scottish U20 and U17 Championships over 3000m as well as a number of 800m heats.
Stephen Maguire, the scottishathletics Director of Performance and Coaching, looked on from the stand and took the opportunity to chat to a number of athletes and coaches in the endurance community.
'It was a really good meet with some exciting races,' he said.
'I thoroughly enjoyed watching that and although the conditions made it very difficult for athletes to achieve times, the competition was intense in a number of races.
'It's also a very well-run meet by the GAA so well done to all their volunteers and of course the Officials in pretty dreadful weather at times.'
In the main Men's 3000m race the rain had eased off momentarily and the pace was quick from the start. English U20 duo Rory Leonard of Morpeth Harriers and Sam Charlton of Wallsend were always up with the leaders – first Central AC's Alastair Hay and then picking off Aberdeen AAC's Michael Ferguson.
Leonard duly took it in 8.24.91 and Charlton was second in 8.26.82 with Ferguson third in 8.27.87.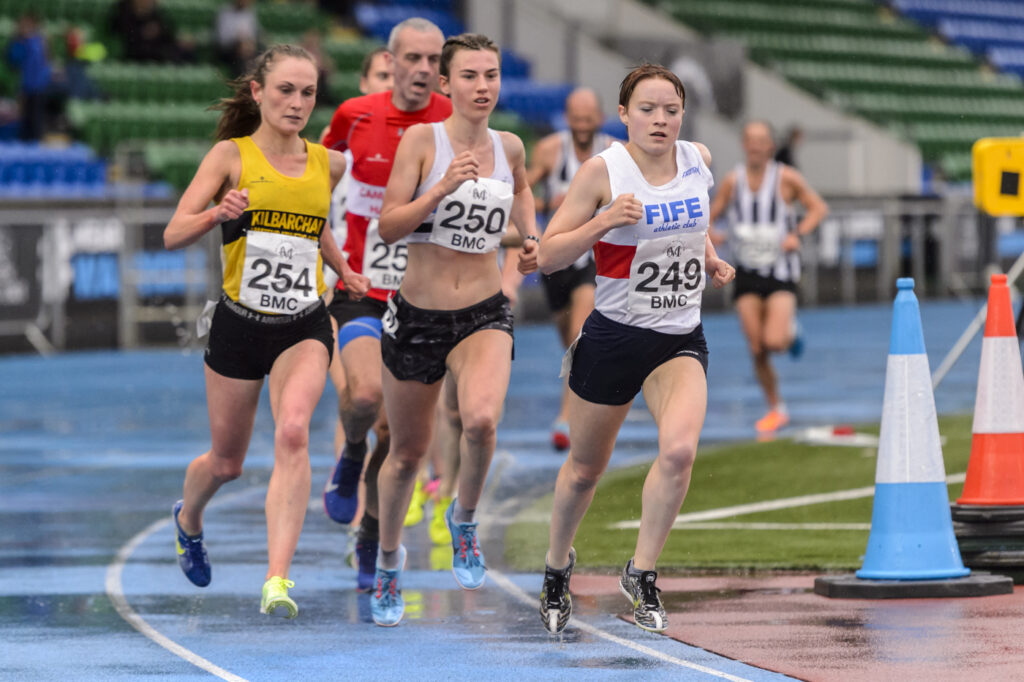 Edinburgh AC's Eloise Walker took the U20 Scottish Women's title with a strong run which saw her only just fall short of the Euro U20 Champs 9.30 qualifying time (that she did achieve at Loughborough).
Eloise was home in 9.32.11 for a solid performance on the night as silver went to Olivia Mason of Borders in 9.39.94 and bronze to Naomi Lang of Aberdeen AAC in 9.55.44.
Kilbarchan AAC's Elspeth Curran was just ahead of Walker to post the fastest female 3000m time of the night at 9.31.16.
Fife AC athlete Anna Hedley took the U17 Scottish Women's gold with a powerful run of 9.45.50.
The silver here went to Ines Curran of Gateshead in 10.17.65 and the bronze to Meredith Reid of North Ayrshire/Glasgow School of Sport  in 10.22.95.
Cameron Wright of Kilbarchan and Lewis Raeburn of Shettleston fought out a great battle for the Scottish U20 gold.
Wright took it in 8.37.93 with Raeburn at 8.38.42 after strong runs on the road recently in the Babcock 10K Series. There was bronze for Central AC's Ben MacMillan with 8.39.30.
It was a double success for Kilbarchan in terms of the Scottish titles when Jack Patton, in the same race as club-mate Wright, came home in 8.45.08 to prove a very clear U17 champion.
Silver in the U17 Men's went to Harry McGill of Greenock Glenpark Harriers, on the day he was announced in a Scotland hill running international selection, in 9.02.61 and bronze to Livingston's Alastair Marshall in 9.07.96.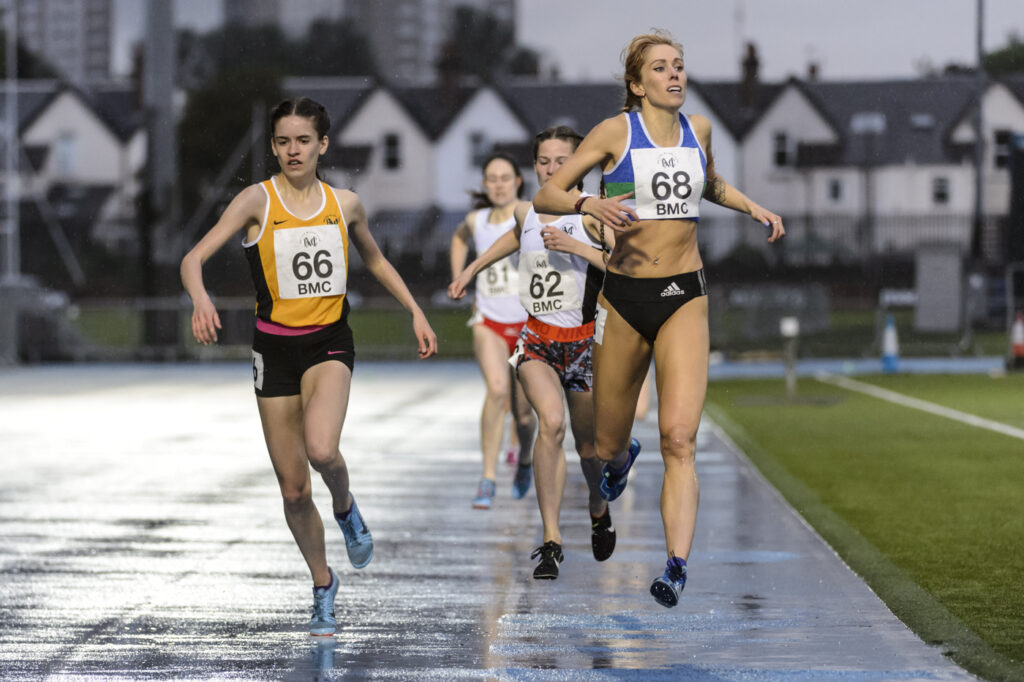 In the 800m races, Philippa Millage led behind pace-maker James Bowness for the whole of the top women's race but had to hold off a late surge from Sarah Calvert, the U20 athlete from Livingston.
Millage was at 2.08.02 and Sarah at 2.08.17 with the close finish emphasised by U17 athlete Isla Calvert in third at 2.08.52.
Ewan Dyer was the fastest of the men over the two-lap distance with a run of 1.55.00 as he won by only seven hundredths from Kane Elliott with fast-finisher Stephen Mackay coming through for third in 1.55.64.
*Huge thank you to the GAA volunteers as always and to our dedicated team of scottishathletics Officials who once more survived the inclement weather to deliver a great event.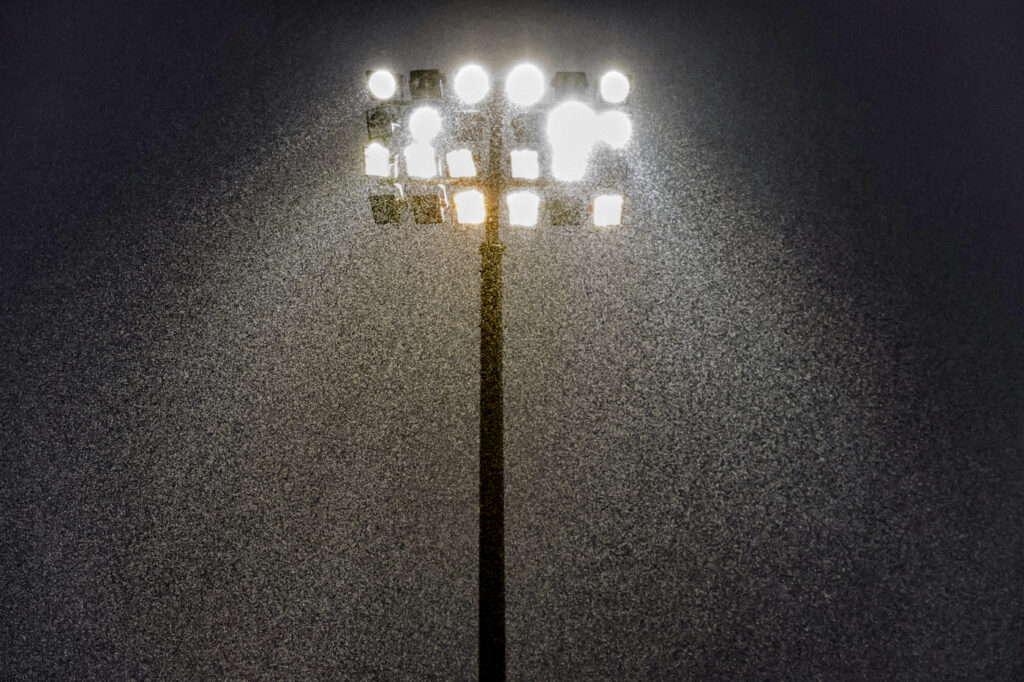 Tags: Anna Hedley, Cameron Wright, Eloise Walker, GAA Miler Meet, Jack Patton, Scotstoun, Scottish 3000m Champs U20/U17