Learn from Jack McConnell; Harmeny AC job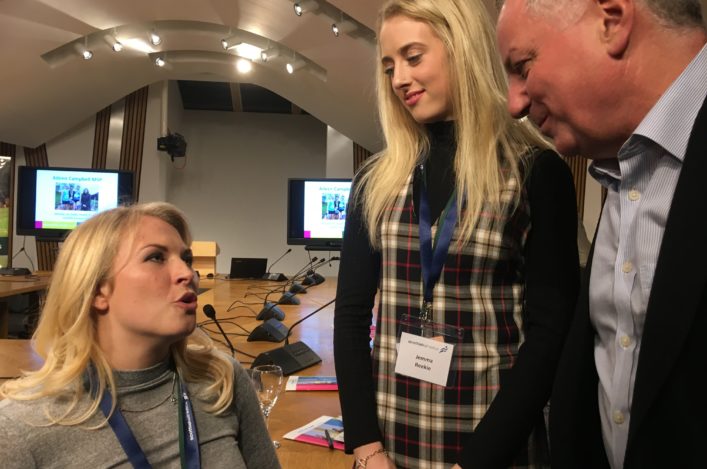 Former First Minister Jack McConnell chats to Sammi Kinghorn and Jemma Reekie at a Holyrood Parliamentary reception last year (photo by Sue Gyford)
Leaders in Athletics Conference – booking form
scottishathletics are pleased to confirm we will host our first ever gathering of Club Chairs and Presidents at our Leaders in Athletics Conference.
The date for diaries is Saturday 22 June and the venue will be the Stirling Court Hotel at the University of Stirling – with the event to run from 10am through to 2.30pm.
Jack McConnell, the Honorary President of scottishathletics and the former First Minister, is one of our key speakers on a programme we feel is ideally suited for club leaders from around Scotland.
Chief executive Mark Munro will also address the gathering and speak to our current strategy 'Building a Culture of Success'.
'We are delighted to be bringing together Chairs and Presidents from across Scotland to network, learn and discuss our roles as leaders in athletics in Scotland,' said Mark.
'As well as having the opportunity to link with staff and other Chairs and Presidents, we are pleased to be hearing on the day from the Rt Hon Lord Jack McConnell and Guy Richardson (CEO and Founder, Eiger Performance) about leadership, influencing and forming successful cultures.
'I think it is a great learning opportunity and we hope for a good response from the club community.'
The Leaders in Athletics Conference is open to all club Chairs and Presidents and the full agenda is out-lined below.
Colin Hutchison, Head of Development, said: 'It is great to have the opportunity to bring such an influential group of people together to talk about their role and about athletics in Scotland.
'We already have our annual National Club Conference and education programme. However we feel this event is unique to a particular role in the clubs and we're certain it will be a valuable learning and networking event for all our club Chairs and Presidents.'
To book your place at this event please click on the following link:
Leaders in Athletics Conference – booking form
+++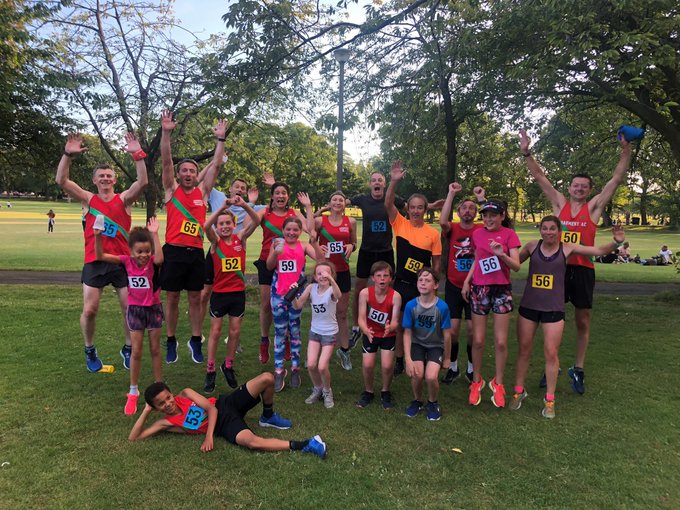 HARMENY AC SCHOOLS TO CLUB COACHING OFFICER
Contract Length – 2 years, 6 months
Salary and Hours – between 8 hours (£3,744) to 20 hours (£9,360)*
* The role presents the opportunity for flexible working arrangements
Vacancies section on this website
Harmeny Athletic Club is a well-established and successful athletics club based in the South West of Edinburgh.
In the last two years, the club has increased its membership by 70% to 360 members with both adults and junior members.
An exciting opportunity has arisen within Harmeny AC for a Schools to Club Coaching Officer as part of the scottishathletics Club Together programme.
Club Together is a fundamental project within Scotland's National Strategy for athletics, 'Building a Culture of Success', placing a key focus on supporting the development of athletics clubs in the country.
Applications should be made by submitting the application form, covering letter (addressing how the applicant's skills and expertise fit with the job roles and person specification) and equal opportunities form, marked "private and confidential", to Francesca Snitjer, Executive Officer, (or email francesca.snitjer@scottishathletics.org.uk) at:
Scottish Athletics Ltd
Caledonia House
South Gyle
EDINBURGH
EH12 9DQ
The closing date for applications is 12 noon on Friday 21 June 2019
+++

Tags: Colin Hutchison, Leaders in Athletics Conference, Lord Jack McConnell, Mark Munro, Stirling