Twell wins 10K gold again and Butchart lands silver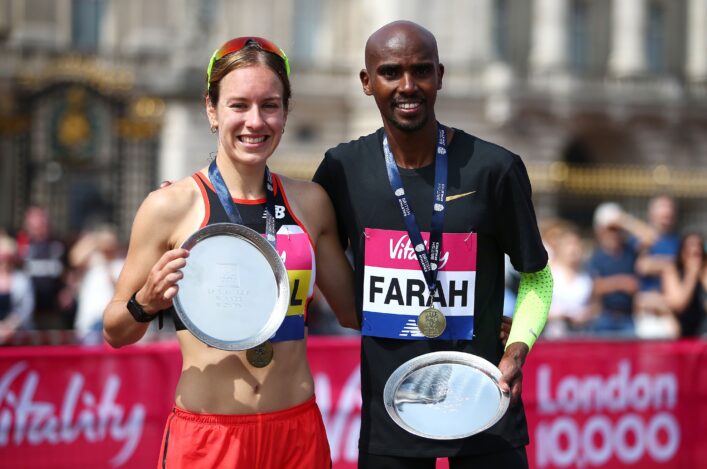 Steph Twell and Mo Farah celebrate success in London (photo via Athletics Weekly twitter)
Steph Twell and Mo Farah successfully defended their Vitality London 10,000 titles – with Twell impressing with a PB and Farah landing his seventh success at the event.
Andy Butchart took the silver medal just behind Farah with a very fine run of 28.28 which actually matches his PB for 10K on the road, set at this event three years ago.
Back in action just four weeks after his fifth place in the Virgin Money London Marathon, Farah claimed a clear win on his return to The Mall as he crossed the finish line in front of Buckingham Palace in 28.15 for a clear win ahead of  Butchart who ran 28.28 and Nick Goolab who clocked 28.47.
Twell was an even more dominant winner as she improved her personal best run in Brighton in April by two seconds, running 31.55 to finish 38 seconds ahead of Jess Piasecki, with Verity Ockenden a further six seconds behind in third as the top three all ran lifetime bests.
In the men's race, Farah, Butchart and Goolab broke away early on before the in-form Belgrave Harrier Goolab edged ahead to lead through 5km in 14.08.
He was dropped by the time Farah and Butchart passed 7km in around 19.48 and in the final couple of kilometres Farah was on his own as he kicked on for a 13-second victory.
Adam Craig was 16th in a time of 29.42 with Luke Traynor in  17th in 29.46. Derek Hawkins was 36th in 30.35.
'He was trying to beat me,' the 10-time global track gold medallist said on the challenge of Butchart, who missed the 2018 summer season because of a broken foot.
'When we were on the start line he was like 'I want to take you down!' He tells me to my face. He's being honest and I like that.  You've got to be determined, you've got to be willing to work hard and he does that.'
Scotland's Butchart had proved his form by running a 5000m World Championships qualifying time of 13.18.16 earlier in the month and was pleased with his return to road race action.
'I'm happy with that. It's nice to come on to the road again,' said Butchart, a two-time winner of the event with victories in 2016 and 2017.
'It was a hard race against Mo, it always is, but I'm happy with second place and my time.  I had a race plan to try and beat Mo today with surges and to try and make it hard from the gun and throughout the race. He did say after that I was working him but it's hard to beat Mo at 10km, no one has done it in ages.'
Twell also had a busy weekend as she too raced the mile and became a world record-holder, having clocked 4:50 while holding hands with her husband Joe Morwood for a Guinness world record.
Running alone this time but in the company of strong male club runners, the European and Commonwealth medallist went through 5km in 15.33 as she made the most of the crowd support and finished strongly for a PB.
'I'm feeling delighted that I'm the British 10km road champion,' said Twell.
'It's been a fantastic weekend. It's a fast course out there. I knew I was in PB shape but I much prefer the bigger occasions.
'Today, when I'm running in there with the guys, running hard and strong and with an atmosphere like that, I lapped it up and that's where I want to be. I'm hoping that's a good step for my spring build up.'
Morag Millar was 20th in 34.57.
Tags: Adam Craig, Andy Butchart, Derek Hawkins, London, Luke Traynor, Mo Farah, Morag Millar, Steph Twell, Vitality London 10K