Jones wins 5K again and Millar sets Course Record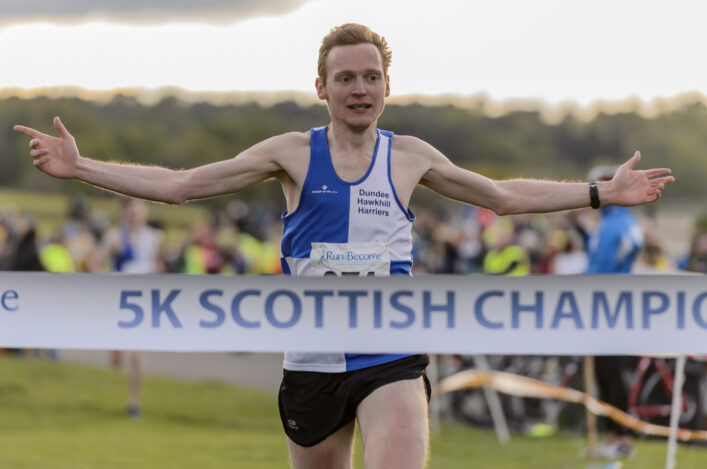 Scottish 5K Men's champion Kris Jones takes the tape first for the second time in three years (all photos by Bobby Gavin)
RESULTS online (with chip times)
TEAM RESULTS on Event Section page (with gun times)
Morag Millar body-swerved beyond a rubbish bin early in her Scottish 5K Champs victory run – before then consigning Maddie Murray's Course Record to history at Silverknowes.
The Central AC athlete led home a fine 1-2-3 in the Women's race on another night which once again quality and depth in Scottish endurance running.
Welsh athlete Kris Jones saw off all challengers for the second time in three years to take the Men's gold in a Dundee Hawkhill Harriers 1-2 with emergent prospect, James Donald, with both those athletes inside last year's winning time.
Millar, for her part, clocked a superb 15.49 (chip time) with Mhairi Maclennan's 15.55 also inside Murray's erstwhile Record of 16.07. Shettleston duo Fionnuala Ross and Lachlan Oates, the 2019 Scottish 10,000m track champions, each had to settle for third place this time.
'I am delighted with that run and to get a National Championship title once again to my name,' said Morag.
'The Course Record was actually mine a few years ago and then I remember Maddie Murray coming along (in 2016) and running 16.07 to take it away from me. So to get that back and get well under 16 minutes is really pleasing.
'I'm in good shape at the moment and it has all just rolled on from Falkirk and the National XC when I won bronze, really. Lewis and I live near Alloa so we did the Half Marathon there but other than that and Run Balmoral last week then this was a race I was wanting to target in a big way and that has paid off.
'I'm 33 but I feel with the injuries and lay-offs I have had, my legs are a lot younger. Okay maybe not quite 21 but you get what I mean!
'It's always a great race at Silverknowes, even when it is windy, although I did have to jump out the way of a bin in the mad dash at the start. But that made dash always gives people a great start and helps times.'
PHOTOS by Bobby Gavin on Facebook
Maclennan's second place, plus a fourth for Jenny Bannerman and 16th for Gemma Cormack, helped Inverness to the Women's team golds – the Highland club following up their recent Scottish marathon golds in the Men's division at Stirling.
'It was great to help Inverness to the team prize because there's a lot of good things happening at the Harriers now,' said Mhairi.
'It wasn't that strong when I was coming through but that's changing and, when I was back recently, it was brilliant to see good youngsters really working hard and enjoying training.'
Inverness won it with 22 points as Central AC took the silvers with 41 and Edinburgh Uni Hare and Hounds the bronzes with 53.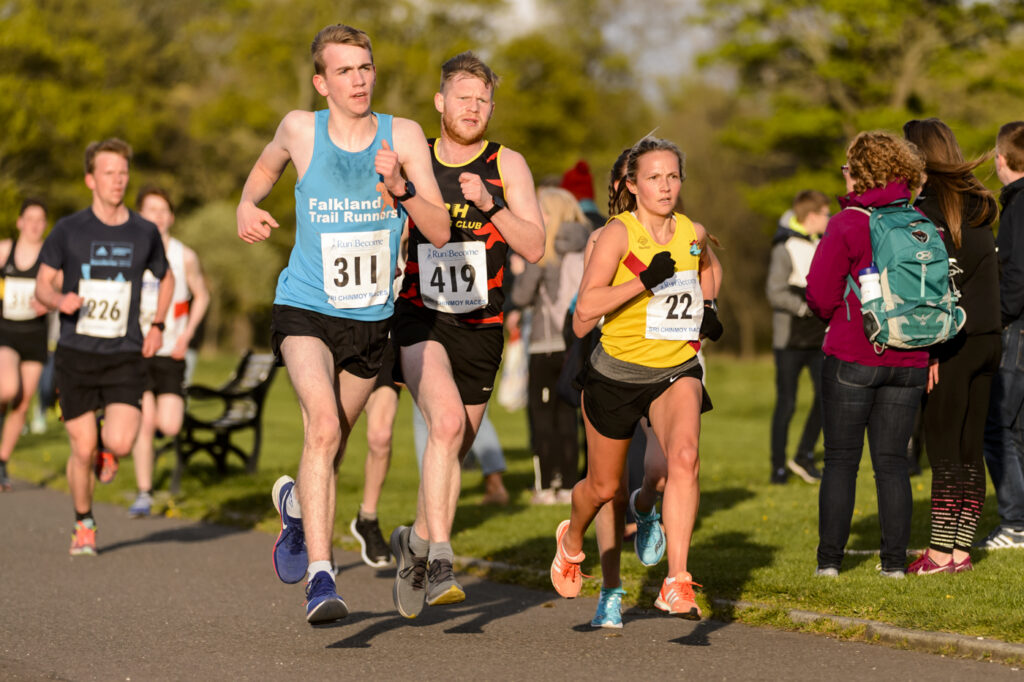 Inverness Harriers took the Women's team race with Jenny Bannerman (pictured) in fourth with Mhairi Maclennan in second
GB international Jones had prepared for his return to action after a four-month absence with a training stint in Albuquerque courtesy of Welsh Athletics.
'I have not raced since Stirling and the International XC in early January – so it is great to be back,' he said.
'I'd an Achilles injury and I thought it was not too bad but it didn't quite turn out the way I had hoped. You hate sitting out races and big events so to miss the Lindsays National XC at Falkirk was a sore one for me.
'I was out in Albuquerque with Welsh Athletics and while I'd love to have been there when really fully fit it has helped get me back to this level.
'I thought 14.30 might just about win it tonight and I managed to edge ahead about 4K.
'I wasn't really aware that James Donald was in the pack just behind and it is another great run from him. We train on the track in Dundee and I am hoping he will be back from Uni this summer and we can revive that.'
Edinburgh Uni Hare and Hounds took the team gold thanks to strong runs from Jack Leitch (14.47), Alex Carcas (14.56) and Max Milarvie (14.57) in 31 points. Corstorphine AAC were second on 59 and Cambuslang Harriers third on 72 (one point ahead of fourth-placed Central AC).
At U20 level, there were golds for James Donald and for Edinburgh Uni's Zoe Pflug. Cambuslang won the Men's team golds and Edinburgh Uni the Women's team golds.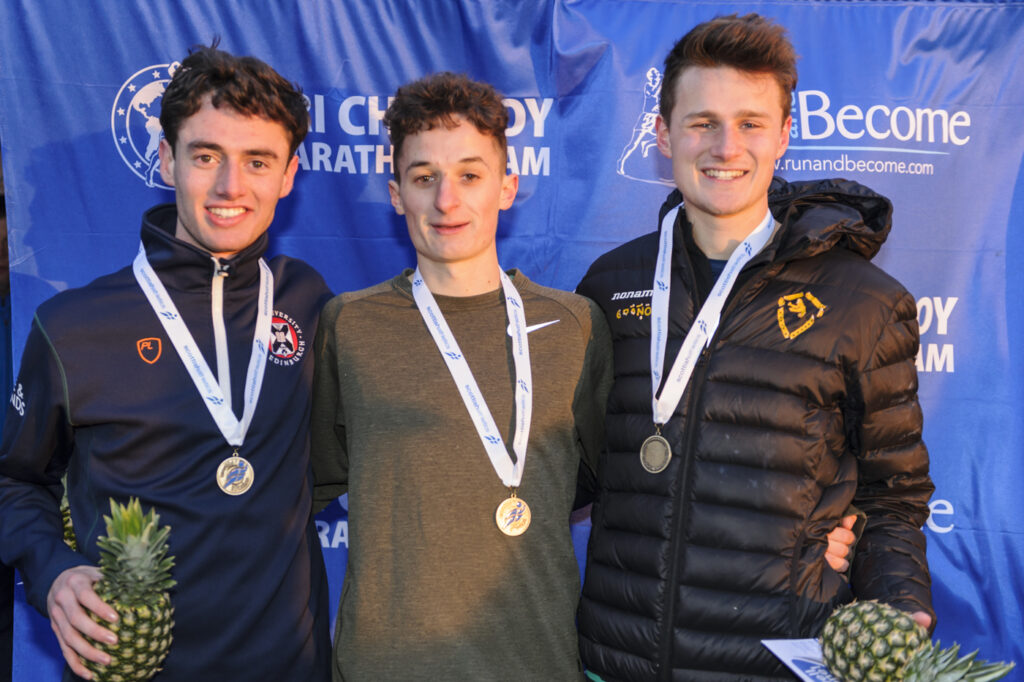 Edinburgh Uni Hare and Hounds won the Senior Men's golds thanks to the efforts of  Max Milarvie, Jack Leitch and Alex Carcas
MASTERS
For the first time at this event, scottishathletics introduced individual medals for the 1-2-3 finishers in ten-year age bands.
As always at Silverknowes, there were some really impressive times and performances delivered by those in the V40 age groups and above.
Edinburgh AC'S Stuart Johnston won the Men's Masters gold  and was followed in by Kerry-Liam Wilson and Moray Anderson.
Medallists at the other age bands were as follows:
V50 1 Scott McDonald (Moorfoot) 2 David Knight (Perth RR) 3 Charles Thomson (Cambuslang)
V60 1 Alastair Walker (Teviotdale); 2 John Crookston (PH Racing) 3 William Jarvie (Portobello)
V70 David Cooney (Cambuslang Harriers)
Garscube's Lesley Chisholm took the M40 Women's gold and in that category was followed in by Jenny Maclean of Edinburgh AC and Karen Kennedy of PH Racing club.
Medallists in the other age bands were as follows
V50 1 Fiona Matheson (Falkirk Vics) 2 Janet Dunbar (Edinburgh AC) 3 Karen Dobbie (Edinburgh AC)
V60 1 Innes Bracegirdle (Fife AC) 2 Frances Wood (Linlithgow AC) 3 Maria Dale (Perth RR)
V70 1 Patricia Allen (Motherwell AC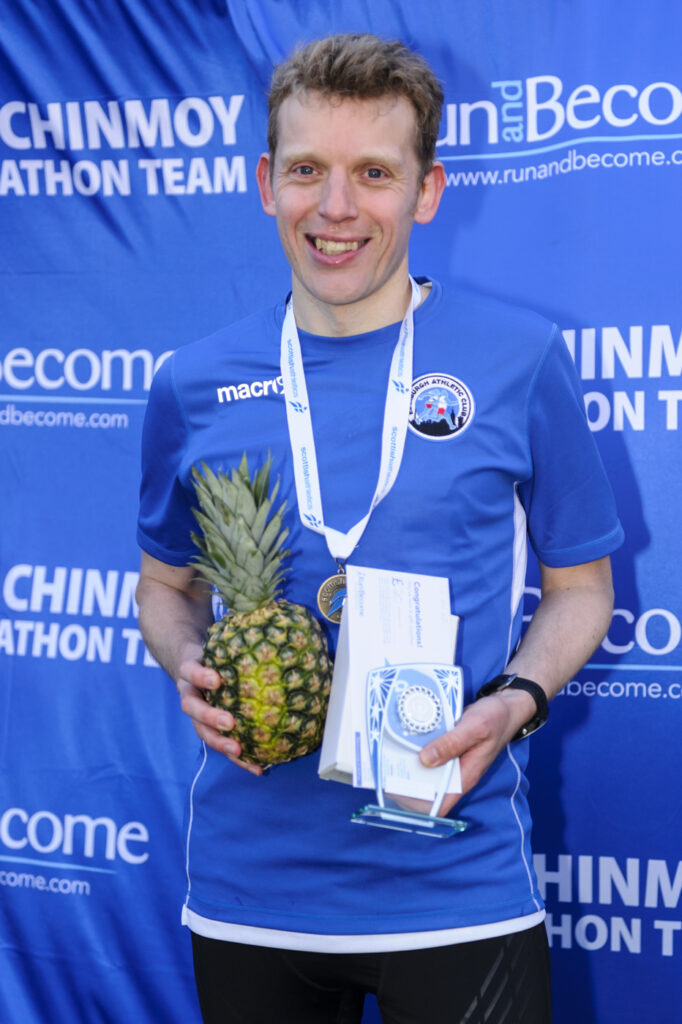 Edinburgh's Stuart Johnston savours his M40 gold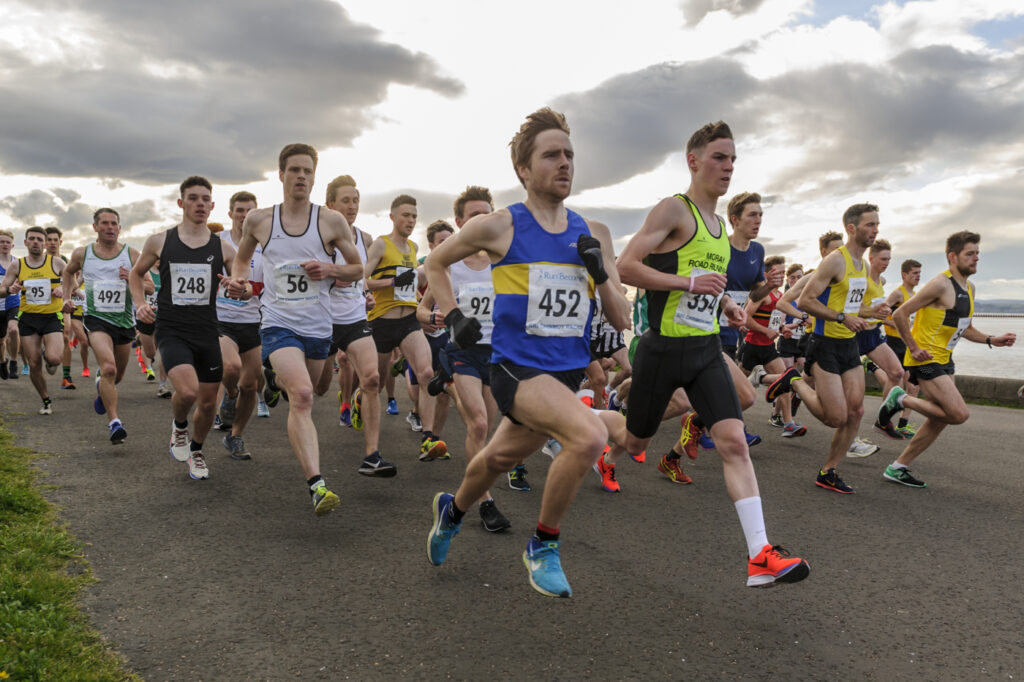 Tags: Scottish 5k Champs, Silverknowes