Callum lands new Scottish Marathon Record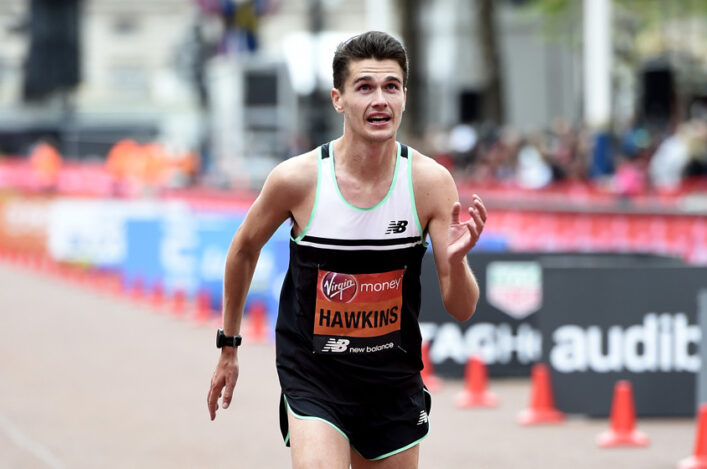 Callum Hawkins claimed a new Scottish Marathon Record with a superb performance in London which ended a 34-year 'run' for Allister Hutton.
The Scot booked his ticket for the World Champs in Doha later this year, and put a marker down for the 2020 Olympics, with a top ten place in 10th at the Virgin Money London Marathon.
Callum came home in 2.08.14 to outstrip Hutton's time of 2.09.16 which had been sent in London way back in 1985.
Just as significantly, the redoubtable Kilbarchan AAC athlete emphatically laid to rest the bad memories of Gold Coast 2018 a year ago and once again underlined his calibre and potential.
Many congratulations to Callum, his family, coach Robert and all involved in his development over the years on an awesome performance.
'I am delighted to get the Scottish Record,' said Callum.
'It was really tough, it was windy about three quarters of the way around. I had a funny moment when I hit 40km but I managed to get myself back together.
'I was hoping for 2:07 but I am happy with 2:08 given the conditions. It's a good stepping stone for whatever I choose towards the end of the year.
'Hopefully it is the worlds and hopefully I will be pushing a medal and be in even better condition. It is the first time I have not negative split finishing a marathon so it was tough but there are a lot of positives.'
It was the highlight on a day of strong performances for Scots in London with Derek Rae taking a silver medal in the World Para Athletics Marathon Cup with a huge PB – Derek posted 2.27.08 and was just 14 seconds outside the European record in his classification!
And Robbie Simpson was another to land a PB as he finished 23rd in the main race in 2.14.56 for a good performance.
Tsegai Tewelde, the Shettleston athlete, was 29th in 2.17.00 while his club-mate, Wayney Ghebresilassie, won the 'club race' in 2.17.21 in his first marathon. Inverclyde AC's Craig Ruddy was fifth in the club race in 2.20.29.
In the Women's race, in terms of the British champs, Steph Twell didn't compete but saw only Charlotte Purdue surpass her Valencia time (2.30.11) from last December) which could well mean a selection now for the Scot for Doha.
Scot Stephanie Davis did really well to finish second in the club race in 2.32.38. Central AC's Fanni Gyurko was fourth in 2.38.47.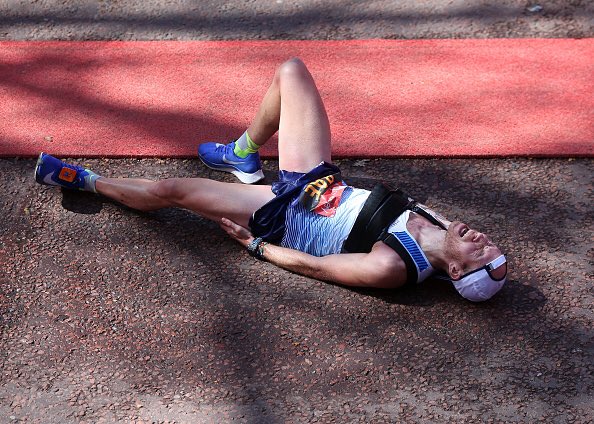 Shattered – but happy; Derek Rae. Photo via Twitter
It was a quite superb performance from Derek Rae in London to take a silver medal in the World Para Athletics Marathon Cup.
The Fife AC athlete smashed out a superb PB of 2.27.08 – with his previous best for the marathon at 2.33.24!
Many congratulations to Derek, his family and coach Ron Morrison on a very fine international performance while representing GB and NI.
'I'm super proud; I'm proud of myself and the team,' said Derek.
'It's a great individual achievement but also good to get the team going on the medal table for the World Championships. We've sacrificed a lot over the last six years; myself, my wife, my team; and now we are starting to reap the rewards. Proud is an understatement.
'It's a huge PB. I knew I was in good shape coming into this one, at least sub 2:30 shape. I ran the whole race with confidence but quite conservatively. I don't think it has sunk in yet; it will probably take a few weeks.'
Tags: Callum Hawkins, Derek Rae, London, Robbie Simpson, Virgin Money London Marathon