Laura visits EKAC; Jog Shettleston; Elgin plan Para section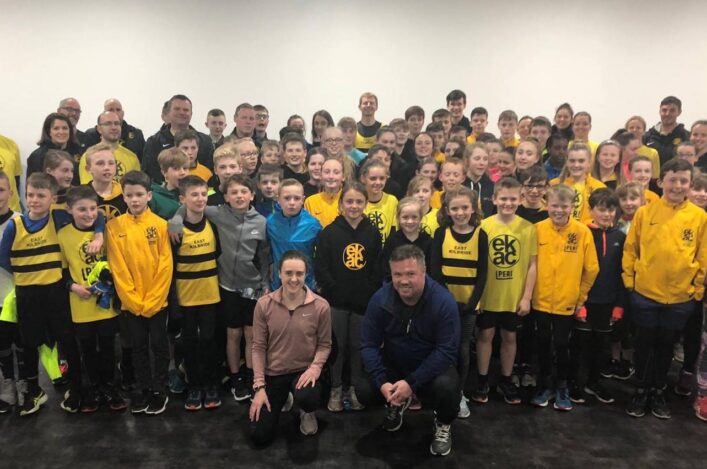 Laura Muir and Andy Young gather with the East Kilbride AC family after a special club visit. Photo via Facebook
Two clubs raise £2K with Easyfundraising
Double European champion Laura Muir and her coach, Andy Young, went back to grassroots athletics last week as they visited East Kilbride AC.
Kenny Clements set up a special night for EKAC members of all ages as they enjoyed an informative and inspirational Question and Answer session.
Laura and Andy are our current FPSG Athlete of the Year and Performance Coach of the Year after a superb 2018 – with this year proving no less exciting and successful! So far.
Laura has also been prominent on the IAAF website over the past week or so – after scripting a letter to her 12-year-old self!
 +++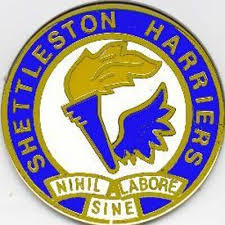 Shettleston Harriers club website
Shettleston Harriers are among the latest of our clubs to embrace the whole range of athletics abilities – by creating a jogscotland group.
With support from jogscotland's Andrea Gavin and Jo Stevens, from our recreational running arm, the club's new Walk to Jog Group, Jog Shettleston Harriers, was launched at Crownpoint track on Tuesday 16 April.
The group is supported by Community Strides, jogscotland's project to help more people from BME backgrounds enjoy its social running programmes, building on Shettleston's existing work in the East End (though the group is open to all!).
Club President Elaine Mackay welcomed the first times on the benefits of running – physical, psychological and social benefits  – before the group split into three packs to run to Glasgow Green.
The group meets every Tuesday at 7pm at Crownpoint Sport Complex. For more information contact:  Email fitgroup@shettlestonharriers.org.uk
*AS we launched this story, word was reaching us of a jogscotland group starting at Inverclyde AC . . .
+++

Elgin AAC are the latest of our clubs to take the forward-thinking step of creating a section for Para athletes.
The club plan to introduce training for all ages with a disability – running, jumping, throw or wheelchair racing.
If you want to try out, have a go, or assist, then Elgin AAC ask you to come along to Morrsiton Playing Fields on Tuesdays and Thursdays from 6.30pm to 8pm.
If you have an inquiry then please email info.elginaac@gmail.com  Or call Elgin 55 10 21.
Grampian Disability are supporting the project and confirm Elgin AAC will offer a 'friendly and welcoming environment as well as something that family and friends can get involved in, too'.
+++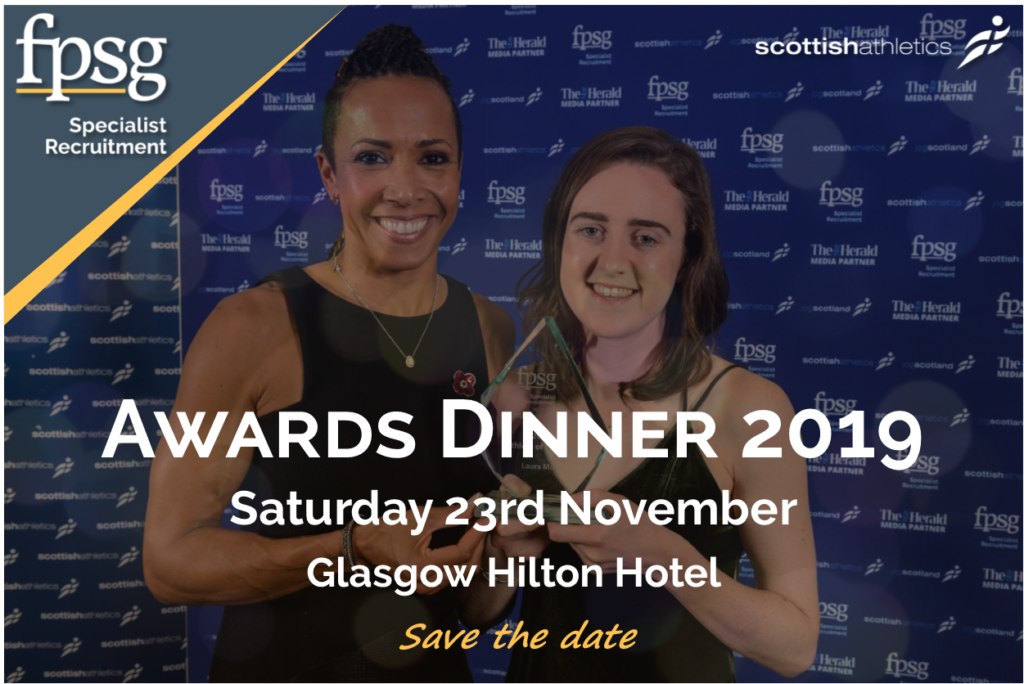 National Club Conference
Our annual National Club Conference takes place on Saturday 23 November at the Hilton Hotel in Glasgow.
It's from 9am through to 4pm with the FPSG Awards Dinner following on at the venue.
The National Club Conference is FREE to members of scottishathletics affiliated club members (£50 non-affiliated) and we will open a link for tickets at a later date.
For the moment, please make a note of Saturday 23 November in diaries and club calendars. Thanks.

Tags: East Kilbride AC, Elgin AAC, jogscotland, Laura Muir, National Club Conference, Para athletics, Shettleston Harriers