Inverness Half Marathon review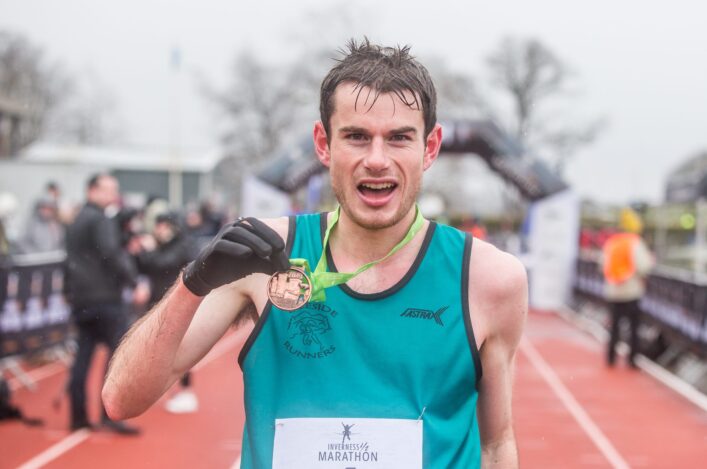 Robbie Simpson  celebrates his win at the Inverness Half Marathon on Sunday 
Album of photographs on our facebook page
By Fraser Clyne
Robbie Simpson realised just how tough the conditions were towards the end of the Inverness Half Marathon when he looked up and saw a seagull which was struggling to make any headway into the ferocious wind and driving rain.
The 2018 Commonwealth Games marathon bronze medallist couldn't recall when he last faced such adverse  weather in a race, but despite that he still posted a highly respectable winning time of 66.15 to finish well clear of a record field of close to 3,000 competitors.
The time was well adrift of the course record 64.27 he set under more favourable circumstances last year, but Simpson was more than satisfied with the outcome.
'It was so bad towards the end that I'm convinced the seagull had come to a complete halt in mid-flight,' said Robbie.
'I don't normally mind the wind and rain too much but it was bitterly cold as well. I was running low on energy over the final 20mins and wanted to take a gel with some water but my hands were so numb I couldn't do it.'
GB ultra distance international Michael Crawley (Corstorphine AC) took second position behind Simpson in 68.40 while Mike Christoforou (Edinburgh AC), the Scottish cross country championships bronze medallist finished third in 69.07.
'It was great to begin with because there was a tailwind and all the way through to the halfway point I was feeling good,' added Robbie.
'I thought I could make up some time over the second half but when we turned into the wind it was really hard to keep the momentum going and it became a bit of a battle.
'I didn't know what was happening behind me but I didn't ever feel I was pushed to my limit. Ahead of London, I'll probably do the Garioch half marathon as a training run later this month.'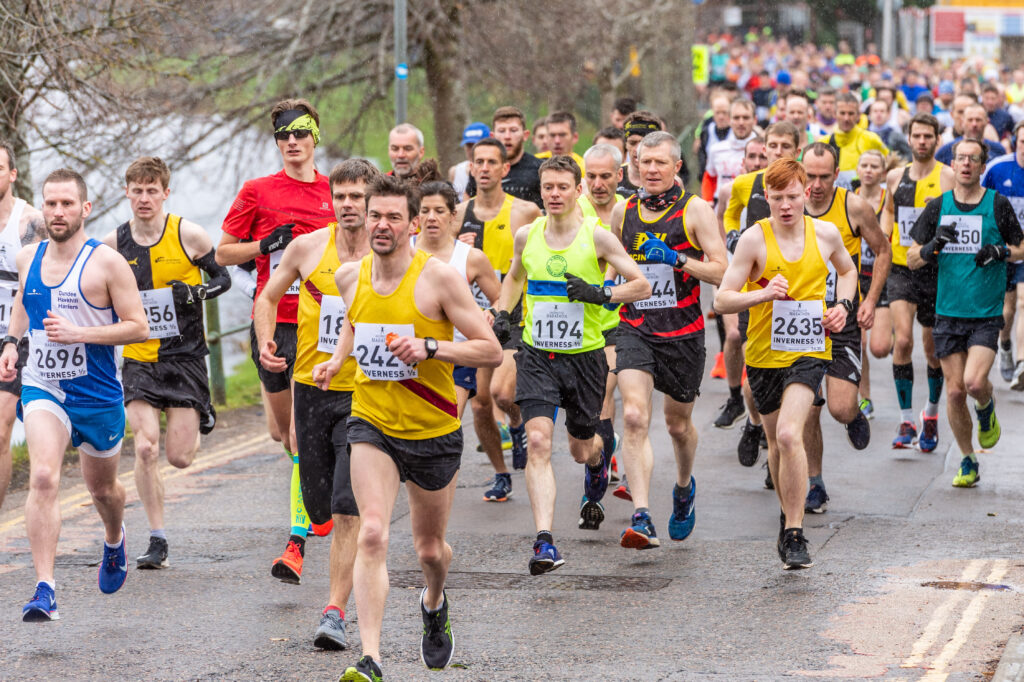 There was more success for Simpson when he led his club, Deeside Runners, to the team title with backing from Scotland hill running international James Espie who was sixth in 71.17 and Jamie Ross, 51st in 80.45.
Donnie Macdonald, who was fourth in a personal best 70.35, received the Graeme Moffat Memorial Quaich as the first Inverness Harriers club member to finish.
Richard Horne (Metro Aberdeen) was first M50 in 81.07, Terry Coyle took the M60s prize in 86.06 and Jack Davies (Forfar Road Runners) was the leading M70 in 1:44:31.
Lancashire athlete Liz Abbott produced an outstanding performance to win the women's title by completing the course in 76.52, a time bettered by only 19 men.
The Lytham St Anne's Road Runners club member was competing in her first half marathon for almost a decade and she took close to 10 mins off her previous best time.
'I have been away from running for a long time as I took a break after starting a family,' she said. 'The last half marathon I did was at Wilmslow in 2009 and I only decided to lace up my running shoes again about 11 months ago. My brother Nick lives in Inverness so we decided to come up to visit him.'
Katie White (Garscube Harriers), the 2017 race winner, had to settle for second position in 77.34 while Hungarian international Fanni Gyurko (Central AC), who won in 2016, was third in 78.51.
Sheena Logan, sixth in 83.00 led Fife AC to the women's team prize with backing from Morgan Windrum-Geddes (83.30) and Jennifer Spence (82.06).
Fife AC's Rhona van Rensburg won the W40s prize in 87.23 with her clubmate Lynne Stephen taking the W60s in 1:39:49 while the W50 award went to Christine Kibble in 1:37:18.
* There was family double joy in the accompanying 5K fun run in which Lucas Cairns (Inverness Harriers) took top spot ahead of a field of 1,200 runners in 16.33 while his younger sister Anna was first girl in 19.09