Golden glory for Twell and Craig at Falkirk
Photos by Bobby Gavin
Steph Twell swapped the track and the road for the hills of Callendar Park for the very first time – and it found it very much to her liking.
The Olympian swept to victory in the Senior Women's race on her Lindsays National XC debut to win from Cambuslang's Czech international, Moira Stewart, and 2017 champion, Central AC's Morag Millar.
And thus Twell completed a rare and remarkable National XC double – her Scottish success coming nine years after gold at Leeds in the English National at Senior level.
Nine, as it happens, was a number which came up in prominence again. Central AC took the team golds for the ninth successive year in the Senior Men's race with a typically determined team effort.
Inverclyde, who had harboured high hopes of contesting even further that title, had to settle for an individual gold for Adam Craig – as he raced clear inside the opening mile to win by a huge margin from Fife AC's Kevin Wood and third-placed Michael Christoforou of Edinburgh AC.
We will return in due course to the men's action.
Photos by Bobby Gavin on Facebook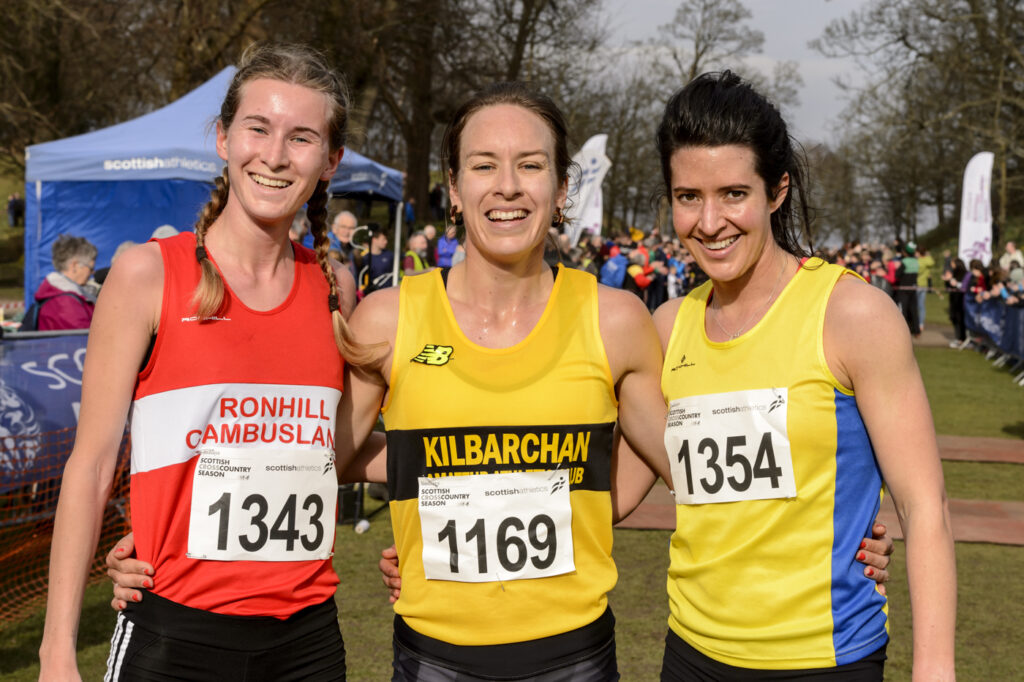 Women's champion Twell is joined by silver medallist Moira Stewart of Cambuslang and Morag Millar of Central AC
Twell for her part won by 13 seconds in 38.38 over the 10K (plus a bit more) battle and loved the course which includes a section of the Antonine Wall.
'It's a terrific event in itself and I was thrilled to be part of it,' said Steph, with Millar some nine seconds behind silver medallist Stewart.
'To be on the start-line with such a big field for the Women's race was epic. Seeing all those club vests together really shows there's something very good happening in athletics in Scotland right now.
'It was a proper cross country test as a course. I had to be a little bit cautious, or smart, initially just to get used to it.
'I tried to stretch out but it was hard to do that. Moira had a fantastic run and I could hear a lot of commentary getting behind Moira, Mhairi , Morag so I was trying to work out Maclennan) what was going on in the race.'
If Twell's victory margin was relatively comfortable then the same couldn't be said for the Women's team race.
It was five to count for the first time and it created a really tight contest which saw Fife AC win with 149 points and Hunters Bog Trotters land second on 151 points – with third placed Shettleston also on 151!
Fife, without a couple of their best female athletes, packed superbly and were rewarded with the club's first Senior Women's title
thanks to the efforts of Megan Crawford (19), Helen Sharpe (26), Sophie Mullins (30), Jennifer Cruickshanks (32) and Jennifer Kibble Spence (41).
It was brilliant to see 319 finishers in that race.
Craig has had a terrific six months or so on the road and the firm conditions at Falkirk suited him down to the ground.
So much so, that Adam felt compelled to push on and pull away from the group inside the opening mile. The lead was a staggering 58 seconds come the finish, with St Andrew's Uni student Wood doing well to take silver by a couple of seconds from Christoforou.
'I last raced here when I was about 18 five years ago but this was getting back to my cross country roots in the Borders,' said Adam.
'I loved it and felt good out there. I tried to hold back but, to be honest, after half a mile I was ready to push it on. I did a session on Thursday which surprised me and felt good – and the conditions certainly suited me today.
'You look at the weather forecast, of course you do, and I was thrilled it wasn't a mudbath!'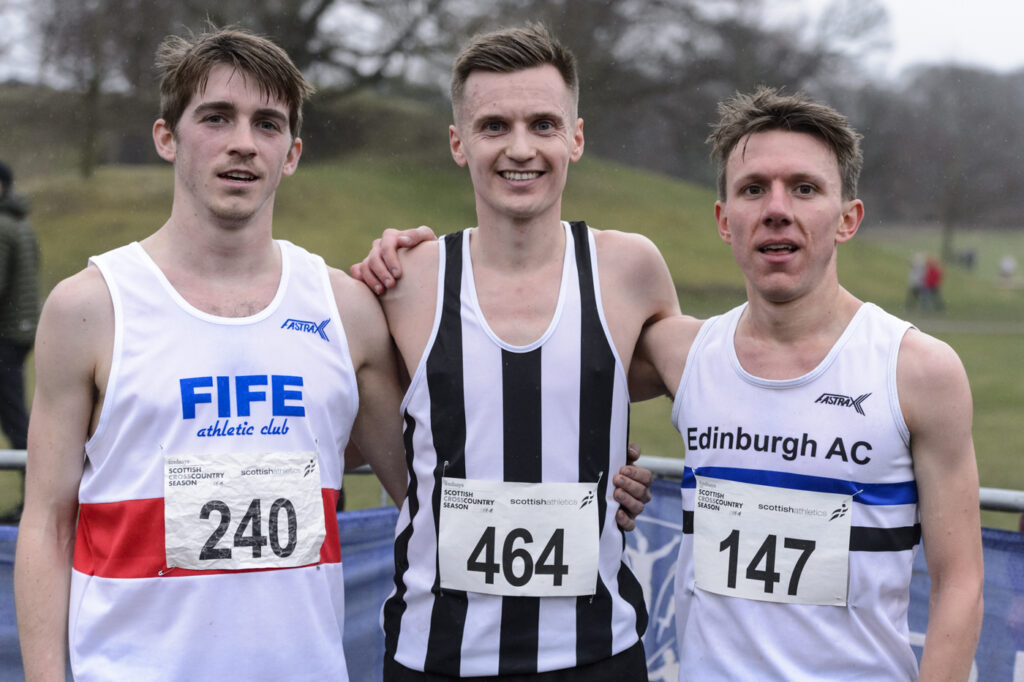 Inverclyde's Adam Craig is joined by Kevin Wood of Fife AC and Michael Christoforou of Edinburgh AC
Inverclyde had hoped Andy Douglas, on the podium last year, could challenge for a medal alongside Craig but a hip injury for the GB hill runner had an effect on the team race.
Who else but Central AC would cash-in?
Easton's men are formidable on these occasions and having all six men home inside the first 32 places was crucial.
Alastair Hay, as he has so often, was their top counter at 8 with Cameron Milne (10), Conan McCaughey (14), Dale Colley (15), Michael Wright (21) and Iain Davies (32) completed their winning team with 100 points. Cambuslang were at 142 to pip Inverclyde by four points in the battle for the silvers and bronzes.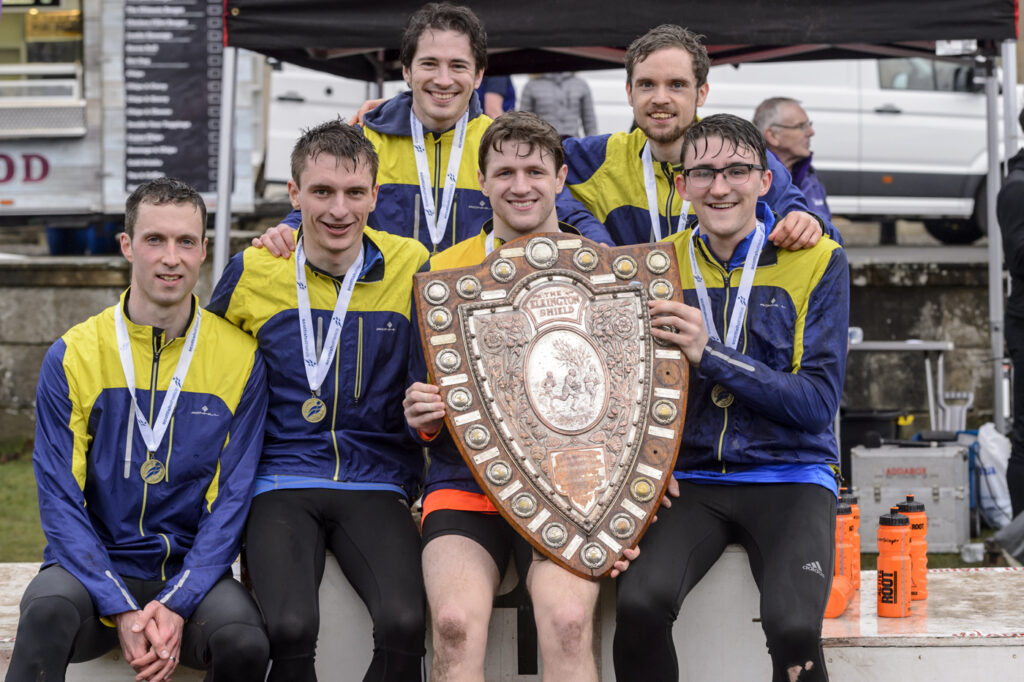 Central AC men celebrate a famous, and record-setting, victory at Falkirk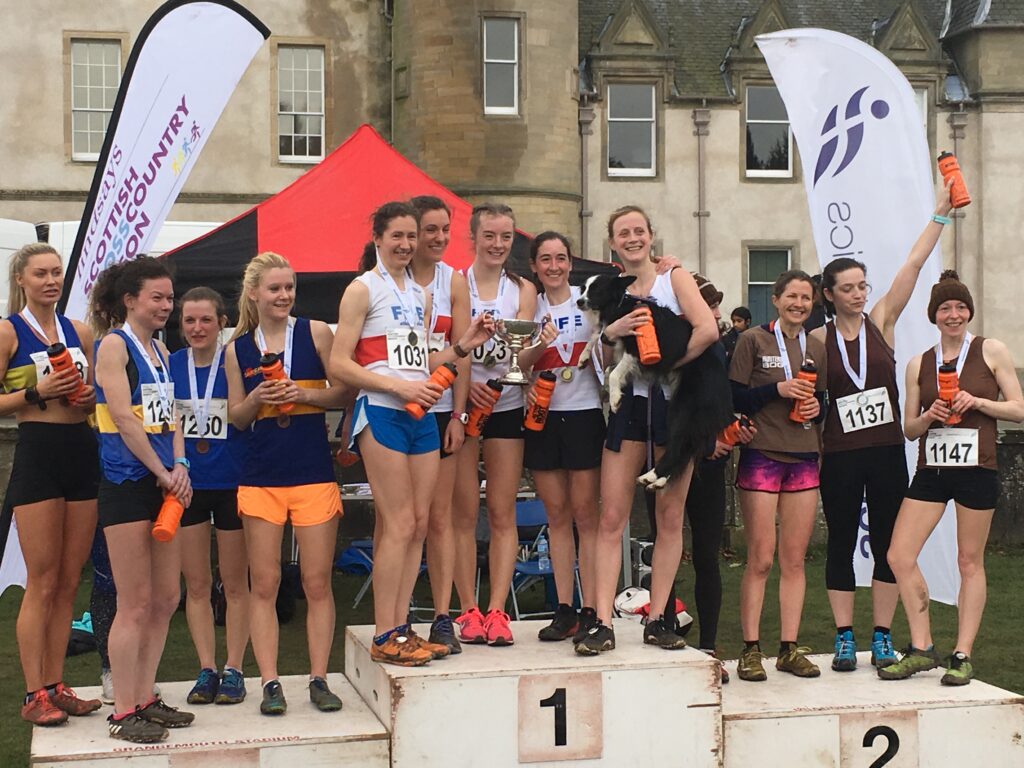 Women's team podium as Fife AC celebrated their first-ever golds in that race – by two points from HBT and Shettleston (photo via Fife AC)
Tags: Adam Craig, Central AC, Falkirk, Fife AC, Lindsays National XC, Steph Twell