Scotland set for XC action in Belfast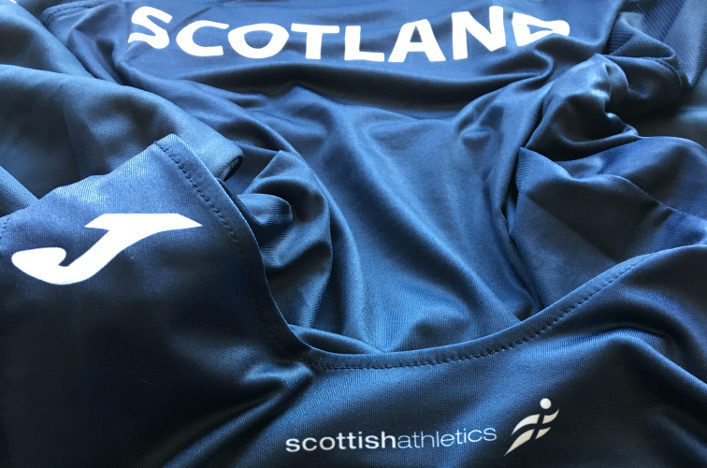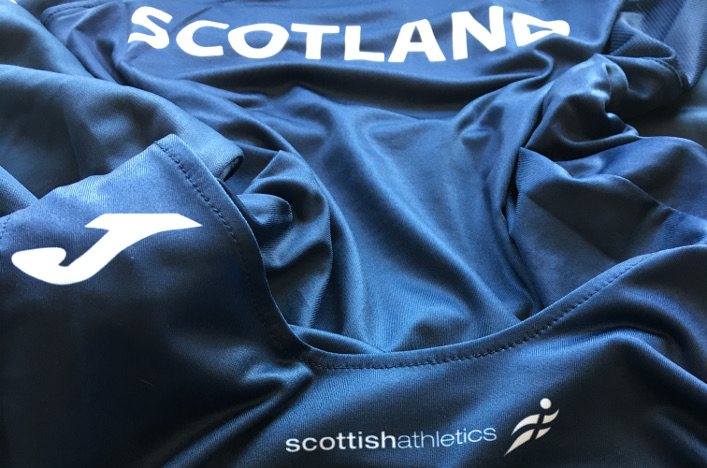 Scotland teams selected for International XC
Scotland teams head for Northern Ireland this weekend for international cross country action.
The event on Saturday at Dundonald, Belfast, features both the Celtic XC event (for younger athletes) and the annual Home Countries International match (for Seniors).
Scotland picks Senior teams of four men and four women for the Home Countries event this year as well as teams of four at U23, U20 and U17 levels for the Celtic XC match.
Our selections were based on recent form in mid-December(including the Lindsays District XC Champs) and those picked will wear the Joma Sport kit.
In only one addition to the original team, Eloise Walker (Edinburgh AC) steps up to the U23 team following a bronze medal-winning run at the Inter-Districts at Stirling after a couple of withdrawals.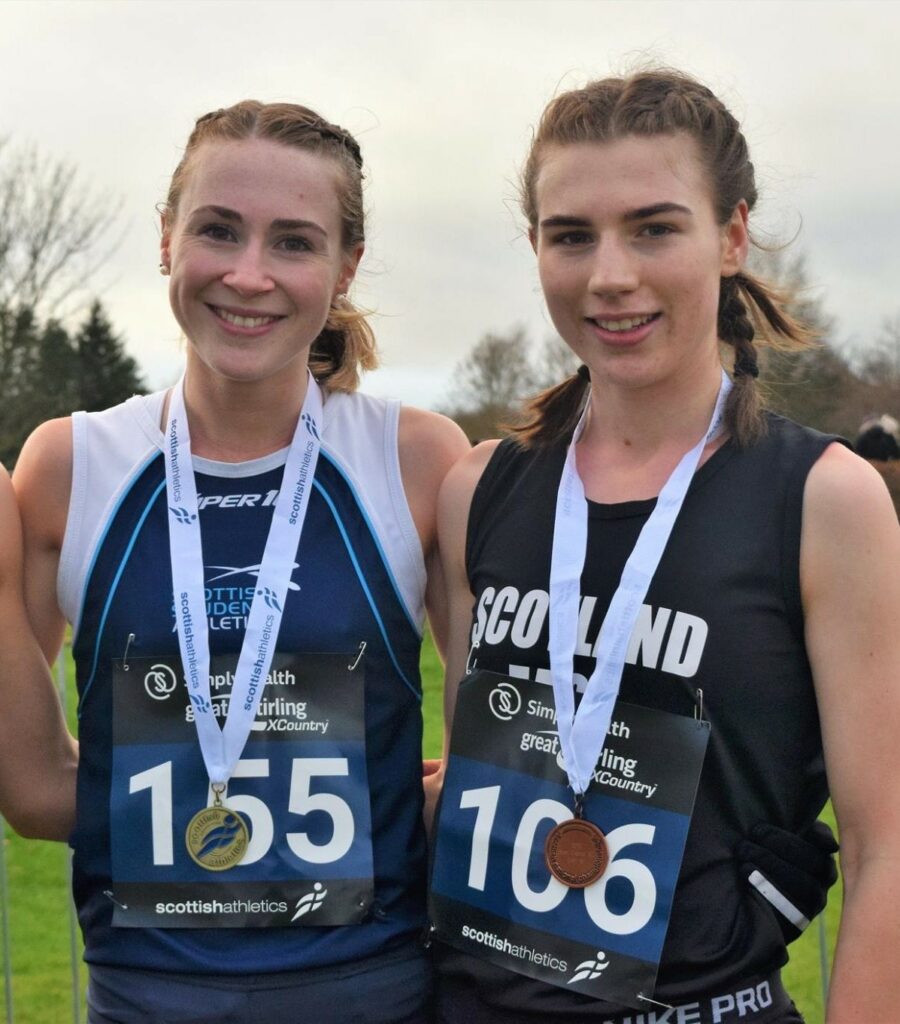 Mhairi Maclennan (left) and Eloise Walker took gold and bronze at the Inter-Districts and both now will race in Belfast (photo by Neil Renton)
Senior teams for the Home Countries International:
Scotland Women: Mhairi Maclennan (Edinburgh Uni Hare and Hounds), Rebecca Burns (Edinburgh AC), Jo Williams (Lothian RC), Michelle Sandison (Springburn Harriers)
Scotland Men: Calum McKenzie (Corstorphine AAC), Alastair Hay (Central AC), Cameron Strachan (Metro Aberdeen), Kenny Wilson (Moray Road Runners)
Scotland teams for the Celtic XC
U23 Men: Euan Campbell (Stornoway RAC), James Donald (Dundee Hawkhill Harriers), Freddie Carcas (Edinburgh AC), Gavin Smith (Cambuslang Harriers)
U20 Men: Cameron Wright (Kilbarchan AAC), Kane Elliott (Falkirk Victoria Harriers), Lewis Raeburn (Shettleston), Hamish Hickey (Central AC/Stirling Uni)    
U17 Men: Jack Patton (Kilbarchan AAC), Harry McGill (Greenock Glenpark Harriers), Lewis Hannigan (Kilbarchan AAC), Gregor Campbell (Shettleston)
U23 Women: Kerry McAngus (Kilbarchan AAC), Zoe Bates (Edinburgh AC), Eloise Walker (Edinburgh AC)
U20 Women: Cera Gemmell (Team East Lothian), Jessica MacLeod (Corstorphine AAC), Zoe Pflug (Gala Harriers), Constance Nankivell (East Sutherland AC)
U17 Women: Isla Calvert (Livingston AC), Anna Hedley (Fife AC), Rosie Davidson (Ayr Seaforth), Lily-Jane Evans-Haggerty (VP-Glasgow)
*The U20 teams will compete in two competitions within the same race – the Celtic XC U20 and the Home Countries XC U20 – with separate medals and results.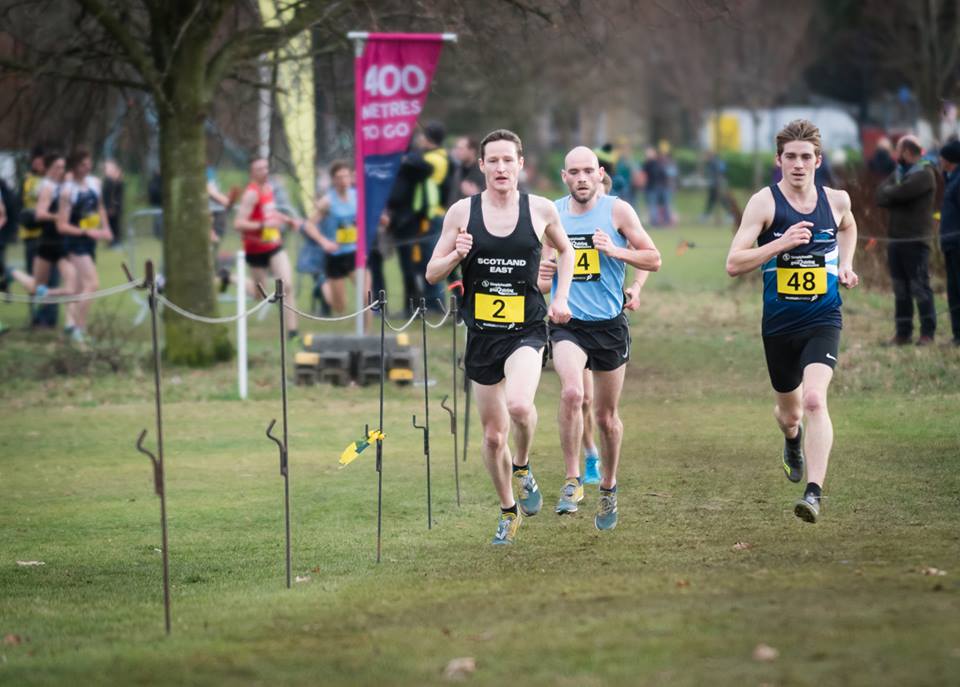 Calum McKenzie (No 2) at the Inter-District XC at Stirling (photo by Rob Eyton-Jones)
Alastair Hay (Central AC) and Calum McKenzie (Corstorphine AAC) took silver and bronze at the Inter-Districts and are included in what looks a strong Scotland Senior Men's team.
'I'm looking forward to wearing a Scotland vest once again for cross country,' said Hay.
'I was pleased with the run at Stirling because it was better than I fared at the East Districts when I'd had a wee issue with an ankle injury in the build-up. I've not raced in the Home Countries event in Northern Ireland before and I believe this time the venue has moved from where it used to be in Antrim.'
McKenzie had the distinction at the weekend of becoming Corstorphine  AAC's first-ever Senior medallist in the Inter-District event – 18 years after joining the club as an 11-year-old.
'It's great to get a first in terms of the club history because there have obviously been a lot of good runners at Corstorphine AAC before me that I looked up to,' said Calum.
'It's nice to be able to do some things that they weren't quite able to achieve.
' At the moment, this is the best season I've had. I won a medal on the weekend, another medal at the East Districts Cross Country Champs, and I'd never got an individual medal there before. And I ran a 10k PB (30:20) a couple of weeks ago.
'This weekend is the fourth time I will have run for Scotland so I'm not exactly a seasoned veteran but I've been there a couple of times and I'm hoping to do well.'
Good luck to all those athletes selected to represent Scotland in these events and to their coaches and families. Well done, too, to the clubs involved in the development of these athletes over a number of years.

Tags: Alastair Hay, Calum McKenzie, Celtic XC, Eloise Walker, Home Countries International XC, Mhairi Maclennan, Scotland