Laura and Jamie help GB to Stirling XC win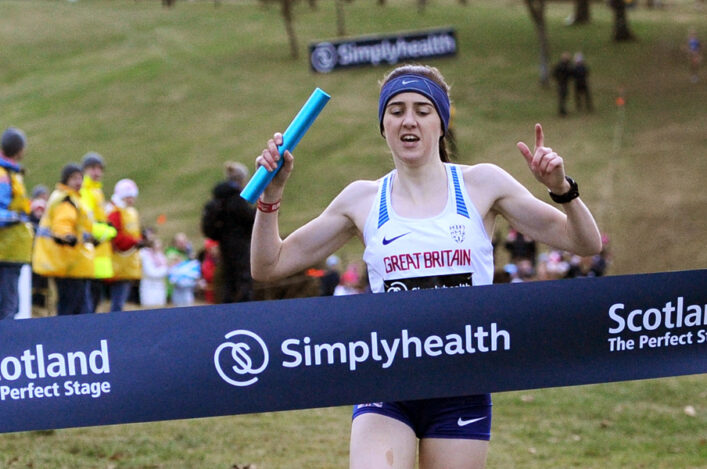 Photo via British Athletics/Mark Shearman
All Results on Event page (scroll down on left)
Laura Muir earned herself a fourth consecutive International Mixed Relay gold on a great day of cross country action in Stirling.
The European 1500m champion was handed a lead for the last leg in the final event at the Simplyhealth Great Stirling XCountry and came home comfortably ahead of Team Europe to huge cheers from the Scottish crowd.
The victory for the senior mixed relay team helped GB and NI  cement vital points as they held of Team USA, to finish with 84 points overall. Team Europe took victory, accumulating 55 points across the three international races.
Scotland Juniors did well to take seventh place in the race thanks to the efforts of Kane Elliott, Erin Wallace, Joe Ewing and Sarah Calvert – on a day that was a superb learning curve for all our athletes in a live televised race.
They finished just one second ahead of the Scotland Senior team who had featured Adam Craig, Mhairi Hendry, Michael Ferguson and Steph Pennycook.
GB 800m runner Alex Bell ate up Danielle Shanahan's lead after she made an error midway through her lap, after Scot Jamie Williamson had started the British team's charge.
Phil Sesemann solidified the British advantage heading into the final lap with an excellent third leg, allowing Muir to cut the tape first in 17:36.
Photo album by Neil Renton on Facebook
'The team did really well, they were unlucky at the European Cross in Holland so it was good to win today,' said Laura, who now heads to South Africa for another block of training.
'For me, it was fantastic to see them build up such a strong lead for me, and then I thought 'well there's no pressure now!'
'All credit to the team, they did a superb job of getting me into a good position and it's as much of a team win as it is an individual win for me.
'When I saw I was quite a bit ahead I thought I had to take it easier on the first half and make sure that I was strong on the finish and I had to judge it so I could be strong on the finish.
'I take the crowd in more than I would on a track, there's people there from school and Glasgow and running alongside that are all shouting things.
'It's nice to run and be so close to the crowd and having little kids running alongside you is really fun. It [the course] was a challenge but it was proper cross country and it was good fun.'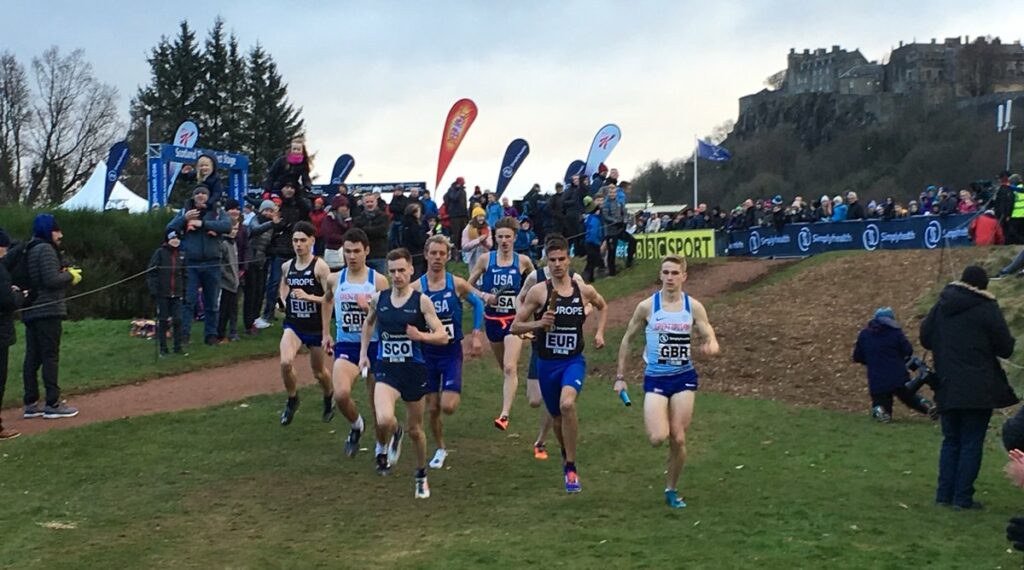 Adam Craig (Scotland vest) and Jamie Williamson (GB vest) lead out the opening lap (photo by Sue Gyford)
'It was brilliant to get the win and it makes up for the Euro Cross, where I slipped,' said Jamie Willamson, who had the same 4.10 split as Sesemann.
'We felt we had a really strong team today with Laura coming in for the last leg and three of us who were in Tilburg.
'I was happy enough with the way I ran though one of the Europeans just pipped me at the change-over.
'But it was a great race to be in. I represented Scotland in this race last year in Edinburgh and it was good to do it again at Stirling. It sets me up nicely for 2019 and I will be speaking to my coach soon about the plans for the next couple of months.'
Erin Wallace, now being coached by Andy Young, had a fine run for the Scotland Juniors on the second leg.
'I enjoyed that and felt it went pretty well,' said Erin. 'I was actually due to race in the Inter-District for the West Senior Women over 6K – so I was pretty pleased when the selection came through for 1.5K for Scotland Juniors!
'Seriously, that was quite a good course for a 1500m track runner given it wasn't muddy at all and this will help set me up for the indoor season. I'm entered for the British Champs at 1500m so that will be exciting.'
Tags: Great Stirling XC, International Mixed Relay, Jamie Williamson, Laura Muir, Stirling