Mhairi Maclennan saw off a strong field to claim the Inter-District Senior Women's gold and then expressed her delight at the support around the course at Stirling.
It was a new venue for these races after a number of years on the familiar routes of Holyrood Park in Edinburgh.
But Maclennan and others revelled in firm conditions underfoot across Kings Park and part of the Stirling Golf Club course as she took the race for the Scottish Students ahead of North of England's Lucy Crookes and East athlete Morag Millar of Central AC.
Millar took the silver medal with the North of England athletes as guests in terms of the individual races – with Edinburgh AC youngster Eloise Walker, a late call-up for the East, coming up with a very fine run over the 6K course for the bronze medal.
'It was great to win and I loved the course,' said Mhairi, who won in 20.40 with a 15-second advantage over Crookes. Millar clocked 21.08.
'I think a lot of us were a wee bit nervous about racing somewhere new because many athletes did like Holyrood Park. I've raced there so many times myself.
'But the course here was really good and it was fun to get on a golf course! We don't get that too often in Scottish cross country. And the crowds were brilliant right around the course with so many people cheering us on. That always gives you a boost.'
The team race was won by the East from the North of England and the Scottish Students.
Photos by Neil Renton on Facebook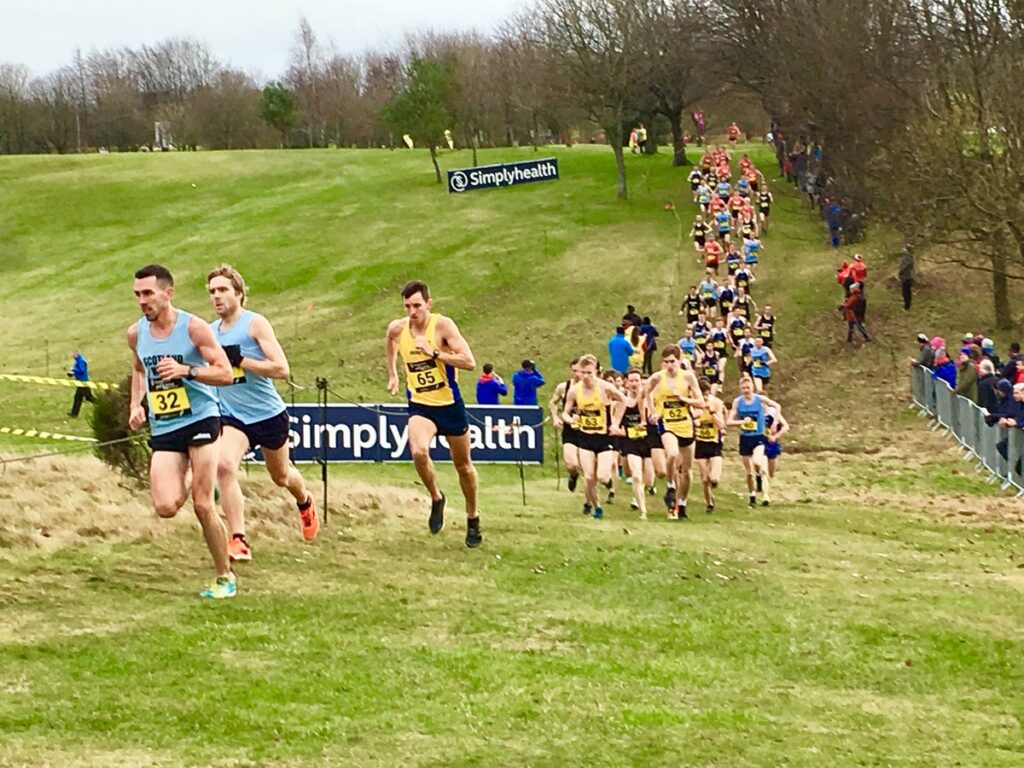 Lachlan Oates won his first West District XC title a month ago in wet and muddy conditions at Kilmarnock – but the contrast at Stirling proved no problem for the Shettleston Harriers athlete.
Oates came home in 25.16 to win from Linton Taylor of the North of England as Alastair Hay of Central AC took the silver medal in the Inter-Districts and Calum McKenzie of Corstorphine AAC landed the bronze.
'I've been on the podium at the Inter-Districts before but this is my first win,' said Lachlan, who won by seven seconds from Taylor with Hay at 25.25.
'I didn't expect to like the course too much as I'm not normally known for performing so well when it is flat and dry. There certainly wasn't the mud we had at the Wests but as it happened I liked it fine.
'Andy Douglas went off quite hard withthe North guy but after a couple of laps I felt they were slowing a little bit and I was thinking about us being caught by the group behind us. So I pushed on beyond them and managed to keep it going.
'I actually fell at one stage when, on a bend, I looked back to check the gap. My number came off and I had to carry it with me but fortunately I had enough of a lead.'
The men's team race was won by the West from the East and the North of England.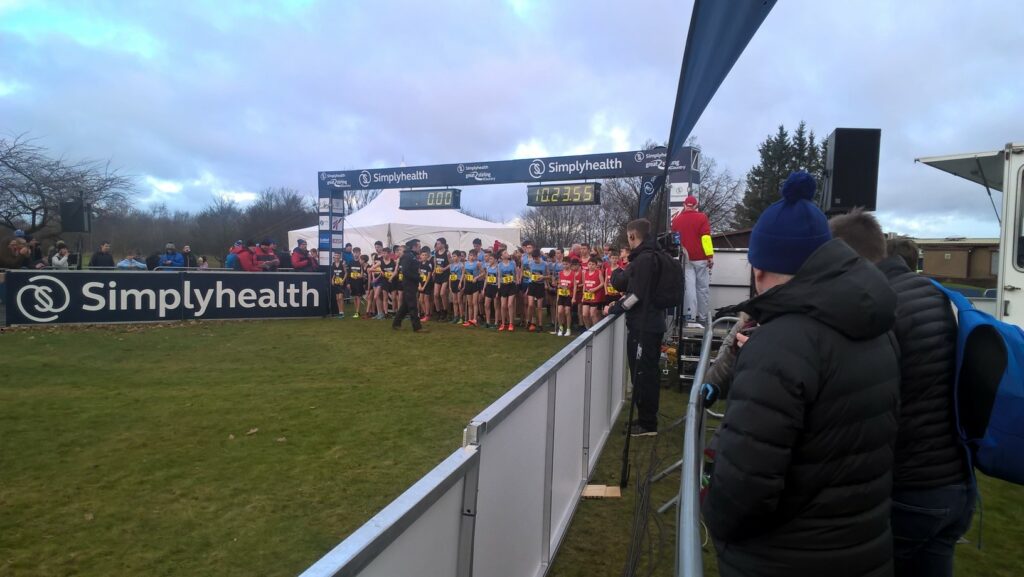 The Inter-Districts had opened up with the U13 Boys and Girls races going off almost together at 10.25am.
Finlay Ross of Harmeny had won the U13 title a year earlier in Edinburgh and repeated that feat at the new venue – with silver for his East team-mate, Corey Campbell of Team East Lothian. There was a third place for North athlete, Roy Taylor, of Moray Road Runners.
In the U13 Girls race, there was a superb 1-2 for Inverness Harriers. Anna Cairns took the gold for the North and her team-mate, Grace McDonald, came through with a strong finish to seize the silver from third-placed East athlete Phoebe Armstrong (Aberdeen AAC).
No sooner had that race finished than the U15s were off – and Lucas Cairns duly made it a family double and added further glory for Inverness Harriers.
Chris Perkins of Giffnock North led the race for the West for a while before being over-hauled by the North runner. East champion Harry Henriksen of Lasswade AC took third place.
Anna Hedley had looked favourite for the U15 Girls title and duly delivered with Katie Johnston of Edinburgh AC landing the silver. West athlete Anya Maclean, of Garscube Harriers, was third.
The U15 team results were both West, East, North while it was East, West, North in the U13 Girls. And the West took the U13 Boys race with East second and the North third.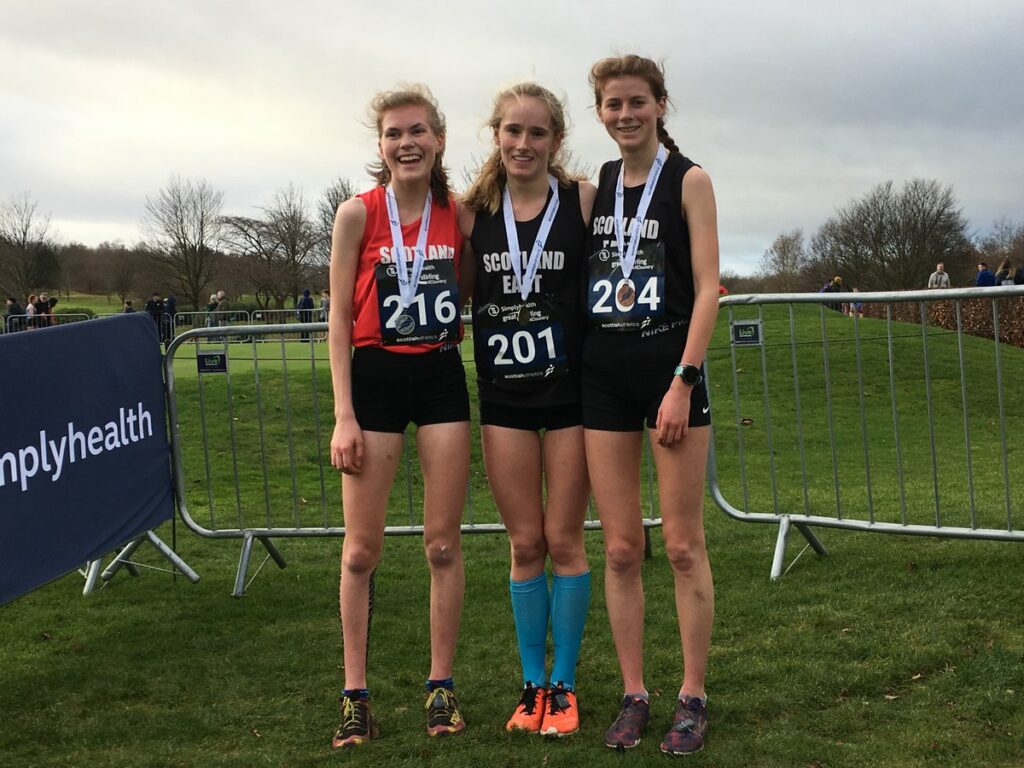 Our Inter-District U17 Women's medallists (photo by Sue Gyford)
There were wins at U17 level at Stirling for Hamish Armitt of Giffnock and Cera Gemmell of Team East Lothian.
Armitt won for the West in the U17 Men's race with second for Jack Patton of Kilbarchan AAC and third for East athlete Kristof Hornyik (Dundee Hawkhill).
Gemmell won for the East in the U17 Women's race from North athlete Megan Keith (Inverness Harriers) and third-placed East runner Pippa Carcas (Edinburgh AC).
The team positions for the U17 Men were West, East, North and in the U17 Women there was a win for the East from West, North.