CE Scots star in Sheffield as Brindley lands U20 Record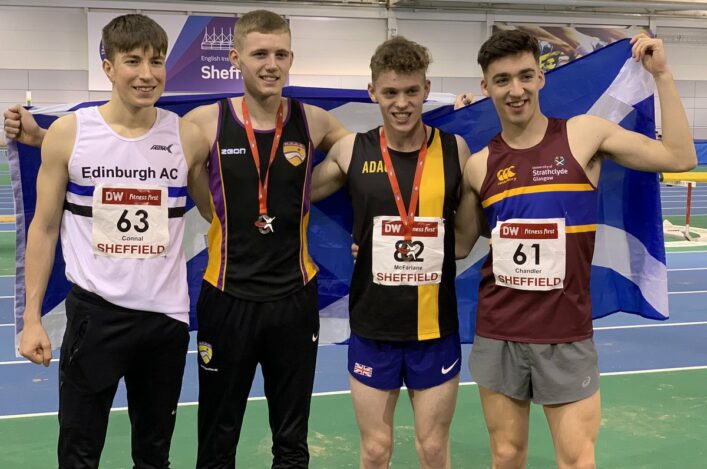 Scott Brindley (second left) celebrates a silver medal and new Scottish U20 heptathlon record with fifth-placed Scott Connal (left), bronze medallist Joel McFarlane and seventh-placed Matt Chandler (right)
England Athletics website report
Scottish Combined Events athletes headed to Sheffield over the weekend for the England Athletics Indoor Champs – and delivered another stunning collective effort to emphasis the progress in this strand of our sport.
Here are the main highlights:
*Andrew Murphy took Senior silver and is now second on the all-time Scottish list
*Howard Bell landed U23 gold
*Scott Brindley won U20 silver and broke the Scottish U20 heptathlon record in his first competition in this age group
*Joel McFarlane claimed bronze in that age group and there were four Scots in the top seven.
Many congratulations from all at scottishathletics to the athletes involved and their coaches as well as the clubs helping in their development. It's always great to see hard work and good coaching pay off and this significant improvement in CE is no surprise given the portents of recent years.
Moira Maguire, of the Track and Field Commission, sent us the following notes from Sheffield:
In the Senior men's event Andrew Murphy finished in silver medal position with a personal best score of 5523 and should have his GB selection confirmed for the international in Cardiff on January 26/27. The Kilbarchan AAC athlete is now second on the Scottish all-time list.
Howard Bell finished in sixth position with a personal best score of 5312, which included four PBS, to take the U23 gold medal. As highest placed U23, this performance should ensure his selection as the U23 for the international match.
Tom Chandler finished in 14th place while Cal McLennan in his first Senior championship event fell just short of the 'Perfect 7', recording PBs in six out of seven events for a 13th place finish.
In his first National U20 championship, Scott Brindley won the silver medal with a score of 5192, a Scottish record, which included four individual PBs. It was a superb effort from the North Ayrshire AC athlete which should earn him his first GB vest in Cardiff.
Joel McFarlane scored 5113 to finish in third place and indeed that tally was ahead of Joel's own previous Scottish U20 record (5099).
Scott Connall scored 5026 to finish in fifth in his first competition after a two-year absence through injury. Matt Chandler finished in seventh place with 4751, making it four Scots in the top seven  –  a remarkable achievement for this talented group of combined eventers.
Anna Forbes finished in 12th place in the pentathlon, a creditable performance in her first Senior event.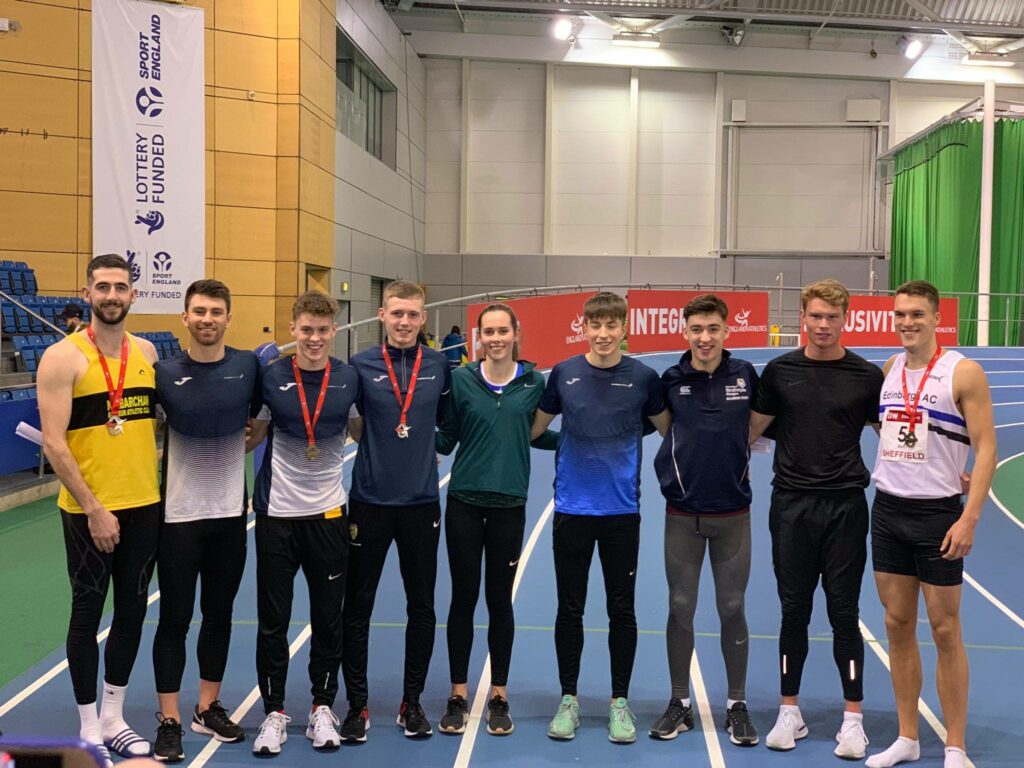 Tags: Andrew Murphy, England Athletics CE Champs, Howard Bell, Joel McFarlane, Scott Brindley, Sheffield