Lindsays District XC diary . . .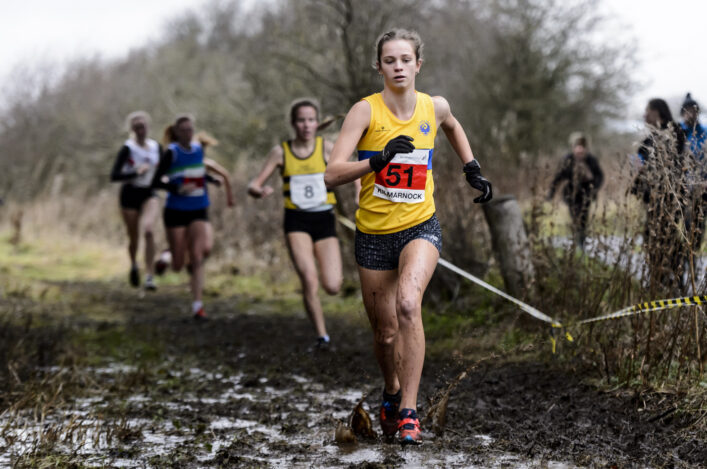 Erin Wallace on her way to gold through the mud at Kilmarnock (photo by Bobby Gavin)
Lindsays District XC Champs Round-up
Anyone  looking for further confirmation that cross country provides the right winter base for track and field endurance athletes need only have looked closely at the District XC results.
Falkirk Victoria's Kane Elliot won the European U18 1500m title in the summer and has a PB that ranks as among the very best of British for U17.
Erin Wallace of Giffnock North finished seventh in the final of the 1500m at the World Juniors last summer – one year on from her Commonwealth Youth Games gold in the Bahamas.
Yet there they were at different ends of Scotland, in Aberdeen and Kilmarnock, ploughing through mud and across grass to gold medals at the East U17 Men's race and the West U20 Women's event.
Great to see our U17 and U20 Athletes of the Year from the FPSG Awards Dinner last month setting this kind of example . . .
+++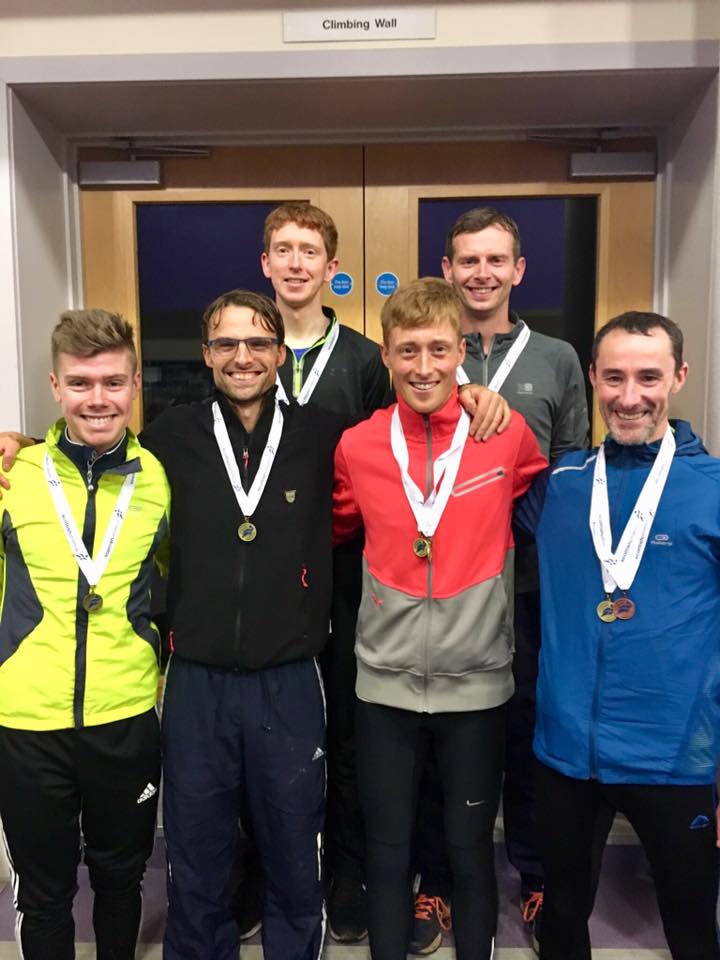 History men – Moray Road Runners Senior Men celebrate team gold for the first time in 24 years (photo via Facebook)
It's fair to say Inverness Harriers often dominate in the North District XC Champs and that remained the case at the weekend in a number of the age group races.
But there was a fine double for Moray Road Runners in the Senior events as they took both the Women's and Men's titles.
Hosting the event at Gordonstoun, MRR Women successfully defended the title they had won a year earlier but for the men led home by Scotland road international, Kenny Wilson, we make this a first win in almost around a quarter of a century! Inverness and Forres have dominated the team golds for the past decade.
Just as important, arguably, would be the fast that the North event attracted more than 300 names on the start-list with 22 clubs represented.
North District group XC training sessions at Forres over the past couple of years have become increasingly popular and if anyone needed any more inspiration or motivation then the sight of Anna Macfadyen on the team podium at the Euro Cross in Holland provided it.
+++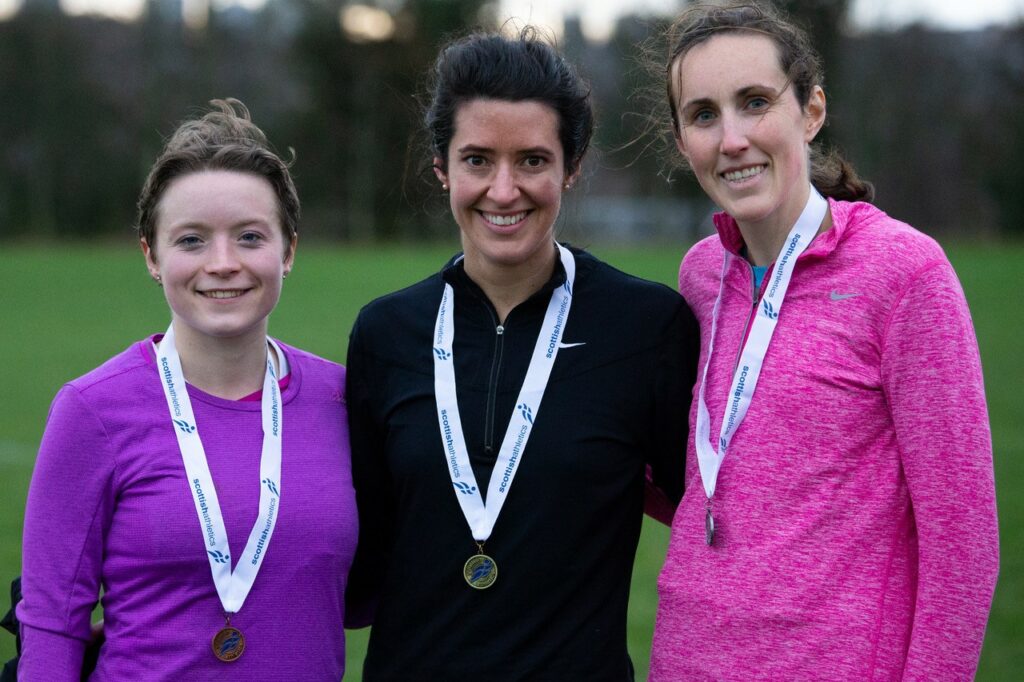 East District XC champion Morag Millar with fellow medallists Jo Williams (right) and Annabel Simpson at Balgownie (photo by Alan White)
Morag Millar claimed the East District XC Senior Women's gold for the fourth time in six years at Aberdeen on Saturday.
But, behind that simple statement, lies another story of a great fightback from injury by the Central AC athlete.
The former Commonwealth Games representative was advised earlier this year that she may never be able to run again after sustaining patella tendonitis, a severe tendon injury.
But Millar bounced back and is now getting close to her best as was shown by the nature of her  victory at Balgownie. The 2017 National XC champion led from the start and completed the 8.6km course in 30.57 to win by over 90 seconds.
Lothian Running Club's Jo Williams was her closest challenger, clear in second place as she came home in 32.40 before Annabel Simpson led Fife AC to the team title when finishing third.
'I can appreciate these things more now after being told I might never run again,' said Morag. 'When I look at how far I've come in the past two and a half months, I have to be pleased.
'It was a good workout at the Easts, especially after arriving a bit late then realising the race was longer than I expected. It was in my mind that it was 6K and not 8.6K, but it all worked out fine.'
+++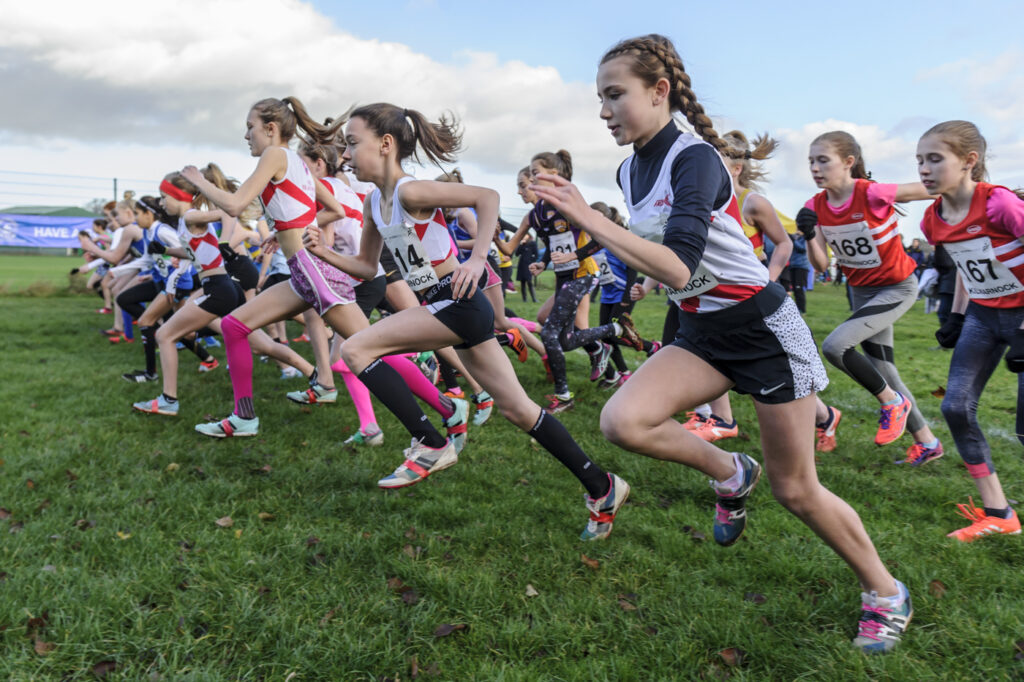 Off and running – the U13 Girls set off at Kilmarnock (photo by Bobby Gavin)
Organisers at the West District XC Champs offer their sincere apologies over a course and marshalling error in the U13 Girls race.
With athletes expecting to run 3.2K, it was unfortunately all over after only around 1.3K due to a combination of factors which then saw them sprinting for the line.
One of the issues was connected with a course at the same venue for a short race for U11s at the Ayrshire Country Champs a couple of weeks earlier and there were also marshalling errors.
Selection for the Inter-District event at Stirling will now be the subject of careful consideration by the West District RR and CC Committee, although the result stands in terms of Saturday's race.
It's of course frustrating for athletes, families, coaches and clubs but sometimes mistakes do happen in cross country events and scottishathletics acknowledges the regret felt by the volunteers involved in this particular one at Kilmarnock.
In fact, we salute them once again for their overall dedication and delivery because, in terms of Scottish District championship events, it is looking very much like the same clubs every couple of years putting themselves forward to stage events for the benefit of others.
So many thanks indeed to Kilmarnock Harriers, Moray Road Runners and the North East Scotland Athletics Partnership for their efforts in hosting
Tags: Annabel Simpson, Jo Williams, Kenny Wilson, Kilmarnock Harriers, Lindsays District XC Champs, Morag Millar, Moray Road Runners