District XC Relays review
Central AC Senior Men celebrate a 12th win in 13 years at Glamis Castle with coach Derek Easton (photo via Twitter)
East District XC Relays Results on the Events section
Persistent rain at the beautiful backdrop of Glamis Castle led to soft going as 600 cross country stalwarts gathered for the East District XC Relays.
With new East Secretary Sandra Hardacre conducting the orchestra, her officials were set for a wet and challenging day.
East photos by Pete Bracegirdle of Fife AC
Young Athletes Female
The Young Athletes female race got the day's events under way and proved a successful start for Fife AC who won their first-ever championship in this event since it started in season 1993-4.
Leading all the way Isla Thoms brought her team home with an advantage of 24 secs to hand over to sisters Isla and Anna Hedley who extended the lead to almost two minutes. Edinburgh AC worked their way steadily through the field to secure the silver medals with Corstorphine AAC taking bronzes.
Young Athletes Male
Cameron Rankine of Gala H led home the first leg of the Young Athletes male race from Corey Campbell of Team East Lothian and then the Championship settled down to its usual pattern with Edinburgh AC's Ruaridh Woodland-Broome being backed up by Ross Dewer and Joe Ewing who took their team to the finish as champions for the 11th time in the last 14 years.
Team East Lothian kept in contention for second and Aberdeen AAC took the bronze medals.
Senior Women
The Senior Women's Championship echoed the YAF Championship. This time, it was Edinburgh University who led from start to finish.
Their new recruit from Dartford H, Holly Page, who represented the UK at the IAAF World U20 Championships in 2018, opened up a gap that was extended to the end by Amy Frankland and Steph Pennycook to win by just under one minute.
Edinburgh AC were never in doubt for the silver medals. The most impressive run of the day came from Central AC with Kate Gallagher, Lauren McCulloch and on the last leg Morag Millar, the 2016 National XC Champion, who took the team from 8th passing the B teams of Edinburgh University, two Fife AC teams and Falkirk Victoria H to snatch the bronze medals.
It is not surprising to record the fasted time of the day was recorded by Morag Millar in 14.02, Holly Page in 14.43 and Stephie Pennycook in 14.48.
The Masters Championship was won by the Hunters Bog Trotters.
 Senior Men
After relinquishing this title last year to Corstorphine AAC for the first time after 10 straight victories there was much talk about the demise of Central AC and who would take over the mantle. Within two laps it was quite clear that Central were not ready to give up their domination of this Championship.
Central's team of Murray MacLarty, Lewis Millar, Michael Wright and Alastair Hay cruised to victory with about 30 secs to spare. Edinburgh University w took silver just holding off the very fast finishing Hunters Bog Trotters team. Aberdeen AAC were a very close 4th.
The fastest times of the day were Scott Fraser Hunters Bog Trotters in 12.39, Michael Ferguson Aberdeen AAC in 12.44 and Cameron Strachan Metro Aberdeen RC in 12.48.
In the Masters Championships, it was golds for Corstorphine.
With thanks to Ron Morrison
+++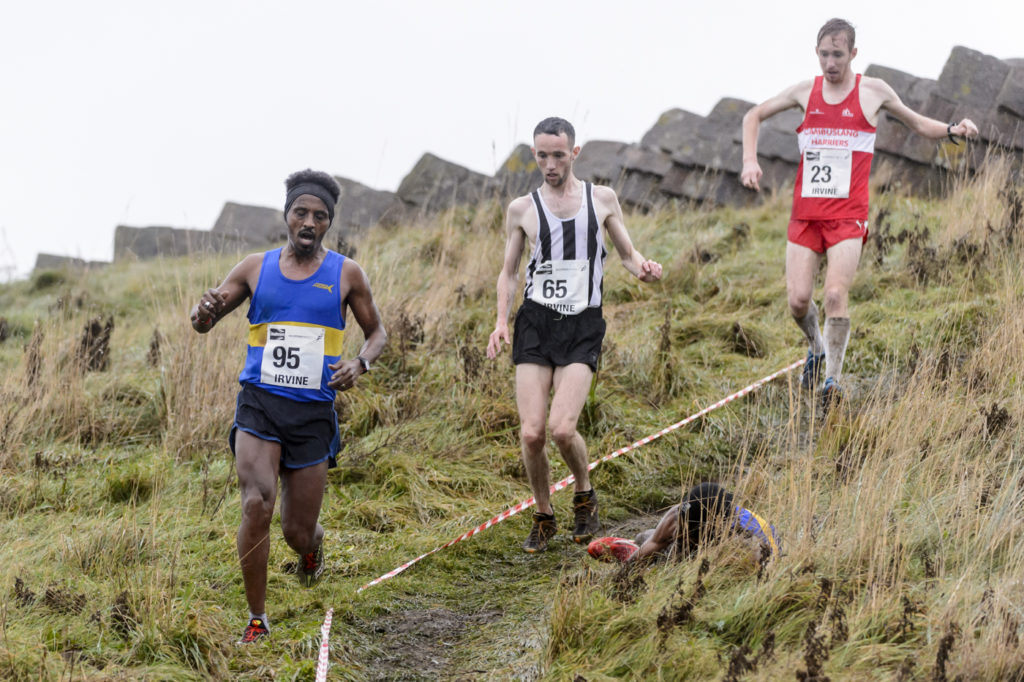 Photo by Bobby Gavin
West District CC Relay Champs 2018 Results Summary PROVISIONAL
Kilbarchan AAC served notice they could be contenders for the Lindsays National XC Senior Women's golds with a fine win in the rain at Irvine, as North Ayrshire AC proved excellent, organised hosts once again.
The trio of Christina Rankine, Elspeth Curran and Kerry MacAngus saw off the challenge of silver medallists VP Glasgow and third placed Shettleston to win well over the 3 x 4K race on the grass and sand dunes of the Beach Park.
And with GB international Jemma Reekie expected to be added to that line-up for Cumbernauld, when women's teams are four-strong, Kilbarchan will be hopeful of translating West success to a National context.
Shettleston's Fionnuala Ross was the fastest leg of the day at 14.21 with Curran within five seconds of that time,
Similarly, the Senior Men's medallists like winner Shettleston Harriers and Inverclyde Ac, who took silver, will be looking to October 27 and hoping to threaten the likes of Central AC. Kilbarchan AAc were third in this race but could well augment their team for Cumbernauld.
Shettleston were brought home for Lachlan Oates, who had the fastest run of the day at 12,.4, and he was supported by Lewis Raeburn, Wayney Ghebresilasie and Daniel Bradford.
Giffnock North were dominant in both the junior races. In fact, the club from Glasgow's south side took gold and silver medals in the Junior Females race as Kilbarchan took third. Giffnock's winning team was Katy Donnelly, Valencia Wright and Helen Chong.
The Giffnock boys took gold thanks to the efforts of Craig Shennan, Harris Paterson and Ethan Carolan. VP-Glasgow took silvers and Shettleston Harriers won the bronzes.
West photos on Facebook by Bobby Gavin
+++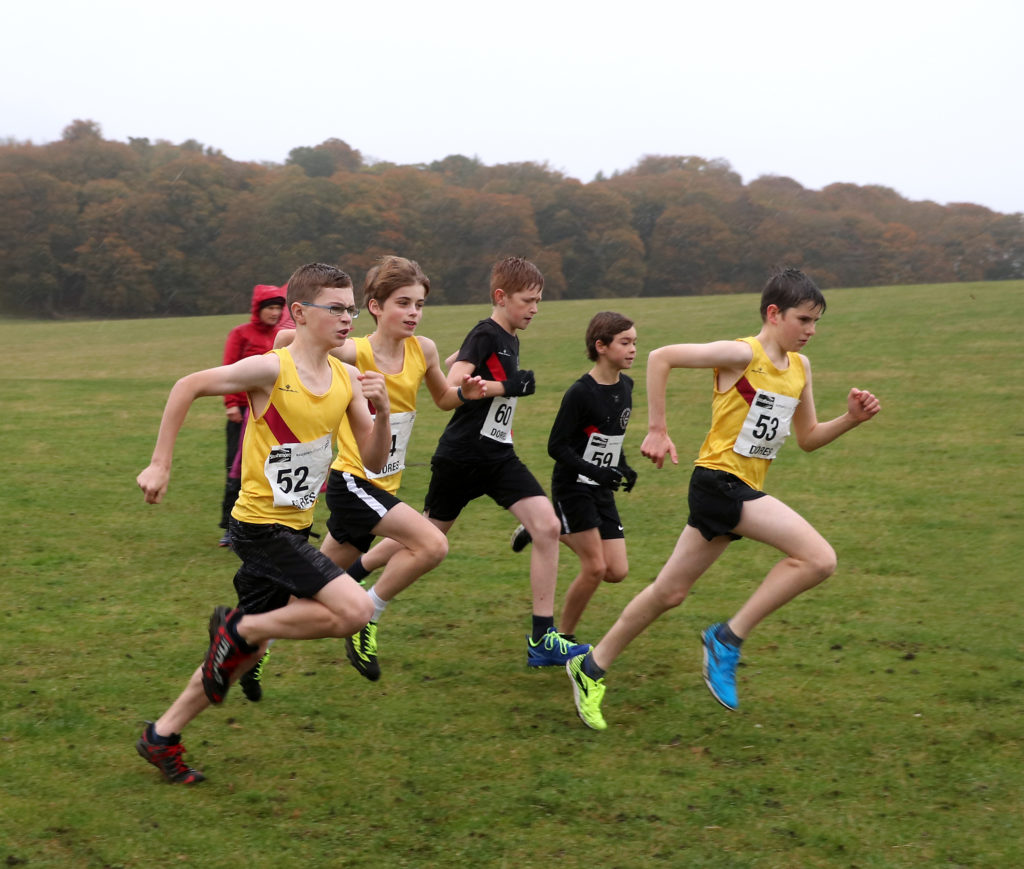 Photo by Grant Nairn
Album of photos on Facebook by Grant Nairn
NORTH DISTRICT RELAYS 2018 – PROVISIONAL RESULTS
In pouring rain on home ground at Dores, Inverness Harriers completed a clean sweep of all four major North XC Relays titles – Men's, Women's and both Young Athletes' – at a well attended championships while Highland Hill Runners pulled off a double in the Masters races..
Hamish Hickey, with the fastest time lap of 12:47, gave Ross County an early lead in the men's race. This passed to Moray Road Runners before Stephen MacKay, set up by Michael O'Donnell and Luke Williams, gained Inverness a 22-second lead on lap three.
Moray's Ewan Davidson (12:51) closed in marginally on the last Inverness runner Donnie MacDonald (12:54). However the host club held on for a fifth consecutive title by 19 seconds in 53:00 with East Sutherland third.
Gemma Cormack (15:11) gave the Inverness women an immediate lead which was consolidated by Amy Hudson (15:49) and Kirsty Watson to take the gold medals ahead of Moray, whose Grace Whelan had the second fastest time of 15:33. Highland Hill Runners won bronze.
Inverness took the top two places in both junior events. Jake Henderson, Euan Rollo and Luke Davidson were their successful boys' team while their winning girls' trio was Anna Cairns, Grace MacDonald and Megan Keith. Ross County and East Sutherland took bronze in the boys' and girls' races respectively.
The Hill Runners, with fine contributions from Jack Trevelyan, Ryan MacKenzie and Karen Lyons came through strongly at the end of both the Masters contests for their twin titles.
With thanks to Charles Bannerman
Tags: Dores, East XC Relays, Forfar Road Runners, Glamis Castle, Inverness Harriers, Irvine, North Ayrshire AC, North XC Relays, West XC Relays