Laura breaks Scottish Record at 1000m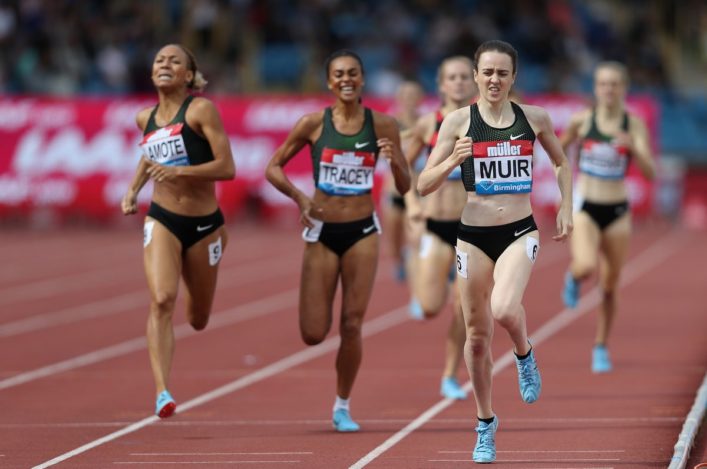 Laura Muir claimed yet another Scottish Record on the track at the Birmingham Diamond League – this time over 1000m.
The new European Champion at 1500m was trying to take on a British Record set by Dame Kelly Holmes at 2.32.55 but was just outside that time with a win in 2.33.93.
But Laura did land a new Scottish Record for the distance after the previous best for 1000m had stood for fully 32 years (albeit with the 1000m being a rarely-run event) since a time of 2.37.05 was set by Christine Whittingham at Gateshead back in 1986.
Team-mate Jemma Reekie was sixth in the Birmingham race and was also inside that previous best with a run of 2.36.79 after staying with Laura for a long spell until being over-hauled by four athletes.
'I'm happy with that despite the fact it was really windy, I just tried to give it my best shot,' said Laura.
'When I saw I was off the pace (for the British Record) I knew it became about trying to just win the race and I did that.
'The Europeans was always the big target and to deliver was really good and I'm happy with the season. It was great to have a medal indoors and even better to add an outdoor one.'
Jake Wightman took seventh in the men's 800m in 1.45.00.
There was a strong performance and a PB for Neil Gourley in the Emsley Carr Mile at the Alexander Stadium as he took eighth place in 3.57.11.
That takes the Giffnock North AC athlete into 12th place in the Scottish all-time list and Chris O'Hare followed him home in 12th place in Birmingham – with 3.59.70 to make it two Scots under four minutes in the same race.
Eilish McColgan came with a late charge in the Women's 3000m to take fourth place as the best of the British finishers when she over-hauled Melissa Courney late in the race for a Season's Best 3.38.49. Steph Twell finished 11th and that 8.46.79 run was also a SB performance.
'It is not the way I like to run but it is OK, I still managed to finish fourth and got enough points so hopefully now I have got a good shot of running the 5K in Zurich,' said Eilish.
'I know the girls will go fast there because there is a lot of stake for them. For me, it is just about running and getting a PB. Hopefully, I have done enough today, but I am just a little bit disappointed with the time.'
Eilidh Doyle had been the first of the Scots in action just after 2pm as she finished fourth in the 400m Hurdles with a run of 56.61 seconds, with Meghan Beesley taking third in a race won by new European champion, Lea Sprunger.
Tags: Birmingham, Chris O'Hare, Daimond League, Eilidh Doyle, Eilish McColgan, Jake Wightman, Jemma Reekie, Laura Muir, Neil Gourley, Steph Twell