FPSG Seniors – 22 pecent rise in entries adds depth
Start-lists, timetable online (LIVE RESULTS on Saturday and Sunday)
The stage is set for an exciting FPSG Seniors and U17 Championships at Grangemouth this weekend – with a 22 percent rise in entries for the Seniors event improving the depth of competition.
scottishathletics are once again thrilled with the response from athletes, coaches and clubs to a national championship event and no fewer than 723 athletes in total have put their names on the start-lists.
The 22 percent rise in entries for the Senior on last year's figure (332)  reflects a feelgood factor inspired by 17 Scots in the British team for the Europeans and the 409 figure is the best for many years.
Entry tallies for the two FPSG Championship events this weekend are as follows
Senior Women 156, Senior Men 253 – 409
U17 Men 148, U17 Women 166 – 314
Live stream footage will be provided on both days from the combined programme for Seniors and U17s by Vinco Sport on runjumpthrow.com and we will also have comprehensive website and social media coverage.
'We will be live streaming both track and field events along with providing live text updates on our website and on social media,' said Vinco's Matt Quine. 'The event will be viewable on runjumpthrow.com around the world, apart from North America, where it can be viewed on runnerspace.com.'
Vinco Sport live stream footage will be online here
If you live in central Scotland, or even further afield, why not come along to Grangemouth to support team-mate and watch championship athletics? It is £3 for adults (U16s are free) and £3 for a programme. Or £5 for admission with a programme.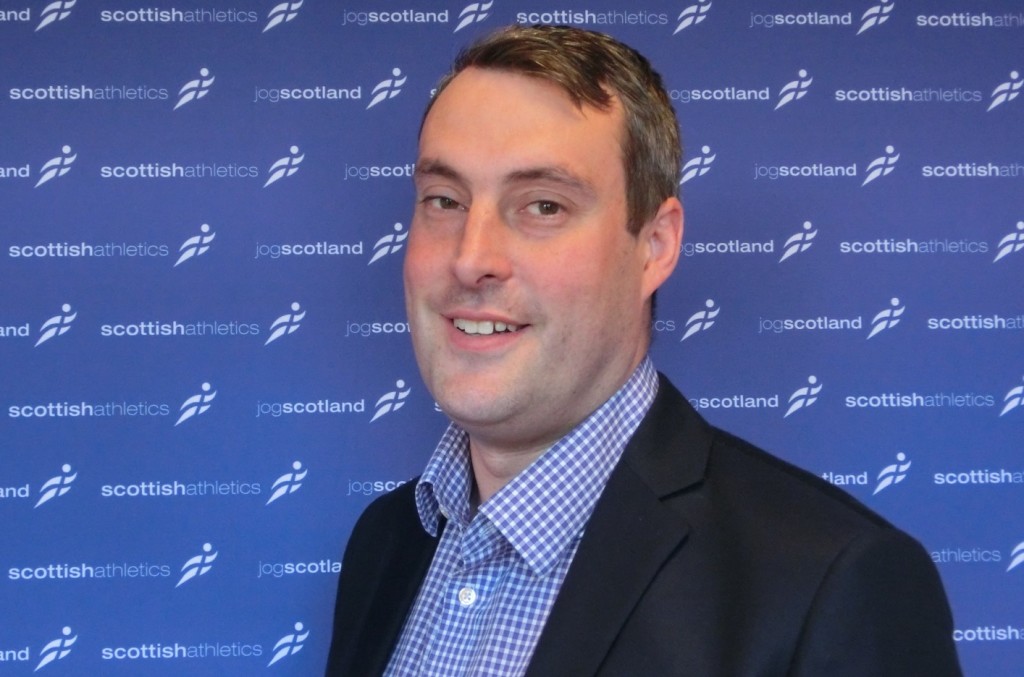 Mark Munro – 'We feel the big entry figure for the FPSG Seniors is a good barometer of a feelgood factor at the moment.'
'I'm really looking forward to Grangemouth this weekend and attending the FPSG Senior and U17s Champs which in many ways is the pinnacle of our track and field season,' said scottishathletics chief executive Mark Munro.
'As with recent years, the U17s will be included in what is always a hectic and absorbing two days. It is a great opportunity for our aspiring U17 athletes to compete alongside their senior role models.
'We are delighted that we have seen a fantastic 22 percent increase in entries this year for the Seniors – with over 400 athletes listed.
That demonstrates great commitment by the athletes, coaches and clubs to support the event and I do feel that figure, as the best for many years, serves as a true barometer of a feelgood factor at the moment.
'Once again, Vinco Sport are streaming both days from the championships live online and their professional approach, with commentary, social media and track and field cameras will add another extra dimension to our growing event communications 'reach'.
'I would particularly like to thank our partner sponsor, FPSG Professional Recruitment, the Track & Field Commission, the Officials Commission plus Falkirk Community Trust for supporting the event.
'We also want to say good luck to all athletes competing plus their coaches, supporters and clubs.'
FPSG SCOTTISH CHAMPS – PREVIEW 2018

Check out this short package from Vinco Sport from the Scottish Senior and U17 Champs last year. We are back at Grangemouth on August 11/12 and ENTRIES OPEN until MIDNIGHT TOMORROW.Entry links here for both age groups (Seniors and the U17s): https://www.scottishathletics.org.uk/37972-2/

Posted by Scottish Athletics on Saturday, 28 July 2018

Tags: FPSG Seniors and U17s, Grangemouth, Mark Munro, Matt Quine, Vinco Sport