Four Scots progress to European track finals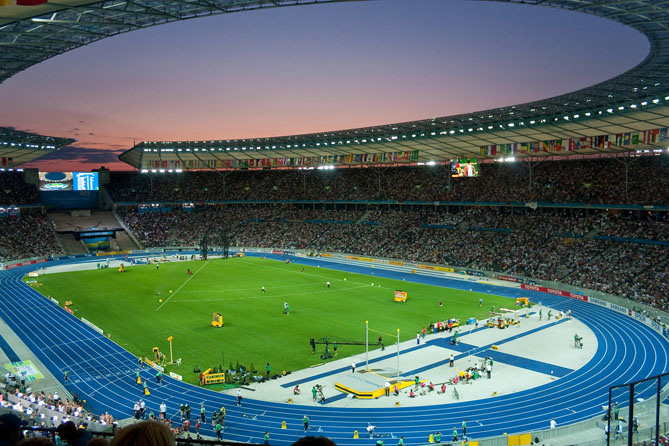 #SALSuper17 Berlin schedule for Scots 
Four Scots made it through semi-finals at the European Championships in Germany and will now contest finals on Friday night in the Olympic Stadium.
Chris O'Hare and Jake Wightman both secured victories in their 1500m races to claim automatic places and comfortably progress.
Eilidh Doyle followed that with a win in her 400m Hurdles semi – a strong run given the injury absence which has affected her preparations with the Berlin semi only her third run since coming back from Gold Coast 2018.
And then Lynsey Sharp was a safe second place in the opening Women's 800m semi-final in 2.02.73 to ensure she will contest the third European final of her career after taking the gold in 2012 and the silver in 2014.
'It's funny the semis were slower than the heats but I thought that might be the case,' said Lynsey.
'Just nice to get that one out of the way and look forward to the final. I thought my heat was pretty stacked in terms of PBs, but it was done off season's bests and it was probably a similar field today for the semi. That's the hard part done. Now it's just one race, I have to get out and see what happens.'
Unfortunately, Chris Bennett, Nikki Manson and Kirsten McAslan couldn't quite come up with their best and didn't progress in events over the first three days in Berlin (more details below).
+++
Eilidh Doyle progressed to yet another big international final in the 400m Hurdles after a fine performance in Berlin.
Doyle won her semi in 55.16 with a very solid run – only her third race since Gold Coast 2018.
Now she will compete in Friday night's final and hopefully contest the medals once again.
'I'm feeling a bit better now on my running then I have, ' said Eilidh.
'It's only my third race since the Commonwealths so I was pretty nervous and usually I like the heats to get that nervousness out of my system, but I didn't get that opportunity as I was up against the top girls in Europe so had to be on my A game.'
Kirsten McAslan found it tough in her semi as she finished 7th in 57.33 after getting through the opening round the previous day.
'I am really disappointed,' said Kirsten. 'It was very unlikely that I would make the final but I just wanted to put in a good performance for myself and that was very poor. I thought I had recovered alright from yesterday but I just didn't.
'As soon as I started the race I felt flat and felt like I was fighting a losing battle but it has still been a good experience.'
Similarly, Nikki Manson will hopefully gain experience from her first Senior champs with GB in Germany as she missed out on the High Jump final.
Nikki cleared 1.76m and 1.81 and went close with her attempts at 1.86m – which would have put her in the mix for the top 12 going through – but it wasn't to be and she finished 18th equal.
'I am a bit disappointed,' said Nikki. 'I was hoping to do better. I felt really good early on but as the bars went up I let them get to me a little bit.
'It was a good experience, my first GB representation, my first major championships so maybe I am being a bit hard on myself. I did enjoy it. I just wished I'd jumped a bit better. I just have to learn from it.'
+++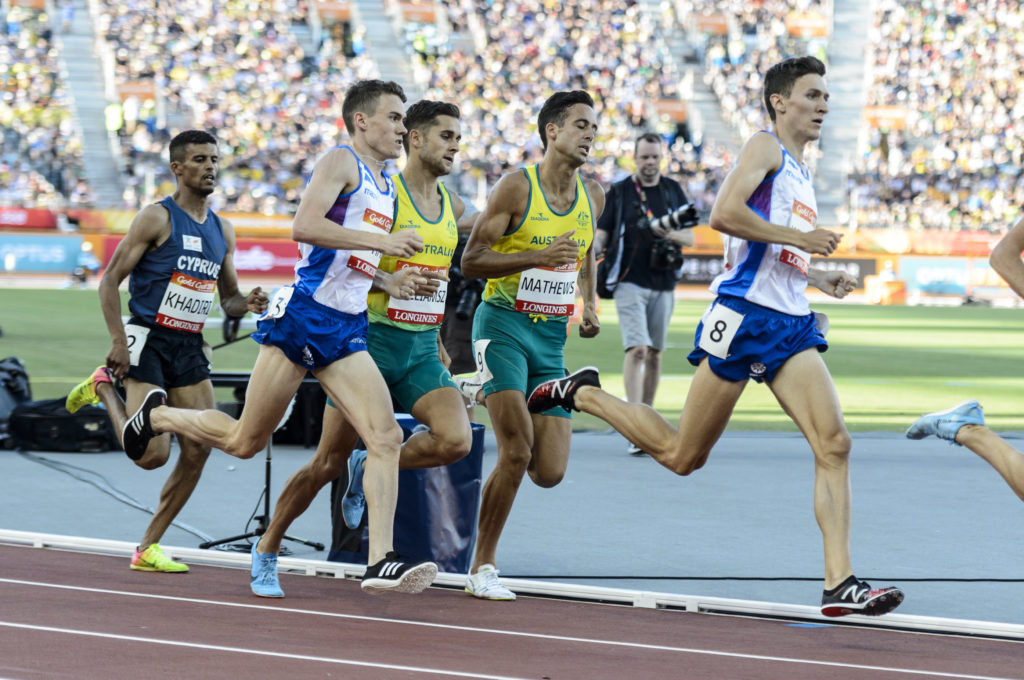 Jake and Chris in action at Gold Coast 2018
Scotland's top two 1500m runners served up a terrific morning on Wednesday at the European Championship to comfortably progress to what should be a thrilling final.
Chris O'Hare looked strong and serene in the opening heat – the slowest of three – to make sure of the win and an automatic place.
With fellow Brit Charlie Da'Vall Grice through in the second heat, Jake Wightman followed that up with a victory in the third in 3.40.73 thanks to a controlled performances and a typically strong last lap.
'It is every man for himself in the final,' said Jake, when asked if the Brits could perhaps work together. Facing them are three of the Ingebrigtsen family with Norway sensing a real medal challenge from these remarkable brothers. The final is at 8.50pm our time on Friday evening.
Well done to Chris and Jake, and their families and coaches, on very solid runs and more than under-lining their high rankings. 
Chris O'Hare Q – 1st in 3:49.06: 'I knew that's what it would come down to eventually [a fast finish] and I was making sure I had enough space to run and not get tripped up and spiked and what not. I am happy with that.
'I am at that stage in my fitness where hopefully any race is my perfect race. That's the idea, that's what we train for.'
Jake Wightman Q – 1st in 3:40.73:  'It wasn't as easy as I thought it was going to be. After watching the heats previously, some big names went out and I didn't want to be one of them so I had work a bit harder. I am glad to get through and we have a rest day – I need that.'
+++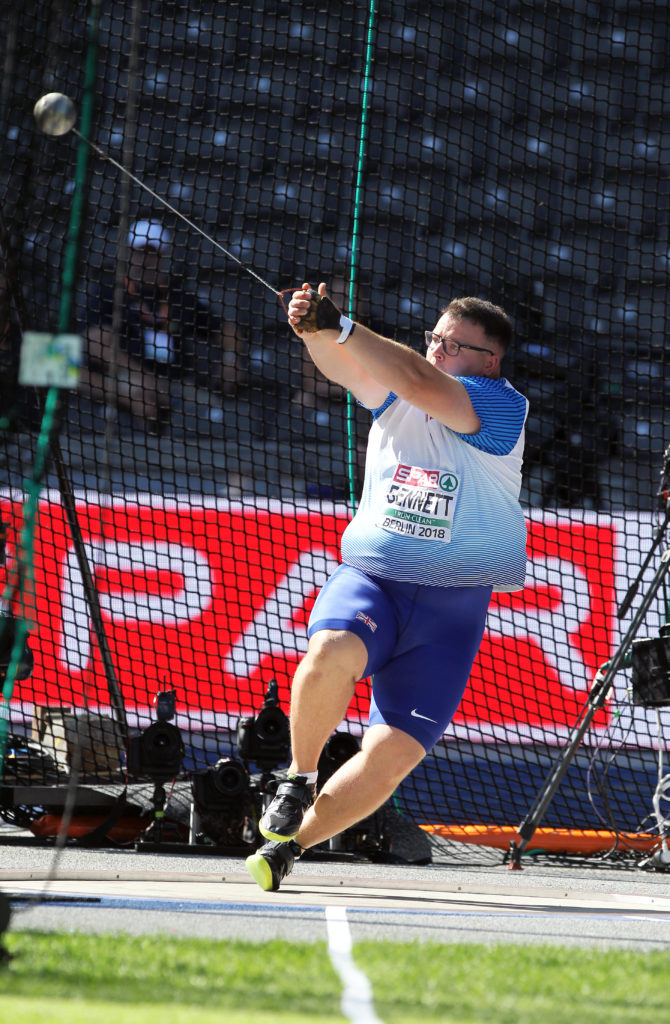 Photo by Mark Shearman
Chris Bennett had reached the Euros after finishing second at the British Champs in Birmingham and throwing the standard early in the season in Australia, prior to the Commonwealth Games.
But Berlin didn't unfold the way he had hoped with a 70.57m distance his best of three throws in the opening pool, with that not good enough to progress to the final.
Chris gave a typically candid assessment afterwards.
'Right now I don't feel I should be wearing this vest,' he said. 'It is hard because you feel good and you go out there and it doesn't happen. The moment passes you by before you change anything.
'It's a hard one to take, hard. I seem to have this problem where I can't get my head right in the middle of competition. It's all very well doing it in training but if you don't do it on the big stage you look like a bit of an idiot and right now, I feel like an idiot.'
With thanks to British Athletics for comments from the athletes in Berlin
Tags: Berlin, Chris Bennett, Chris O'Hare, Eilidh Doyle, European Championships, Jake Wightman, Kirsten McAslan, Lynsey Sharp, Nikki Manson