Huge entry numbers again for National Road Relays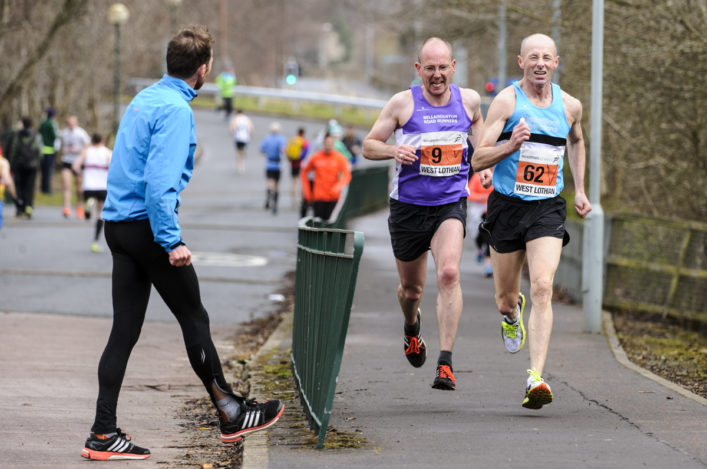 Club rivalries and cheering on from the sidelines – excitement rising for another National Road Relays in Livingston (photo by Bobby Gavin)
The National Road Relays at Livingston top the agenda for many across our clubs this weekend – and what a response once again from the endurance community in Scotland!
We've hit Record entries once again with the tally of 158 male and female teams the same as last year, which was a best tally for this particular event.
And the 101 Men's teams entered for Sunday's action is a new Record in that division and the first time more than 100 teams have been entered.
There are 57 Women's teams from 36 different clubs – once again demonstrating the growth and enthusiasm within the sport for an event that is open to U20/Seniors/Masters but does not have an age group element.
Thanks for all your continued support for the National Road Relays which take place with great assistance from Lothian Running Club – yet again.
St Margaret Academy is the base for the event but please note there is no parking at that venue – parking is at Almondvale stadium.
This year there is a change to the race time:
12 Noon: Start of the Men's race
12.10pm: Start of the Women's race
Declarations close at 11.30am. Chip timing is in operation and, as a pilot scheme for the 2018 National Road Relays, we hope to run LIVE RESULTS online later on Sunday afternoon from Livingston.
Check the link here after the race for Results, please.
More information is on the Event page and another point to note is that the 'long leg' this year is slightly longer than the 5.8 miles of recent years – with roadworks at one section meaning the 'long leg' for 2018 is six miles.
*Clocks go forward by one hour overnight Saturday-Sunday; please be aware!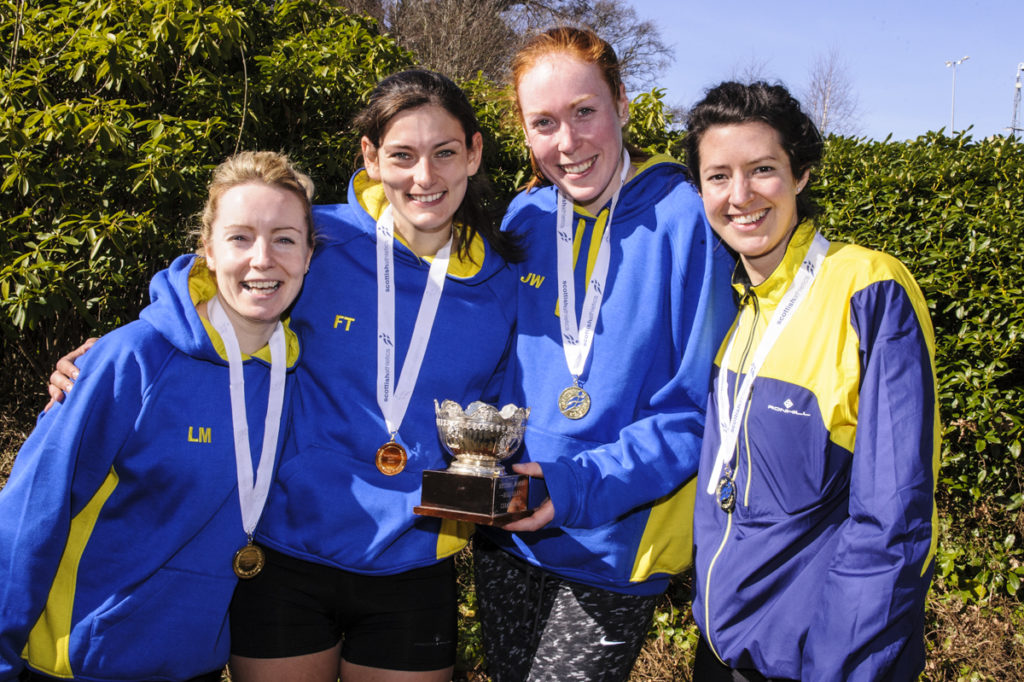 Central AC Senior Women celebrate their win at the National Road Relays 12 months ago at Livingston (photo by Bobby Gavin)
Central AC do the double at National Road Relays
This is the 40th National Road Relays Championship.
Once again, we are indebted to help from clubs offering support via volunteer marshals in order for the event to run smoothly.
Thanks in this instance to these clubs:
Calderglen Harriers, Cambuslang Harriers, Corstorphine AAC, Edinburgh AC, Falkirk Victoria Harriers, Gala Harriers, Hunters Bog Trotters, Kirkintilloch Olympians, Livingston AC, Lothian RC, Penicuik Harriers and VP-Glasgow
Check out this Twitter footage by Gala Harriers of the start of the race last year (remember, this year we will have separate men's and women's starts):
Tags: Livingston, National Road Relays