Wright good races at age group level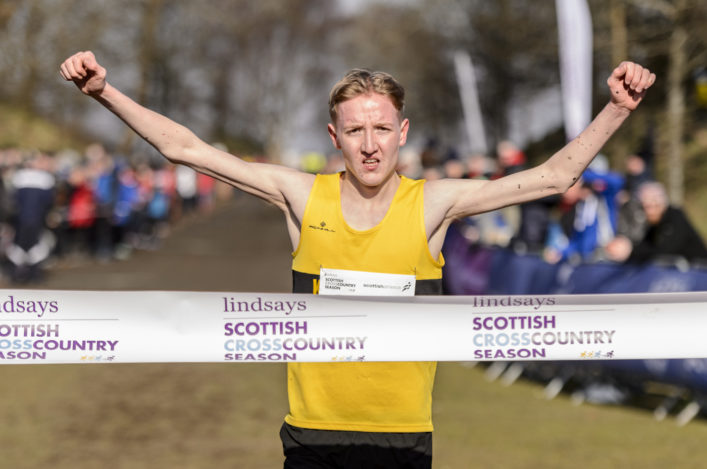 Kilbarchan's Cameron Wright takes the tape in the U17 Men's race on a day when club-mate Jack Patton also won gold and there was another Wright (Angus, of Team East Lothian) winning the U13 Boys gold (photos by Bobby Gavin)
(Note: we are hoping to publish an incomplete set of U13 Girls results later on Sunday)
To say the atmosphere at the Lindsays National XC was 'special' would probably be an under-statement. It was everything hoped for and then a bit more!
From early in the day when an army of volunteers led by Falkirk Victoria Harriers set-up the course to the final applause for the last man home close to 4.30pm, there was a 'feelgood factor' sweeping round Callendar Park like Kris Jones or Mhairi Maclennan in their pomp.
As promised, Grant Plenderleith was one of those Falkirk Vics volunteers. Shouldn't he have been at home trying on his GB and NI kit for the World Indoors? Not a bit of it.
Garscube Harriers added to the occasion with a piper to lead their teams across to the start-line for the opening races at U13 level and there were many more examples of brilliant club engagement.
It was clear on our social media the excitement the Lindsays National XC generates. Our Twitter feed was alive throughout the day and again later on Saturday, too, with more than 100,000 'impressions' for a 24-hour period from Friday evening.
It's clubs being galvanised to compete in big numbers which makes the different, of course, and there were good turnouts in the U17, U15 and U13 age groups once again.
Kilbarchan's Cameron Wright took gold in the Men's U17 race with the steeplechaser coached by Robert Hawkins in fine from across the hills and hard ground as well as the (few) muddy patches.
Lasswade's Christian Graham is an emerging name at this age group and he took the silver with third place for Calum Young of Giffnock North AC – with the Glasgow club among the medals, as is often the case at Falkirk. Kilbarchan, led by Wright,  duly took the team golds from Central AC and Giffnock.
The U17 Women's podium was an East-only zone. GB international Eloise Walker of Edinburgh is no stranger to golds these days and took it after a good challenge from Team East Lothian's Cera Gemmell. Third place went to Sarah Calvert from Livingston AC.
As it happened, the team podium was a West-only zone! Giffnock took the golds followed in by Inverclyde AC and there were bronze medals for Kirkintilloch Olympians – a very fine  achievement for that particular club.
The U15 individual golds went to now familiar faces, with Lily-Jane Evans-Haggerty and Jack Patton having made Scotland appearances recently.
Kilbarchan's Jack, setting the tone for the U17 Men's race a bit later, won by a big distance from Hugh Morrow of Edinburgh AC and David Addison of Corstorphine.
VP-Glasgow's Evans-Haggerty was joined on the podium by Fife AC's Anna Hedley and Anya Maclean of Garscube – all three of those athletes displaying the consistency of the past year or two.
Giffnock's team strength was exemplified by teams golds in both U15 Boys and U15 Girls. The other Boys medallists were Inverness Harriers and Cambuslang and the Girls other medallists were Kilbarchan and Garscube.
The U13 Boys race saw a fine win for Angus Wright of Team East Lothian – one of the newest clubs in Scotland. Silver went to Ross Dewar of Edinburgh and bronze to Ewan Christie of Gala Harriers. The team golds went to Cambuslang Harriers with silvers for Inverness and bronzes for VP-Glasgow.
The U13 Girls race had opened the programme at 11am with victory for Edinburgh AC's Katie Johnston from silver medallists Valencia Wright of VP-Glasgow. Bronze went to one of the furthest-travelled athletes of the day – Anya Morrison of East Sutherland.
There were team golds for Giffnock with silvers for Fife AC and bronzes for host club, Falkirk Vics.
We want to say a huge thank-you to all involved in all the age group races at Falkirk – with the engagement by clubs, coaches and parents so important for the development of the sport. Thanks, also, to Scottish Sports Minister, Aileen Campbell, for presenting medals.
*There was an issue with the chip company for the U13 Girls race and we offer our apologies for that. A set of (incomplete) Results will be posted in due course with our sincere apologies that this has happened.