Muir and Clark smash National Records at FPSG Seniors!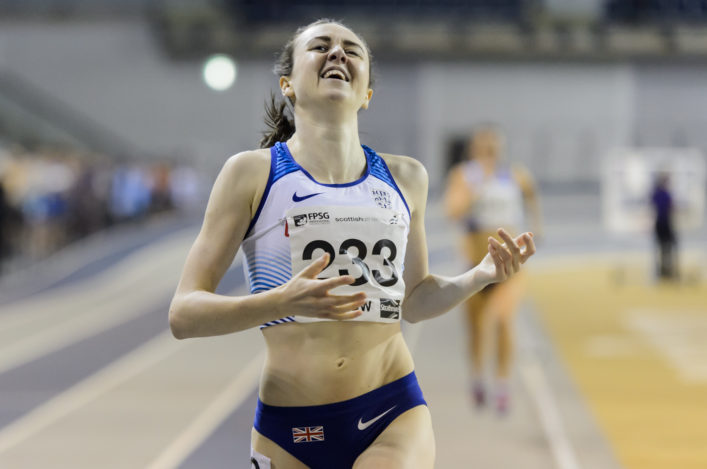 Record-breaker – Laura Muir savours the moment at the Emirates Arena (photo by Bobby Gavin)
Watch 800m Women's final on BBC Scotland Facebook
The FPSG Senior and U17 Champs put Scottish athletics centre stage once again at the Emirates Arena on Sunday – and it didn't disappoint!
GB and NI international duo, Laura Muir and Zoey Clark, certainly lived up to their status in spectacular style to land Scottish National Records  in events that are not even their favoured distances.
Clark powered through to 23.58 in the 200m final to take an indoor record held at that distance by Melanie Neef at 23.62 from a race in Birmingham back in 1996.
Then Laura clocked what is believed to be a World Lead in the 800m indoors with 1.59.69 for the 800m taking the Championship best, the Native Record (her own at 2.00.70) and the National Record (held by Lynsey Sharp at 2.00.30) all at once.
Heather Paton made it a hat-trick of National Records equalled or eclipsed as she took the Native Record in the 60m Hurdles, too, with a run of 8.34. That bettered Heather's 8.37 run here last year. Those were the stand-out performances and Muir and Clark will undoubtedly grab the headlines.
(Note: We plan to report on Paton's performance and other Seniors highlights as well U17 details in a separate story)
'I am really happy,' said Laura, after adding the 800m title to recent Scottish championship success over 4K in the mud at Kirkcaldy in cross country and the 3000m indoors at the Emirates.
Following her home was Mhairi Hendry in a terrific new outright PB of 2.02.41 and bronze medallist, Philippa Millage, who broke the Scottish Masters Record with a run of 2.05.96. Hendry's time was well inside the previous Championship Record of 2.04.67 (Joanna Ross).
In fact, Hendry's run takes her to third on the Scottish all-time list for indoors for 800m and now ahead of Susan Scott and Ross.
Highlights video from Sunday's action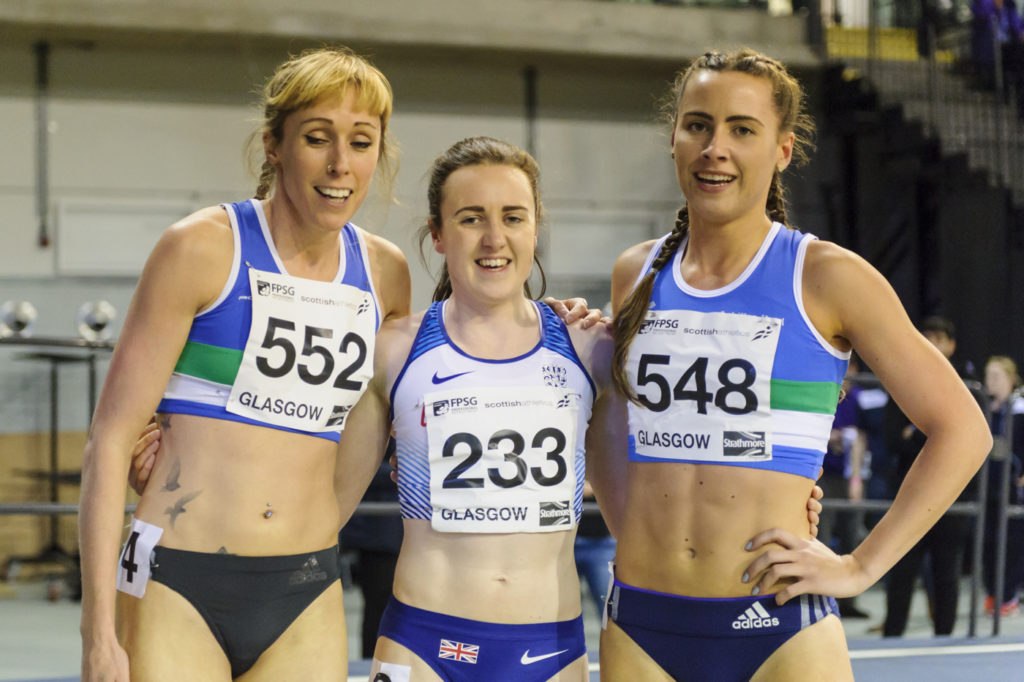 'I thought that if I could get close to my indoor PB, which was 2.00.57, then I would be really happy,' said Laura.
'But to break two minutes and get the Scottish record back from Lynsey . . . I am just really happy. Lynsey and I do seem to be trading that record around all the time.
'I am not thinking about the 800m right now for indoors so to be running times like that bodes really well. Is it an event I think I could go back to later in my career? I think, so yes. 'I have shown that I can run fast over it.
'It is a wee bit of surprise to get that kind of time. Beforehand my legs were feeling a bit tired. I always have a habit of smashing training the week before I race.
'I trained well this week but I think I was a little bit tired from it. I knew the pace I had to do and that I had to work really hard for a couple of laps. I couldn't believe it when I saw the time was 1.59.'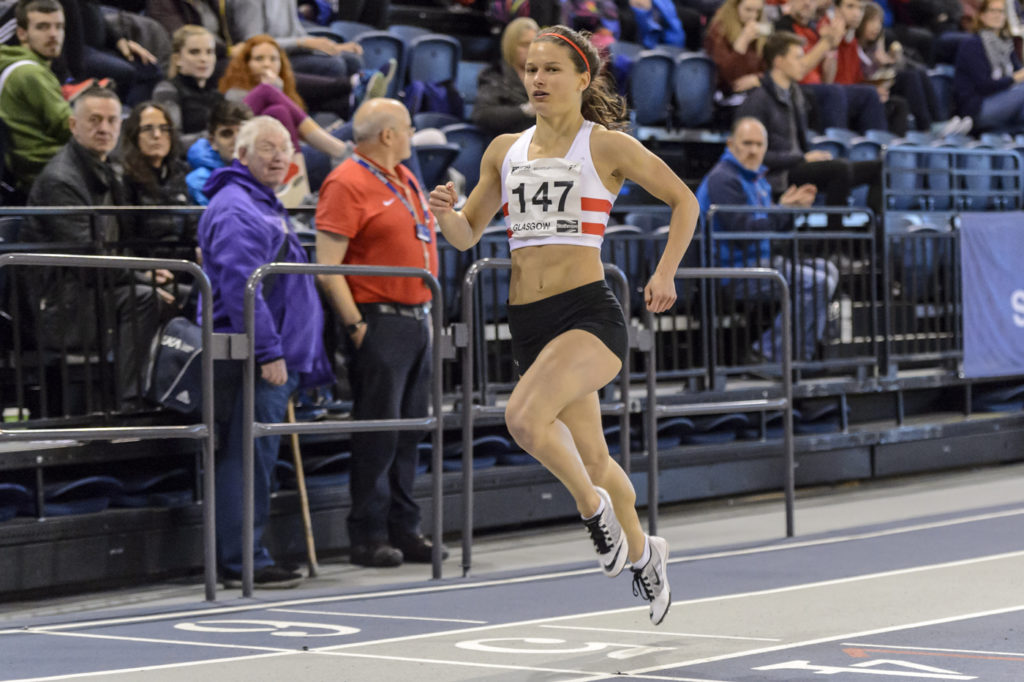 Clark 'warmed up' with a 23.91 run in the 200m heats and then blew the opposition away in the final – but she had Neef's target from 22 years earlier firmly in mind.
'I am absolutely thrilled with that time,' said Zoey. 'I knew I was in good shape and to break the Scottish indoor record at 200m is very pleasing.
'I wasn't tempting fate or feeling complacent, but I actually looked it up the other day and saw that Melanie Neef held the record at 23.62. I thought, with the shape I am in after Florida, that it might be possible and I even held back a bit in the heat to try and save a bit more for the final.
'It's a great start to 2018 and gives me a lot of confidence for 400m runs to come and Gold Coast 2018 is definitely the priority. The World Indoors isn't really in the plans but I guess we will wait and see how things go at the British Champs.
'I haven't raced indoors for a while but it was good to compete in a Scottish final at the Emirates. Years ago one of the first bigger races I did was a Scottish age group race at the old Kelvin Hall.'
Tags: Emirates Arena, FPSG Seniors, Heather Paton, Laura Muir, Zoey Clark