Laura anchors GB to victory in Edinburgh again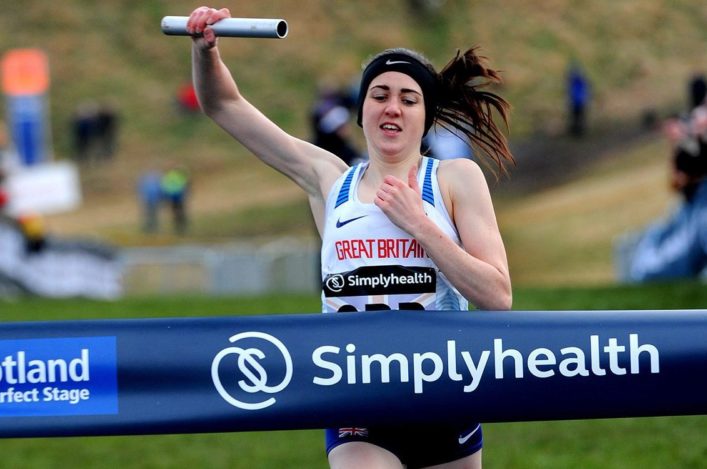 Photo by Mark Shearman
RESULTS (including Inter-Districts)
British Athletics website report
Laura Muir maintained her superb Holyrood Park record to anchor GB and NI to victory in the International 4 x 1K Relay on an exciting and absorbing day at the Great Edinburgh XCountry.
The double European Indoor champion from 2017 was once again the star turn as she brought the baton home as the race winner for the third time in the International Relay's current format.
It was the highlight of the day with Scotland A placed fifth in the eight-team race and Scotland B only a little further back in sixth place – with both ahead of the quartets of the United States and England.
Eloise Walker savoured her first appearance in a GB and NI vest as she finished 11th in the Junior Women's race that saw Erin Wallace, back to fitness after a recent injury, in 13th as Mhairi Maclennan landed her first Senior vest for GB and NI with a 21st place finish in the Women's 6K race.
Muir, who began her 2018 season with a 8:37.21 clocking indoors over 3000m last weekend, continued her preparations for the year ahead in fine style, taking over from Adam Clarke to open up a commanding and decisive lead and anchor the team to victory over  Europe and Ireland with a split timed at 3.01.
Unfortunately, Saturday's event looks to have been the last in Edinburgh with organisers GreatRun announcing they are looking for a new venue following a decision by City of Edinburgh Council not to continue their support for the event.
'It was great fun; I always love competing here,' said Laura. 'It is fantastic to get another win in the relay; the team did a great job of getting me into a good position so I just had to bring it home for them which I'm happy I was able to do.
'I knew when Adam came around the bend I was going to have to work hard to push on but I'm really pleased to get the win. It is another stepping stone as we build it up this year so I'm glad to run a good leg for the team.'
Jamie Williamson, making his Scotland bow, led off the Scotland A team and handed over to Steph Pennycook before Jake Wightman took up the running. Steph Twell came up with a strong anchor leg (timed at around 3.08) but couldn't quite catch Ireland.
'I am pretty happy with that and it was a great experience,' said Springburn Harriers athlete Jamie, son of Scottish running legend Graham.
'It is a fun race and good to compete for Scotland so thanks for the opportunity. To run down the hill off the start and hear the crowd roaring you on was something special and it was the same again on the run-in to the handover. I loved it. But it was over so quickly!
'The guys just shot off and never slowed much at all. I saw a sign saying 200m to go and couldn't believe it. I just thought then I had to give it whatever I had left.
'I am coming back for the Senior Indoors over 1500m and then I plan to the do the National XC at Falkirk, as well. It is 10K and my first crack at the Senior but I just want to give it a go and see how I can fare. I enjoyed it last year in the U20s.'
Scotland B made a good start through Sol Sweeney and Mhairi Hendry before late addition, Ben Potrykus, sought to try and track Wightman. Then Masters Athlete of the Year Philippa Millage had to try and chase Twell.s
'It's such a buzz to race for Scotland and for someone like me, at 37, to take the baton and try and keep someone like Steph in my sights was quite a thrill,' said VP-Glasgow athlete Millage, who is 37.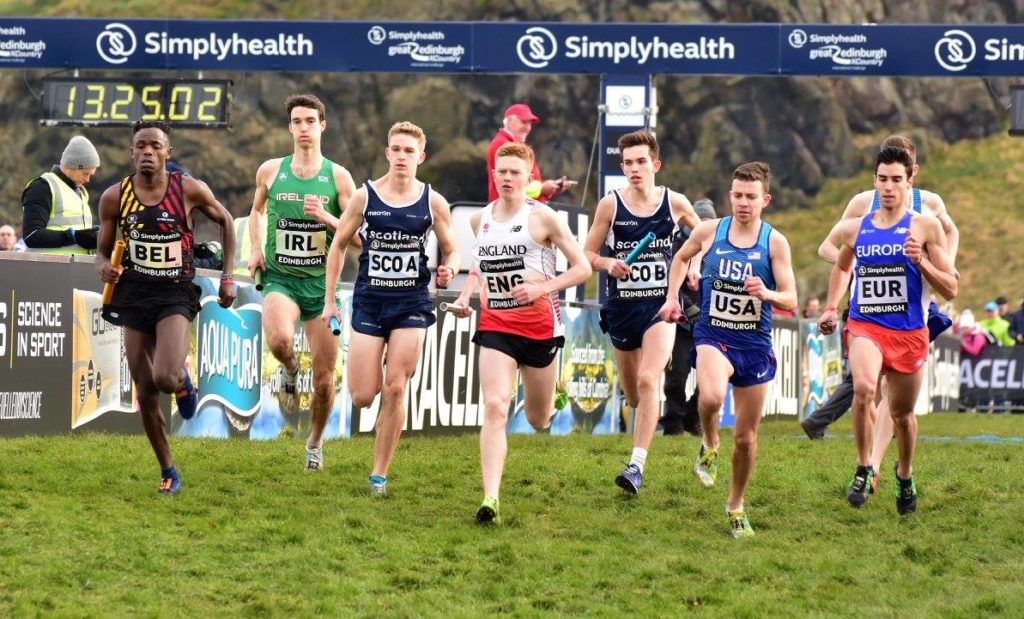 Jamie Williamson and Sol Sweeney set off in the Stewart Cup relay – photo by Neil Renton
+++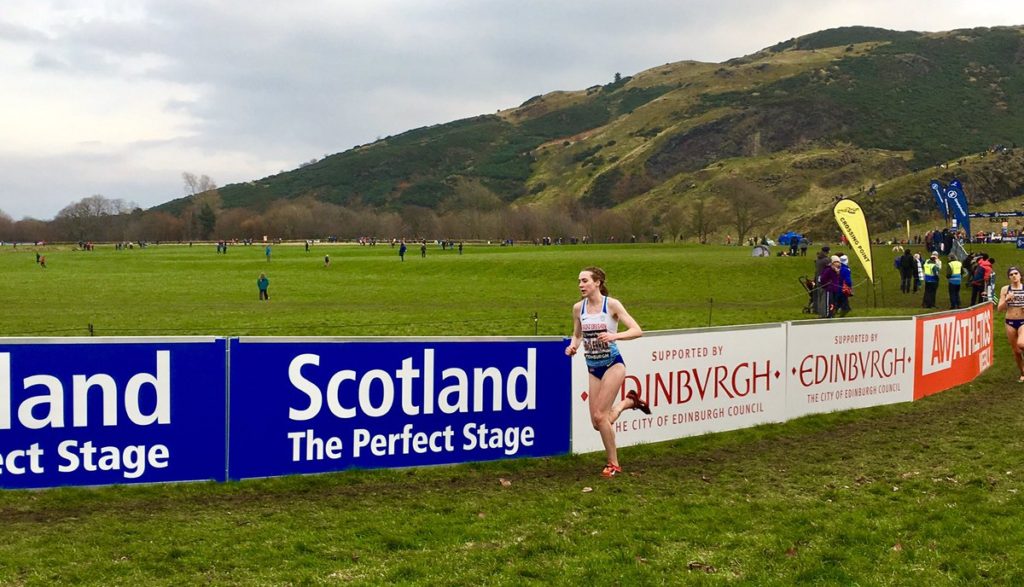 Mhairi Maclennan in action in Edinburgh – photo by Sue Gyford
There were solid performances from our GB and NI trio as Eloise Walker of Edinburgh AC took 11th place in the Junior Women's race and finished fourth of the GB athletes in that race – at 16 years of age!
Giffnock North's Erin was 13th in the Junior Women's race as she raced for the first time since the Liverpool cross country after nursing an injury.
Team East Lothian's Cera Gemmell actually edged out Erin by four seconds for 13th place in the overall race (Wallace at 14th) to land the Scottish Inter-District gold and take no fewer than six 'scalps' from the International contingent.
Edinburgh Uni Hare and Hounds athlete Maclennan, a training partner of Walker's in the capital, won her first Senior GB and NI vest and came home as the sixth of the eight-strong of the GB team in 21st place in 22.05.
'I am pleased with that,' said Eloise.  'I have run here five times in the past in this event in the Inter-Districts and I love this course. It is a highlight of my season.
'To get fourth among the GB athletes is great – I didn't really think that would happen so I'm pretty  happy with how I performed. Top 10 would have been amazing but probably not realistic for me at this stage.
'It has been a good couple of weeks with the win in Antrim last week in the Cross Challenge and the Celtic XC. It was tough in the second lap today because I developed a stitch but I did my best to try and run through that.
'I was just so chuffed when the GB and NI kit arrived shortly before Christmas. I've an older sister and two younger sisters so they  made me do a wee fashion shoot with all the GB kit – it was so fun and I was really proud.'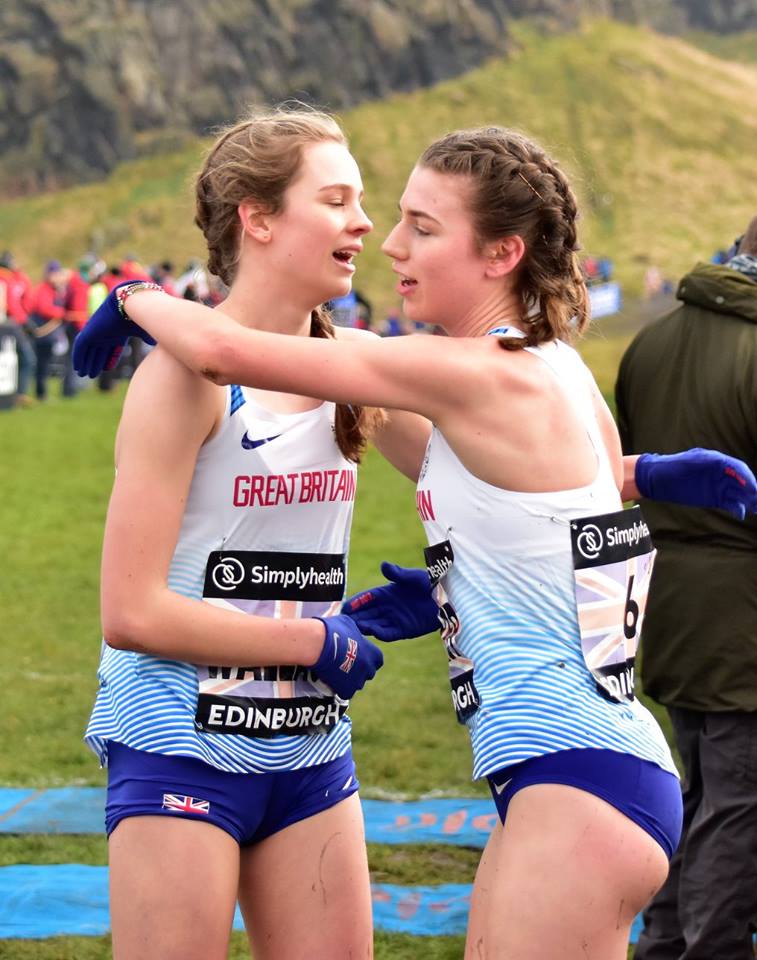 Erin Wallace and Eloise Walker – photo by Neil Renton
Tags: Eloise Walker, Erin Wallace, Great Edinburgh XCountry, Holyrood Park, International 4 x 1K Relay, Laura Muir, Mhairi Maclennan