125th Seniors – Sunday review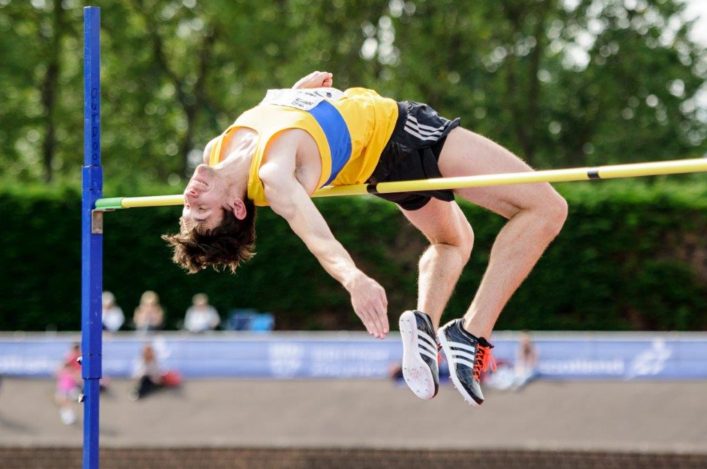 Leap of faith – David Smith climbs to a 2.21m clearance (photo by Bobby Gavin)
VIDEO coverage on Vinco – with each event
Finals dominated the Sunday action at the 125th Senior Champs on a day when a couple of new names reached the top of the podium as well as a number of 'repeat winners'.
High jumper David Smith falls into the latter category and did so with a Commonwealth Games standard leap of 2.21 with the likes of David J Martin, Jack Lawrie, Angus McInroy and Alisha Rees replicating the success of previous years.
Myra Perkins was among the first time winners, with success in the hammer at 61.48m, while GB age group internationals Jemma Reekie and Kelsey Stewart crowned their fine seasons with gold at 800m and 400m.
There was a Championship Record in the shot putt by English athlete, Scott Lincoln, and Krishawn Aiken came north to land a 400m and 200 double.
As always, all at scottishathletics are indebted to the commitment of athletes and coaches to the National Championships – as well as our hard-working Officials.
A number of 'no-shows' will each have individual reasons for missing out but there is little doubt that if affected the depth and qaulity in a number of events.
Smith for his part did well to maintain concentration in the high jump and, after clearing 2.21m, went close to 2.24m.
'I'm happy to get a qualifying standard at the Scottish Champs and that's another that goes against my name,' said David. 'I did one early in the season at a meet in Sweden and there's a bit of doubt about whether it will count.
'The selection is going to be so tough, with a smaller team, so I still have a couple more competition possiblities before I end the season and take a holiday. I will do them because I think there is a bigger jump still in there and, if I can jump a bit higher, that might help strengthen my case.'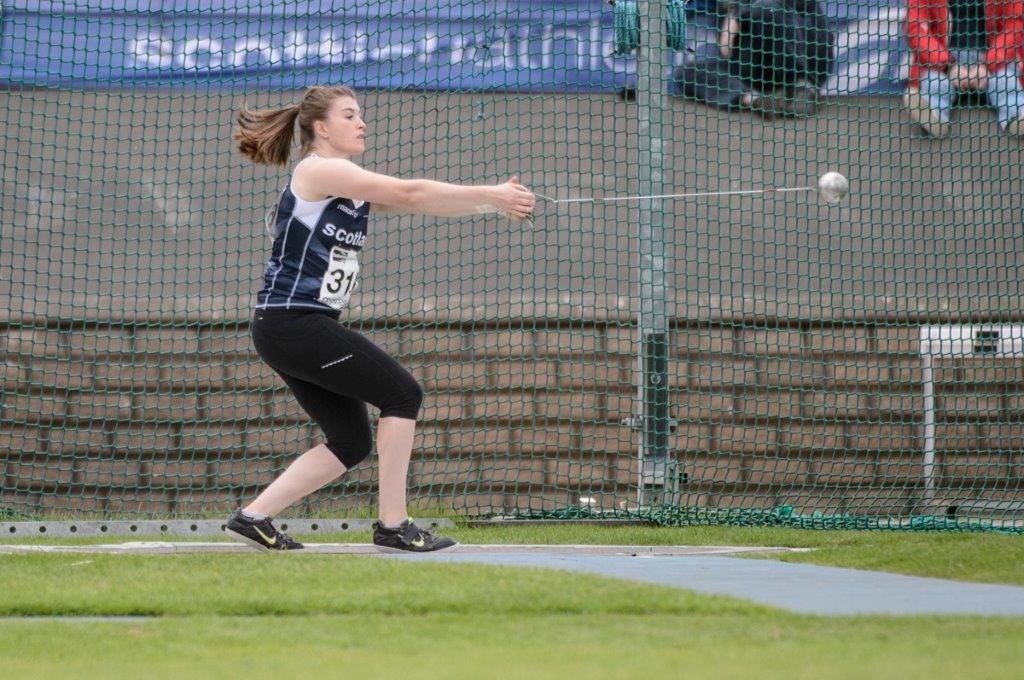 Perkins claimed her first Scottish Senior title with a best throw of 61.48m to take gold ahead of Susan McKelvie.
It was still a bitter-sweet day for the local athlete, who is a life member of Falkirk Vics, however, with Myra looking for a second Gold Coast 2018 qualifying standard (62.65m).
'I'm delighted to win it for the first time in my career – I think I was a silver medallist once when still an U17 athlete,' said Myra.
'It was a decent distance today and I've been more consistent this year than ever before in terms of getting beyond 61m.
'But I am still chasing a second Commonwealth Games standard and of course the season is drawing to a close. There's an event in Liverpool on September 9 which is of the required permit level and there are maybe one or two others I can try and find.
'I was second in the Loughborough Internaitonal, fourth at the British Champs, won at the Manchester International and won today so there's plenty to be positive about over the season. Clearly I'd love to go to another Commonwealth Games so I will keep chasing the distance.'
One of Myra's Glasgow 2014 team-mates, Jade Nimmo, took the Women's long jump title with a leap of 5.98m.
There was another connection to Perkins in the Men's 400m. She once shared a primary one class-room with Grant Plenderleith in the Falkirk area. Grant had to settle for second in the Men's 400m, though, as Kirshawn Aiken (Enfield) took the gold. Aiken made that a double with 21.65 in the 200m.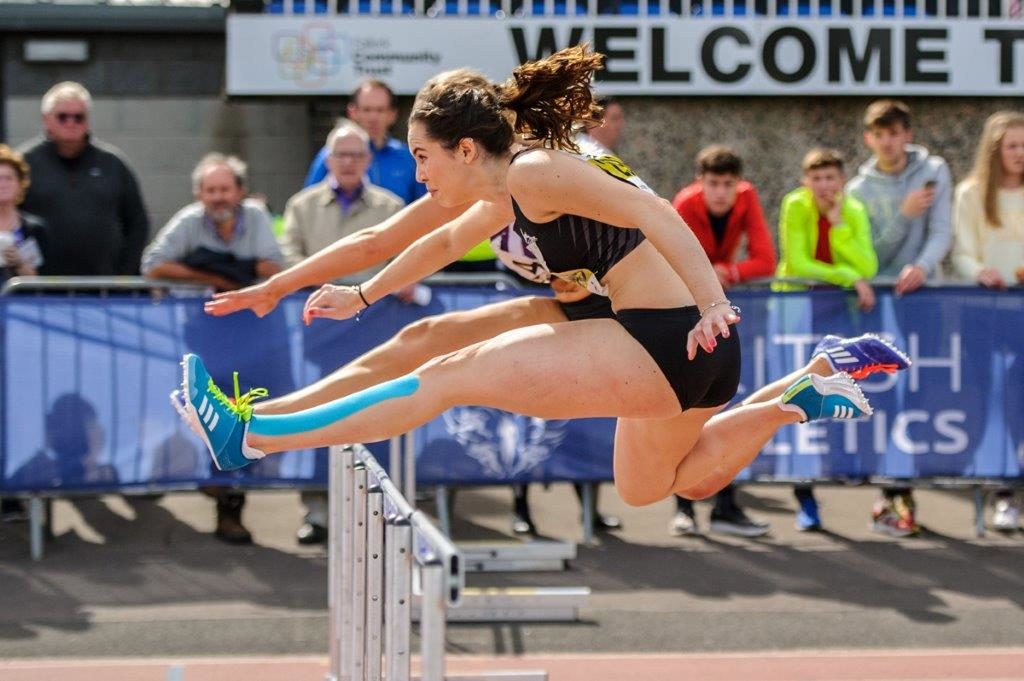 Heather Paton in action in the 100m Hurdles
Reekie (Kilbarchan AAC) won Senior gold for the first time in an exciting finish in the Women's 800m.
There was not much in it as the European Junior 1500m champion just edged clear of defending champion Mhairi Hendry to win in 2.08.39 from the VP-Glasgow athlete's 2.08.77. VP-Glasgow's Philippa Millage took third in 2.09.55.
Rees (Banchory Stonehaven) won the 200m title with 23.38 – just eight seconds away from the Gold Coast 2018 qualifying standard for that event (23.30). Nonetheless, it was a strong performance and a third Senior 200m title for the teenager.
There was that Championship Best performance in the shot by Scott Lincoln (City of York). Lincoln threw and that eclipsed the mark of 18.76 set by Matt Simson some 20 years earlier in 1997.
Megan Marrs (Windsor Slough) took the Women's 100m hurdles title in one of the closest finishes of the day. Megan won it in 13.66 from Heather Paton's 13.68 with a third place there for long jump gold medallist, Jade Nimmo.
Aileen Rennie (Edinburgh AC) won the Women's javelin with 41.54m as high jump champion, Nikki Manson, landed the silver medal. The Women's 3000m steeplechase saw a win for Edinburgh AC's Scotland international, Lauren Stoddart.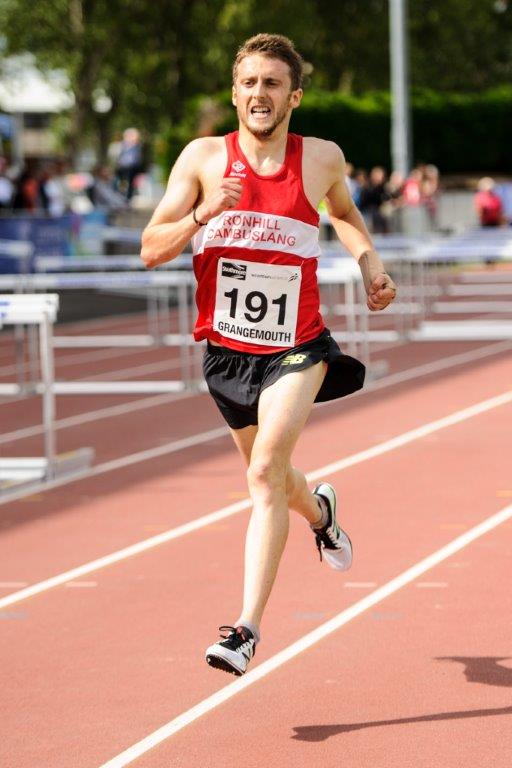 Grant Sheldon won the 5000m and contested the 1500m final, too
Triathlete Grant Sheldon (Cambuslang) won the Men's 5000m race in 14.22.34 with Lachlan Oates (Shettleston) second in 14.25.45. Alistair Hay of Central AC took the bronze in 14.26.64. There was an U20 Men's gold there for Sol Sweeney (Perth Strathtay) in 14.58.00.
Sheldon, who was presented his medal by Laura Muir, has his sights set on the Gold Coast in the triathlon.
'I am still hoping to be selected by Team Scotland and hopefully I have done enough to get a discretionary place in what is quite a complicated process,' said Grant.
'I came off the bike and broke my wrist which didn't help but I'm pleased with that 5000m win in my first track race at that distance.'
Sol Sweeney took the U20 gold in that race, just ahead of James Donald (Dundee Hawkhill), and that means the Perth Strathtay athlete is currently Scottish U20 champion at 1500m, 3000m and 5000m. And he won a silver in the 800m at Scotstoun, too!
The 400m Hurdles titles went to Pitreavie AAC's Jack Lawrie and Nisha Desai (Trafford AC).
Aberdeen AAC's Kelsey Stewart won the 400m gold in 54.27 and the men's 800m saw two Edinburgh AC athletes contest a very tight finish as Patrick Taylor won in 1.53.90 from Martainn Ramsay (1.53.92).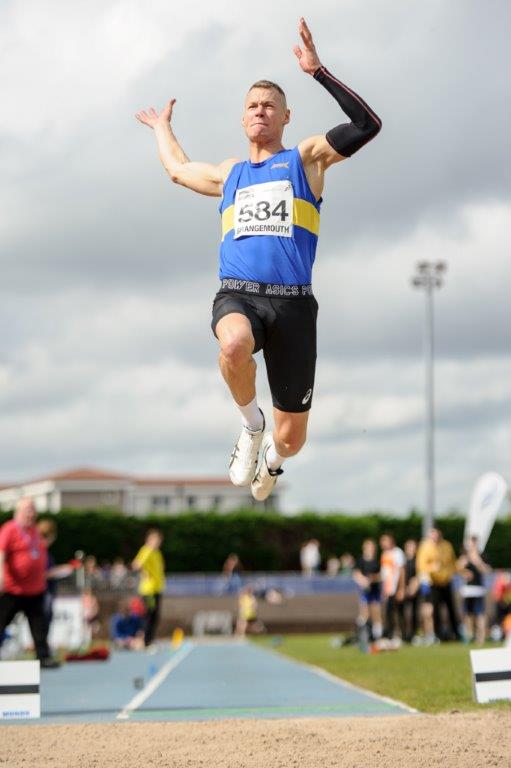 David Martin on his way to gold with a long jump PB
David John Martin won a fine long jump competition with a new PB in 7.53m. That sentence can barely cover his emotions, though, after being serioulsy ill earlier this year.
'I was in hospital in February and was seriously ill with a brain illness,' he said.
'I had to re-learn to walk so at that time the idea of long jump, or getting a PB, was the last thing on my mind. But it was inspiring me today and it was a great comp. I've jumped against the Irish lad before and he reached a PB today as well.
'It is the third time I have won it but this one is definitely the sweetest under all the circumstances.'
Calum Innes won the 110m Hurdles in 15.09 and Angus McInroy won the discus and Hannah Lawler the pole vault.
In the final track races of the championships, there were 1500m wins for Steph Pennycook (Fife AC) and Dale Colley (Central AC).
Ross Paterson (Red Star) won gold in the 200m ambulatory final with 25.11 as Lewis Clow (Aberdeen AAC) took the silver and Alexander Thomson (Whitemoss AAC) the bronze under the points system.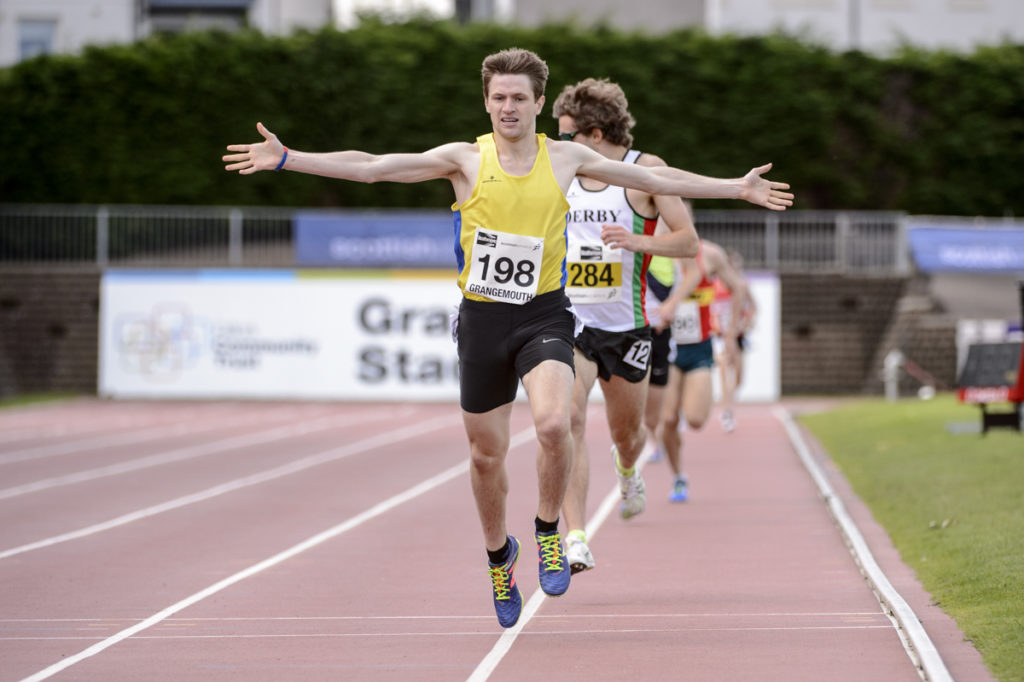 Dale Colley wins the 1500m title from Matthew White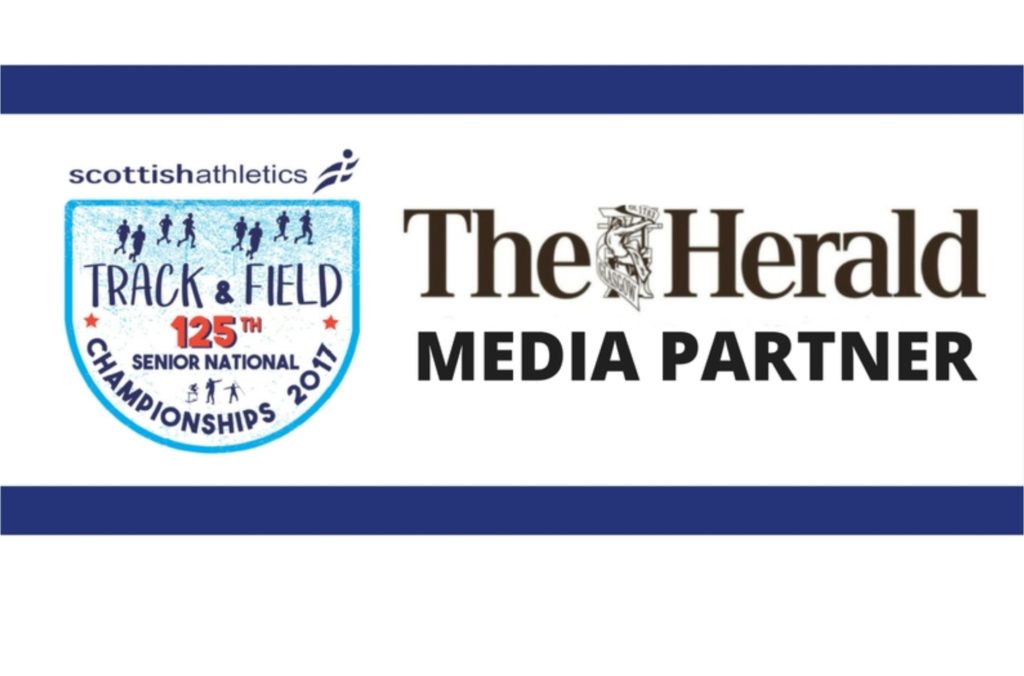 Tags: 125th Senior Champs, David J Martin, David Smith, Grangemouth, Myra Perkins