Loughborough International 2017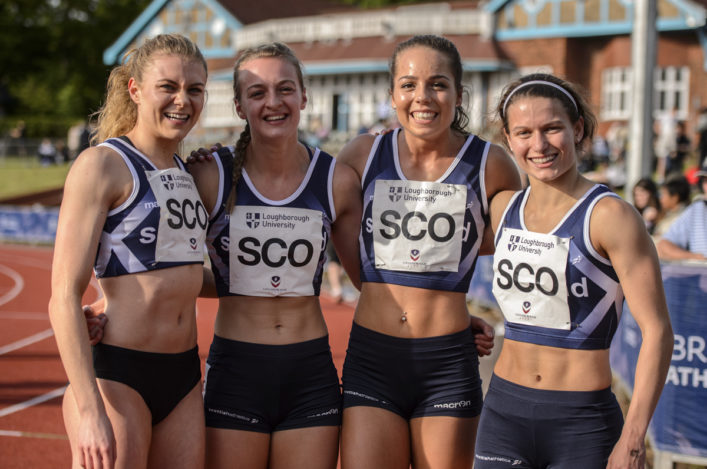 Scotland 4 x 400m women – Beth Dobbin, Kirsten McAslan, Kelsey Stewart and Zoey Clark (photo by Bobby Gavin)
*Scotland finished fourth in the Loughborough International Match – beating Wales and the GB Student Select team.
Match Result: 1 England 190, 2 GB Juniors 143, 3 Loughborough 139.5, 4 Scotland 104.5, 5 GB Students 103, 6 Wales 98
WATCH events again on Vinco footage
Scottish athletes stepped up to the mark once again at the Loughborough International 2017, as a number of those wearing various vests pulled off event wins, qualifying standards and PBs.
There were PB performances from the likes of Alisha Rees, Jill Cherry, Ben Greenwood, Jack Lawrie, Martin Lipton, Adam Clayton, Adam Thomas (=PB), Grant Plenderleith (windy), Maddie Silcock, Anna Tait, Megan Davies, Lachlan Oates and Steph Pennycook.
There were event wins for Scotland representatives Zoey Clark in the 400m and Allan Smith in the high jump (=1st), with his 2.22m clearance a Commonwealth Games standard, and Mark Dry (for Loughborough Uni) and Rees in a guest 200m.
And, in the second last event, there was a superb 4 x 400m triumph for Scotland women as Zoey Clark, Kelsey Stewart, Beth Dobbin and Kirsten McAslan defeated England and Loughborough in 3.34.62.
Sprinter Rees, racing for GB Juniors, had a great day as she went inside the qualifying standards for the Euro U20s in Italy this summer in both the 100m and the 200m.
Alisha set at 11.62 PB in the 100m (Euro U20 standard 11.65) and then won her guest race – against the likes of Asha Philip and Laviai Nielsen – with 23.61 (with the Euro U20 standard at 23.80). Cameron Tindle also made the 200m Euro U20 standard.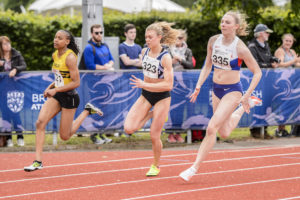 Alisha Rees – racing for GB against Scotland's Beth Dobbin – had a superb day
'When I saw the start-list for the 200m I thought I was going to get hammered,' said Alisha, with than 11.62 in the 100m also a Scottish U20 National Record (beating her own previous mark).
'There were some big names on there and that can intimidate you. But I just went out and raced it as best I could and I'm really pleased with that.
'Italy should be on the cards now and hopefully I can go there and do well in the 200m and the 4 x 100m Relay. the Commonwealth Games time of 23.30 is on my mind and I do want to try and reach that – but it is hard to say where or when it might happen.
'I was fifth in the 100m but still nicked a PB by one hundredth and there were girls in there who had run 11.5 and 11.4.'
Greenwood and Mhairi Hendry each took third place for Scotland in the 800m races. Ben clocked a PB of 1.49.09 to go very close to the 1.49.00 Euro U20 standard, while Mhairi was not far away from her PB with a run of 2.04. 84.
'I am really pleased with that,' said Ben. 'It was a year ago I ran 1.49.50 and I've taken a bit off that now. Hopefully I can still get the qualifying time at some point.
'I had a tight back last week (when racing at BMC meet) but we sorted it on Tuesday and that has helped. It was a busy race so I had to get out a bit wide for the finish to fight my way through for third.'
Lachlan Oates and Anna Tait impressed in their endurance events, coming up with PBs in the 3000m steeplechase and 1500m respectively.
Anna was a late call-up this week, after racing a 3000m in Manchester, but stripped seven seconds off the PB she had set at the West Districts in Kilmarnock. In the same race, English-based Megan Davies actually pipped Tait on the line for 4.21.11 – also a big PB performance.
Jack Lawrie's 50.70 took third place for Scotland in the 400m Hurdles but was just outside a Euro U23 qualifying standard (50.50).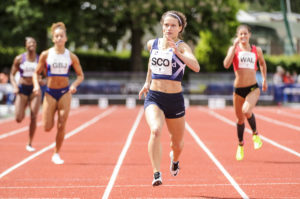 Clark (pictured above) headed England's Mary Iheke and Seren Bundy-Davies of Wales to win in impressive fashion in the 400m match race.
'I am pleased with the win in a Season's Best and it is getting pretty close to my PB at 52.64 today (to 52.58 PB),' said Clark.
'But I am a little disappointed that I didn't the Gold Coast qualifying time as I was definitely trying for that.
'I think I have tightened up a bit on the home straight because I was really racing myself that stage with a lead in the final 100m. I had hoped it would be more competitive than that, to be honest.
'The positives are I've won the race and taken full points for Scotland and it gives me a bit of confidence to beat some of the athletes there.
'I don't think I've ever beaten Seren Bundy-Davies before, for example, and she's competed at a very high level so it make you feel as though you belong alongside these athletes.'
In the 400m guest races, there were runs of 54.38 for Kelsey Stewart and 54.58 for Jill Cherry. Mhairi Patience was fifth in the 400m Hurdles match.
Maria Lyle was at 14.30 in her Para-Elite 100m sprint race and there were fine PBs in guest 100m races for youngsters Adam Clayton and Maddie Silcock, on a day when Chloe Lambert competed three times for Scotland in the 100, 200 and 4 x 100.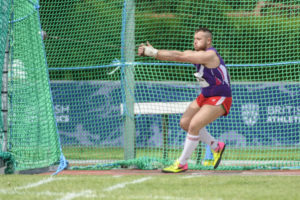 Olympians Mark Dry (pictured above) and Chris Bennett were in action in the men's hammer, in different vests, as Andy Frost represented Scotland.
In the end, it came down a single centimetre to separate Dry and Bennett with Mark, competing for Loughborough Uni on the day, taking it with 71.73 to 71.72 for Chris.
Emma Nuttall was fourth in the high jump match with 1.80m with Aileen Rennie at 41.47 in the javelin and Zara Asante at 12.17 in the triple jump.
It was a special day for Kirsty Law as her 10th appearance for Scotland in this match eqaulled the appearance record held by Kathryn Evans and Eilidh Doyle. Kirsty took second place in the match with 53.92.
The Women's hammer saw second place for guest athlete, Myra Perkins, as she edged Scotland's Rachel Hunter into third place with 62.54 m to 61.45m.
Other field performances includes 15.43 in the Triple Jump by Chuxx Onyia and 3.80 in Pole Vault for Courtney MacGuire. Allan Smith was at 2.22m in the high jump, Angus McInroy 53.18 in the discus and Sarah Warnock 6.12 in the long jump.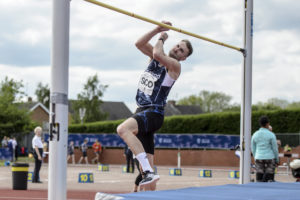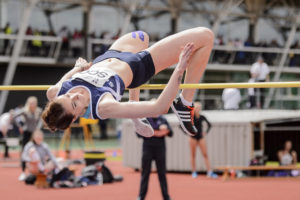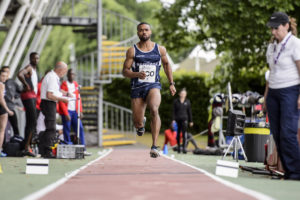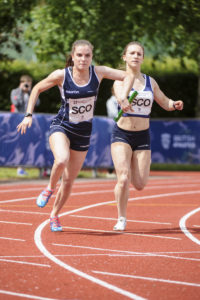 Photos by Bobby Gavin at Loughborough
Tags: Alisha Rees, Allan Smith, Chuxx Onyia, Loughborough International, Mark Dry, Scotland, Zoey Clark