Scottish 5K Champs preview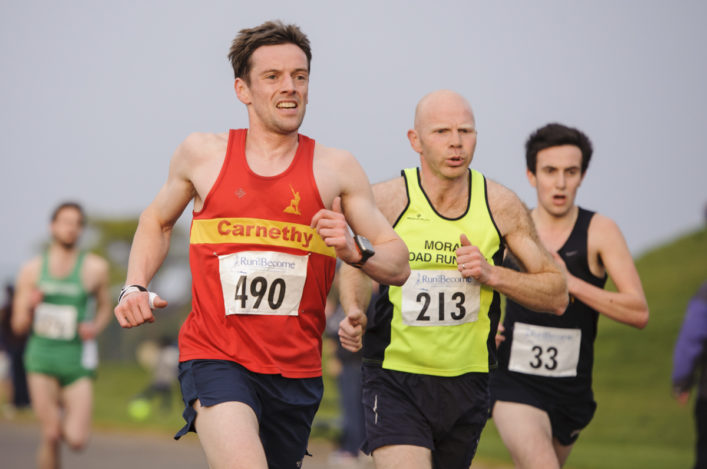 Action from the Scottish 5K last year – a race with a great reputation for PB performances (photo by Bobby Gavin)
Race starts: 7.30pm
The Scottish 5K Champs take centre stage for the endurance community at the Run and Become Self Transcendence race on Friday night at Silverknowes on the Forth coastline.
This is always one of the most eagerly-awaited fixtures on the Scottish National Championship calendar and a full capacity of 600 athletes suggests the popularity has hit a new peak.
Coveted individual medals are up for grabs for men and women at Senior, U20 and Masters levels and there are team contests, as well.
Callum Hawkins set a course record a couple of years ago with 14.17 and Welsh athlete, Kris Jones, might be in the shape to get close to that – with the Dundee Hawkhill athlete looking favourite following a fine Scottish 10,000m gold last Friday at Crownpoint.
Jones is joined on the start-list by his fellow 10,000m medallists Michael Christoforou and Logan Rees and other contenders for the Senior (or U20 or Masters medals) could include Dermot Cummins, Jamie Crowe, Marc Austin, Neil Renault, Euan Gillham, Calum McKenzie, Alastair Hay, Craig Ruddy, Grant Muir, Stuart Gibson, James Donald, Kenny Wilson, Robert Gilroy and Kerry-Liam Wilson.
The Women's race has attracted a number of Scotland XC internationa ls from recent months and U20 duo, Anna Macfadyen and Gillian Black, who represented GB and NI at the World Cross in Uganda.
National XC champion Morag MacLarty has won this event before and should be among the contenders (for Senior and Masters medals) as well as Mhairi Maclennan, Nicola Gauld, Louise Mercer, Elspeth Curran, Halina Rees, Eilidh Mackenzie, Michelle Sandison and Fiona Matheson .
The likes of Annabel Simpson and Sarah Dempsey could be chasing those U20 medals alongside Black and Macfadyen but U17 duo Kate Gallagher and Lauren Dickson are not eligible for this age group.
Edinburgh AC's Maddie Murray set a Women's course record with gold last year in a time of 16.07.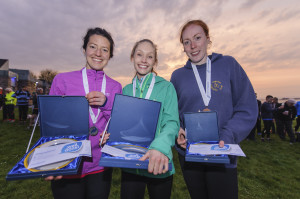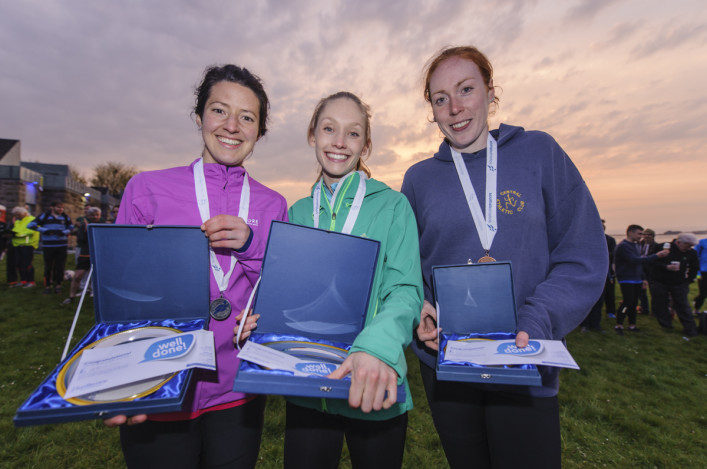 Women's 1-2-3 last year with Maddie Murray taking the win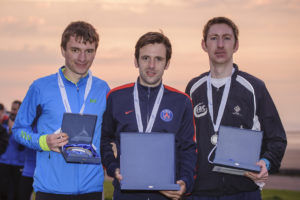 Men's 1-2-3 last year – with Mark Mitchell landing gold
The Scottish 5K Champs represent the second race in the Road Race Grand Prix and there are 'shares' available for the overall prize-money (£4000 in total).
The standards for Friday night are as follows:
Men: A standard sub 14.30; B standard sub 14.45
Women: A standard sub 16.20; B standard sub 16.35
For the Senior team medals, all athletes who are born on or after 1/9/1996. This includes Under 20 athletes who are eligible for Senior Team medals as well as U20 ones. (Athletes born after 31/8/1999 who are U17 or U15 by UK age groups are not eligible for SAL team or individual medals.)
For the U20 team medals, athletes need to be born with in the three-year span 1/9/1996 to 31/8/1999.
Masters individual medals are on offer for the first three men and women from age 40 on the day. There are no Masters team medals for this event.
Check out the Road Running and Cross Country archive online
With thanks to Alex Jackson and Adrian Stott. Photos by Bobby Gavin.
Tags: Callum Hawkins, Edinburgh, Kris Jones, Maddie Murray, Morag MacLarty, Road Race Grand Prix, Run and Become, Scottish 5k Champs, Silverknowes