Volunteer now for Glasgow 2018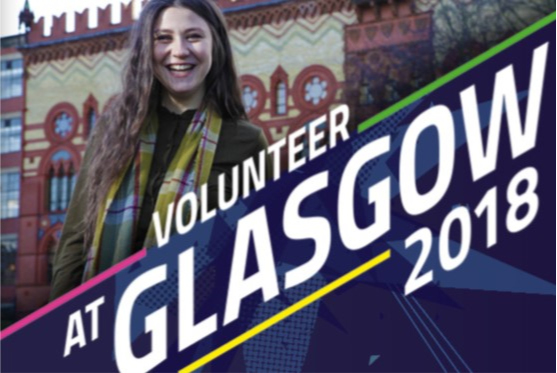 The search is on to find more than 3,000 volunteers who will be the welcoming face of the Glasgow 2018 European Championships – an exciting new multi-sport event that brings together some of the continent's leading sports.
Applications have officially opened with volunteers set to play an essential role in the experience offered to athletes, officials, media and spectators as they visit Glasgow and Scotland next year.
Volunteers will support a wide range of functions from Spectator Services and Accreditation, to Transport and Media and much more.
The Glasgow 2018 Volunteer Programme was launched at Glasgow's iconic Kelvin Hall, which recently reopened following a £35 million redevelopment. The launch event was attended a team of Glasgow 2018 Volunteering Champions and Still Game star Sanjeev Kohli,.
Thousands of people over the age of 16 are expected to express an interest in what will be one of the most ambitious and inclusive volunteering programmes ever undertaken in Scotland, with the Glasgow 2018 volunteers set to be right at the heart of the inaugural European Championships.

To be staged every four years, the European Championships will combine the existing European Championships of Athletics, Aquatics, Cycling, Gymnastics, Rowing and Triathlon along with a new Golf team championships.
The first edition will be held in 2018 in a unique sporting partnership between Host Cities Glasgow and Berlin.
This partnership will create a new event on the world stage elevating the status of European Champions and attracting a potential television audience of up to 1.03 billion across the continent, with a wider audience via digital platforms. Attendances across Glasgow 2018 are expected to be in the region of 250,000.
Applications will remain open up until 31 July 2017. A full list of criteria and Frequently Asked Questions is available online
+++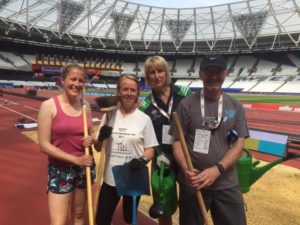 Carolyn MacKinnon (in white) has volunteered for scottishathletics and other events
scottishathletics are supporting a research project that is being conducted by Maggie Eggeling , who is a member at Aberdeen AAC and studying an undergraduate degree in Psychology.
She is conducting a piece of research into volunteering with young people in athletics, looking particularly at volunteers' personality and motivations.
This research is of great interest to scottishathletics to help us understand the motivations of our significant volunteer workforce so we are keen to assist Maggie in collecting as high a sample of responses as possible.
If you're a volunteer in any capacity – coach, official, parent helper, etc, it would be great if you could complete this short online, anonymous survey.
The link is re-usable so feel free to share to other Athletics volunteers you know. The survey works best on a smartphone but can also be done on a tablet or PC.
The deadline for responses is Friday 7 April.
Tags: Glasogw 2018, Volunteer Survey, volunteers