Muir double gold and medals Eilish, Eilidh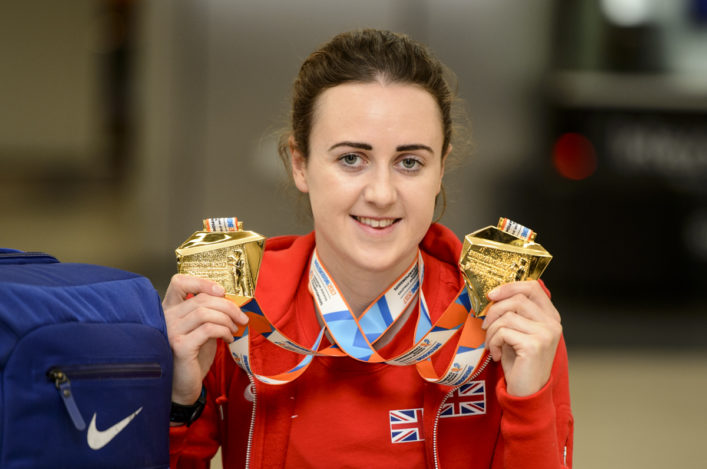 Laura arrives back in Scotland with double gold – photo by Bobby Gavin
Arnold Black puts Belgrade into context
Laura Muir wrote her name into the history of European Athletics with a superb gold medal and Championship Record double in Belgrade.
The 1500m champion followed that on Sunday with an imperious run to glory in the 3000m to complete her remarkable 45-lap weekend in Serbia in stunning fashion.
And Eilish McColgan came through to win the bronze medal and underline her own terrific progress since returning from injury only 12 months ago and switching to the flat from the steeplechase.
Muir clocked 8.34.67 for her second Championship Record in a matter of 21 hours – as she followed on from her 1500m victory the evening before.
Turkish athlete Yasemin Can sought to test her endurance, but the 23-year-old Scot turned on the power with just over 300m to go and a final 400 in 60-odd seconds was more than enough to give her a clear run to a second international gold medal as she came of age on the European stage.
McColgan made a characteristic late surge to get beyond Holland's Maureen Koster for that well-earned bronze medal and, with Steph Twell not far behind in fifth, it was a Scotland 1-3-5 in the Women's 3000m final.
BBC interview with Laura and Eilish
European Athletics interview with Eilish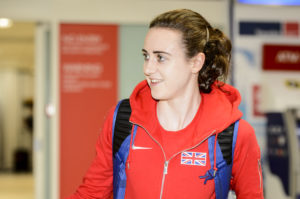 'I'm just delighted to come away with the win and do the double,' said Laura.
'It was great to do so many races back to back – it shows our recovery methods are working so it's looking promising for the double in London.
'I'm happy with the race but I was feeling a bit tired. I was thinking 'I hope she doesn't ramp it up any more' and I managed to hang in there – I knew I'd have the kick and I just went.
'I think previously I had the training, but not the confidence. Now the confidence is there it shows as much in my performance.'
Many congratulations to Laura, coach Andy Young and her family on a superb achievement. And congratulations, too, to Eilish, coach Liz McColgan-Nuttall and her family on the 3000m bronze.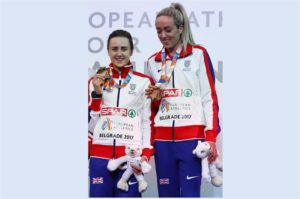 Eilish McColgan said: 'I'm so chuffed. Bronze was what was realistic today, and it's what I've come out with.
'I went to the back of the field early on. I don't know if it's a confidence thing or it's just race experience but it's the one thing my mum, my coach, my dad and my boyfriend told me to not to do.
'I had essays written to me before saying 'do not do that, and do not go to the back – sit near the front and don't leave it to the last lap', but that's what I did today.
'I think it's the experience; I need championships, and  it's difficult moving from steeplechase to this!'
+++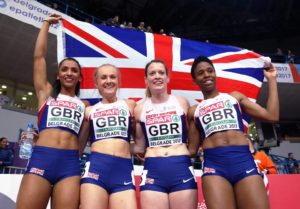 Eilidh Doyle landed another international championship medal as she helped GB and NI to silver in the Women's 4 x 400m final.
Doyle was on the opening leg and that silver makes it four medals in total gathering in by the Scottish contingent in Belgrade.
Eilidh was joined in the 4 x 400m team by Philippa Lowe, Mary Iheke and Laviai Neilsen to record 3.31.05.
It's a remarkable 12 medals now for the 400m hurdler and relay runner, with her collection spanning Europeans, Commonwealths, World Champs and the Olympics in Rio.
Many congratulations to Eilidh, her family and coach Malcolm Arnold on yet another championship medal.
'The plan was to go out well, I wanted to try and get them into the lead and try and keep it as clean as possible and try not to get us into a fighting battle,' said Eilidh.
'The girls all ran so well; for Mary and Philippa to be thrown into the 4 x 400m in their first senior international is a real baptism of fire. I thought it was a really composed and mature performance from all of us and I'm really proud.'
+++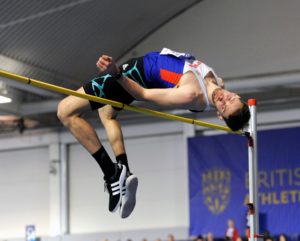 It was really good to see a Scot in a field event final at the European Indoors, with Allan Smith flying the flag in the high jump.
He qualified for the last eight on Saturday with 2.25m but three failures at 2.23m saw that cut short, with a 2.18m clearance against his name.
Allan said afterwards: 'I just need to sort out the run up. I keep cutting out my curve and I need to run in a straight line for longer because the height was definitely there today.
'I was in the shape to jump high today, but technically it wasn't there. I didn't know how my body would hold up today but there's no excuses. I need to keep progressing and be consistent.'
Well done to Allan and coach Bryan Roy on a solid performance this weekend after selection for the team and then coming through the qualifying to make that eight-man final.
Tags: Allan Smith, Belgrade, Eilidh Doyle, Eilish McColgan, European Indoors, Laura Muir, Steph Twell