Magnificent Muir lands European Record (again!)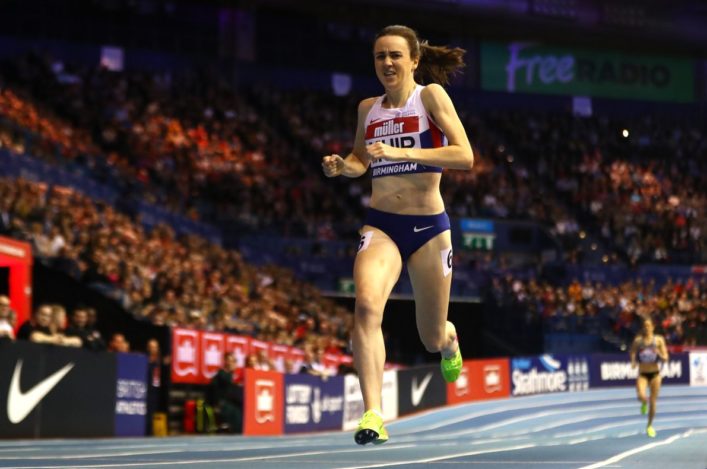 Photo via European Athletics Twitter
Daily Telegraph profile piece on Laura Muir
Laura Muir continued her imperious start to 2017 with another Record-breaking performance in Brimingham.
The Scottish Athlete of the Year won the 1000m at the Muller Indoor GP in Birmingham in 2.31.93 – to snatch another British Record from Dame Kelly Holmes.
It was also a European best and took her to second on the all-time World list for this distance. Holmes had run 2.32.94 in Birmingham back in February 2004. The World Record by Maria Mutola stands at 2.30.94.
It was another superb effort from Laura, paced by Jenny Meadows, and she went very close to the Scottish indoor 800m Record on the way through, too.
All at scottishathletics offer our warm congratulations to Laura, her coach Andy Young and her family!
The 2016 Scottish Athlete of the Year broke the British Record at 5000m at the GAA Miler Meet in January and then the European Record at 3000m in Germany a couple of weeks ago.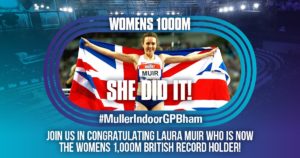 Laura's BBC interview with Phil Jones
'I am delighted – I really wanted to get the win, that was really important,' said Laura.
'To beat Kelly's (Holmes) record is amazing and to be so close to the world record is also very encouraging for me.
'The crowd were so loud; I couldn't hear myself breath. To have this level of support is something I am very grateful of and the fact that we will have this in London for the World Championships later this year will be a great advantage for all the British athletes.
'It is every athlete's dream to be running well every time you come out on the track and being injury free. Hopefully I can carry this sort of form into the summer.
'I have worn my lucky spikes for all four of my national records so I am going to keep them safe for the future! They will be worth a bit now.
'I'll be going for my first senior outdoor medals at the Europeans – that is what I am targeting.'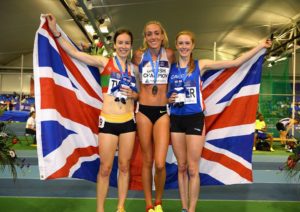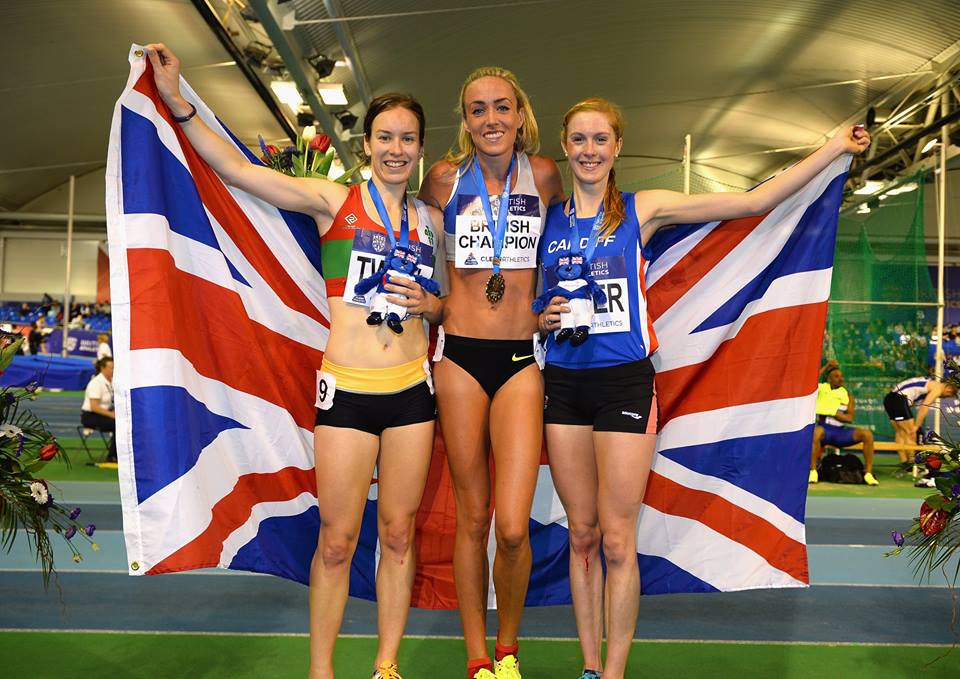 Eilish McColgan and Steph Twell – in top form in the 3000m
There were superb performances by Eilish McColgan and Steph Twell for 5th and 10th in a classy Women's 3000m race.
The current duo went to No 3 and No 4 on the Scottish all-time list with indoor PBs, both now ahead of Yvonne Murray. Eilish clocked 8:43.02 and Steph was at 8.45.95.
'I am so happy to run the qualifying standard and get a personal best because I didn't feel too good,' said Eilish.
'I was chasing the whole way but I can't complain. I had a long overnight flight from Kenya just before Sheffield and even though I was in such good shape, I picked up a cold so racing last week brought the illness out of me. So to be able to run that time today is encouraging.
'The 3000m is my priority in Belgrade (European Indoors) so it is nice to get a good run in here. It is so nice to run an indoor season after four years away. This is the first time I am fit and healthy at this point in the year for so long.'
McColgan, Twell and Laura Muir now look set for a great battle at the European Indoors.
'That was super; I felt really controlled the whole way,' said Steph. 'My spikes came undone on the second lap so I was trying to hold my shoe on – it wasn't ideal but I was just trying to cover it.  I'm so happy to run sub 8:50 and that is much further on than I was last year.
'The line-up was awesome. You look at some of the names and you know you are going to get a fast race. The support really helped – the Birmingham crowd are an educated one and they know how much it helps us to perform, so thank you to them.'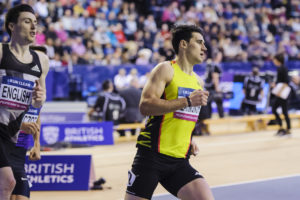 Guy Learmonth – anew PB indoors at 1.47.00 for 800m
Guy Learmonth had to settle for fith place in the Men's 800m but his 1.47.00 was a third indoor PB of the season – with Guy already assured of his selection for Belgrade.
'I am frustrated because I wasted energy; I should have been at least half a second quicker,' said Guy.
'I was running wide a lot which was stupid of me because I ended up running a lot further than 800m but I will learn from this.
I was a bit tired after last week (Indoor Team Trials) but I know I have to get back training hard. I was a finalist in Prague (European Indoors 2015) so I'm going for a medal this time; that has to be the target.
Eilidh Doyle was fourth in the Women's 400m in 52.33 as she relinquished an unbeaten start to 2017, with hurdles rival Zuzanna Hejnova taking the win ahead of a great PB for young Brit Laviai Neilsen. Doyle now looks to the European Indoors with the GB and NI 4 x 400m relay squad looking strong.
Allan Smith had been looking for 2.28m to try and make the European Indoors but he bowed out of the high jump competition at 2.20m for fourth place.
With thanks to British Athletics media team for quote from athletes
Tags: Allan Smith, Birmingham, Eilidh Doyle, Eilish McColgan, Guy Learmonth, Laura Muir, Muller Indoor GP, Steph Twell