GAA Miler Meet; Glasgow XC; Officials; SUPERteams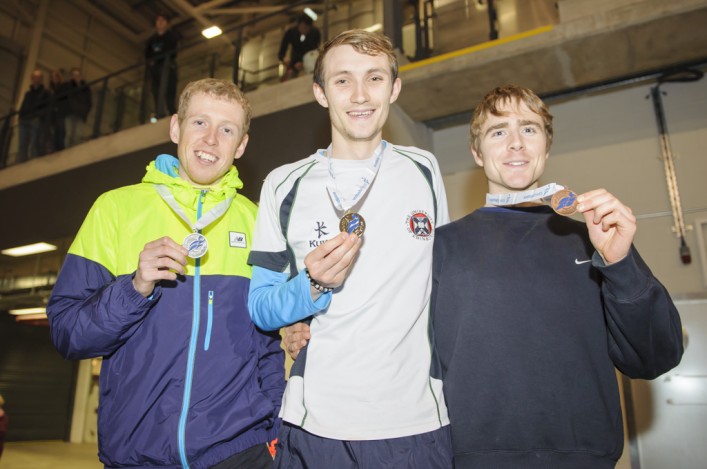 Scottish 3000m medallists last January at Senior Men – Ben Stevenson (gold), James Bowness (silver) and Lachlan Oates (bronze)
Jan 4 start-lists-in-tt-order-2
The Scottish 3000m Champs take place at the Emirates Arena as part of the Glasgow Athletics Association Miler Meet on Wednesday 4 January.
It promises to be a great start to the New Year and an exciting indoor event with a huge response from athletes, coaches and clubs ensuring almost 200 names on start-lists.
Olympian Laura Muir is one of them with the 2016 Athlete of the Year set to race an open 5000m as part of a Women's Senior 3000m which will see the likes of Josephine Moultrie chase a qualifying standard for the European Indoor Champs.
For a couple of other athletes, the January 4 event will also provide the last 'tune-up' before International and Inter-District appearances in the Great Edinburgh XCountry event at Holyrood Park some three days later.
There are two 600m races and 11 at 3000m with the top Men's race including the likes of Jack Walker, Jonny Glen and Ryan Thomson as well as GB international James Bowness, who lives in Glasgow, and Welsh duo Kristian Jones and Jonathan Hopkins.
Scottish championship medals will be awarded to the fastest 3 athletes in each age group (U17, U20, Senior and Vets), regardless of what heat they have been seeded in (merit standards applicable for Vets).
Declarations will be from 5pm with the first race at 6.15pm and the last one at 8.39pm.
Admission to the Emirates on the night is £3 for adults and free to athletes, coaches and U16s. Please come along and lend your support to this event.
Teenagers impress at 2016 GAA meet
+++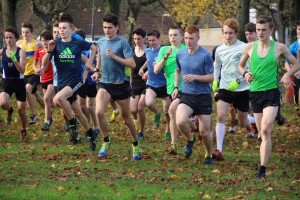 The Glasgow Athletics Association continue to stage their annual series of cross country sessions through the winter – with the latest due a couple of days after Christmas on Tuesday 27 December.
Following the first two sessions at Bellahouston and Tollcross, three dates remain set aside for now for athletes, clubs and coaches to ear-mark and prioritise as part of their preparations towards the National XC at Falkirk.
The third session of the winter is coming up on this forthcoming Tuesday in Glasgow and athletes and coaches from all clubs are welcome to attend.
Tuesday 27 December: Pollok Park (meet at the Burrell car park). Athletes should be warmed up and ready for the first rep at 10.30am.
+++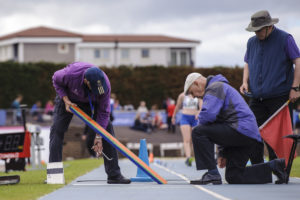 scottishathletics Officials have proved their ability and dedication time and again in recent years in our domestic events – and on the world stage at the London 2012 Olympics and the Glasgow 2014 Commonwealth Games.
Now the summer IAAF 2017 World Championships and World Para Championships in London can be added to that list, with news emerging that a large Scottish contingent of Officials will be on active duty next summer.
Here's a message from Margaret Brown, Convenor of the Officials' Commission.
'Great news this week – invitations went out to all UK Officials for the World Paras and World Championships being held in London in 2017 and a large number of the recipients were from Scotland!
'As not everyone has yet accepted the invitation,  the actual number from Scotland cannot be confirmed, although currently the list is looking larger than it was for the London Olympics in 2012.
'If you received an invitation, and have accepted the role offered but have not yet confirmed this with your Discipline Head, then I would like to hear from you to help with administration. Please get in touch with myself to let me know and I can then pass the information on to the appropriate Head.'
Please email details to Margaret Brown mbb626@hotmail.co.uk
All at scottishathletics would add our congratulations to those selected and indeed extend our good wishes to all our Officials and thanks for great volunteer work in 2016 – the Indoor Season is looming large!
+++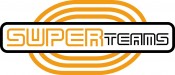 SUPERteams is a scottishathletics event for our youngest athletes – the U12s – and it is coming up on Sunday 5 February at the Emirates Arena in Glasgow.
And we are now looking for entries from clubs to be with us (via email and post) by midnight on Monday 23 January.
Forms can be downloaded on the Events section page
At our SUPERteams event, teams of four boys or four girls compete in four events during the course of the day. Those events are a 60m sprint, shot putt throw, long jump and then a 4 x 200m relay.
Tags: Emirates Arena, GAA Miler Meet, Glasgow XC, James Bowness, Laura Muir, London 2017 World Champs, Margaret Brown, Officials, Scottish 3000m Champs, SuperTEAMS