Masters XC; BATFL nominations; Glasgow XC; Heath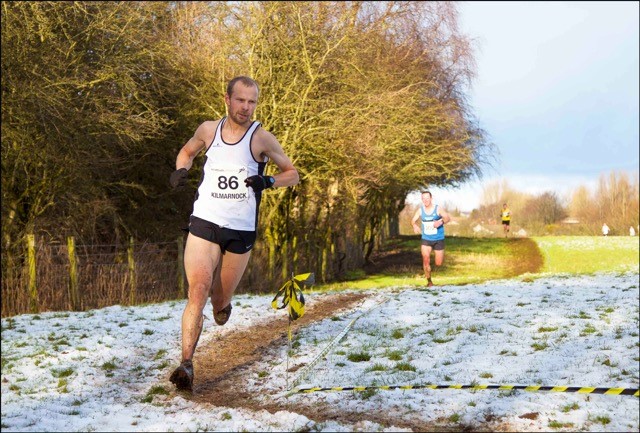 There's always a special atmosphere at the Scottish Masters XC Championships and we feel sure the 2017 event will be no different.
And, with the Scottish Veteran Harriers Club having staged a very successful British and Irish Masters XC event in Glasgow in November which included a strong open race, it's hoped there will be large fields when Scottish championship medals are up for grabs.
Dundee is the venue this time around with courses to be set up within Camperdown Country Park on Saturday 28 January.
Masters athletes should be thinking now about getting their entries in and these are to be made by post to Alex Jackson. The closing date will be first post on Monday 16 January.
Races are over 6K for Women (over 40) and Men aged 65 and over and at 8K for Men (over 40) from M40 through to M60. Age on race date is the qualification and you must be a scottishathletics member to compete in this event.
All the medals on offer are outlined on the Road Running and Cross Country Commission website page for this championship.
+++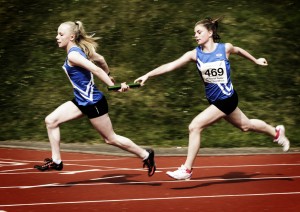 The British Association of Track and Field Leagues (BATFL) are honouring the memory of its former chair Frank Starkie with an award for club officials called the Frank Starkie Memorial Cup.
Nominations can only be made by clubs, who are members of leagues affiliated to BATFL. Nominees must be a member of a track and field club that competes in 'League' athletics.
Citations should draw attention to the nominee's work for the club or league as organiser, official, team manager or helper showing the breadth of tasks and/ or the time they have been carried out.
Where the nominee has delivered great service 'against all odds', the challenging circumstances should be described to do justice to the award.
Nominations should be made to Alan Johnson by 31 January 2017. The officers of BATFL will decide the winner.
Alan Johnson, Secretary BATFL, 6 Fir Tree Crescent, Dukinfield, Cheshire, SK16 5EH. Email  alan@batfl.co.uk
Membership of BATFL consists of all National and regional track & field leagues within United Kingdom.
+++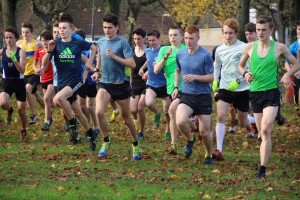 The Glasgow Athletics Association continue to stage their annual series of cross country sessions through the winter – with the latest session due a couple of days after Christmas on Tuesday 27 December.
Following the first two sessions at Bellahouston and Tollcross, three dates remain set aside for now for athletes, clubs and coaches to ear-mark as part of their preparations towards the National XC at Falkirk in February – which marks the culmination of the Lindsays Cross Country Season.
These sessions have become increasingly popular for all ages and offer the opportunity for athletes to enjoy training in a group and for coaches to meet informally. scottishathletics fully supports these principles.
Dates and venues are listed below. All athletes should be warmed up and ready to start the session at 10.30am sharp.
Tuesday 27 December: Pollok Park (meet at Burrell car park)
Saturday 14 January: Bellahouston    
Saturday 11 February: Tollcross      
For more information on the sessions, please contact glasgowathleticsassociation@gmail.com
+++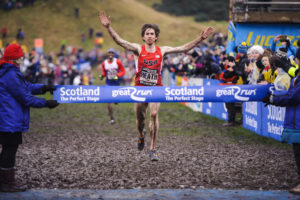 Heath beats Farah last January – photo by Bobby Gavin
Garrett Heath is set to compete at the Great Edinburgh International XC on January 7, with the American looking to make it four straight wins in the Scottish capital.
Mo Farah has made himself available for selection to compete for Great Britain at the event and, if selected, the race would pit the four-time Olympic gold medallist against one of the few people to get the better of him in recent years.
The Seattle-based runner defeated Farah earlier this year after a dramatic sprint finish in Holyrood Park. It was the Briton's first race of the calendar year and the first time the five-time world track gold medallist had run cross country since 2011.
'To beat Mo Farah, who I respect so much and has been so dominant in the sport these last few years, was a pretty exhilarating moment,' said Heath, who defends his 8km title in the team event between USA, Britain and Europe.
'I love competing in the mud, snow, and cold of cross country so having the chance to race some of the best in the world on the course in Edinburgh with a great crowd cheering you on is an absolute blast. Plus, to do it in the US uniform as part of the team competition only makes it more special.'
Tags: BATFL, Dundee, Garrett Heath, Glasgow XC, Great Edinburgh XC, Masters XC