11 share Road Race GP cash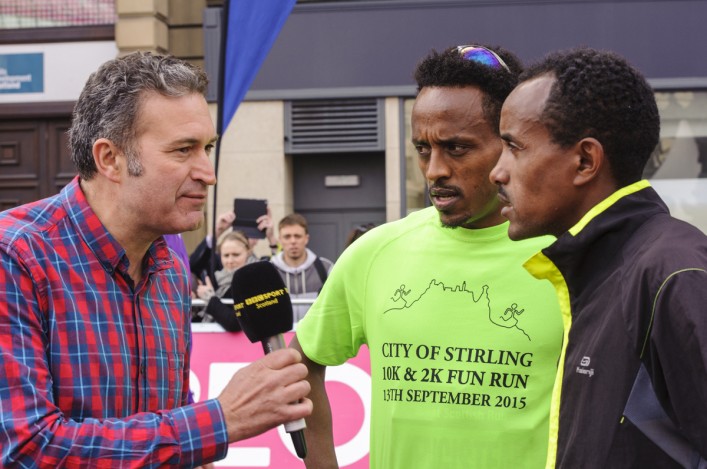 Shettleston pair Tewolde Mengisteab (centre) and Tsegai Tewelde picked up Grand Prix cash after A standards in Great Scottish Run
2015 GP Results @ Race 5 Final
The scottishathletics Road Race Grand Prix concluded with the Great Scottish Run half marathon on Sunday.
And we can now confirm that 11 athletes have shared £4000 following the introduction this season of a new system.
The clear goal of the Grand Prix this year was to try and raise standards by rewarding those who achieved A and B standards in the five designated road races.
As it transpired, eight men put themselves in the frame for a slice of the £2000 cash, while the same bounty was split between three women.
Megan Crawford of Fife was the biggest earner under the system as she lands £1000 after setting standards in two races, including an A standard at the Loch Ness Marathon where she ran a couse record 2.44.49. Beth Potter's good run in Glasgow last weekend ensures she collected £833.
In the men, Shettleston's Tewolde Mengisteab is rewarded for his performances across the Grand Prix where he made A or B standards in three races – the Tom Scott 10-Mile, the 5K Champs at Silverknowes in May and the Great Scottish Run. Tewolde will receive £536.
Inverclyde AC's Craig Ruddy won two titles in the series and posted standards in three events to land £341 while Callum Hawkins was a big winner with his A standard in the 5K Champs –  a course record – and the Half Marathon helping him earn £487.
*There is more info on the five-race series and the final table on the dedicated page on this website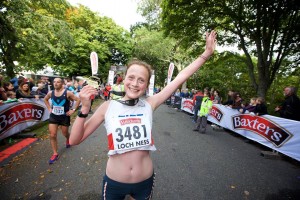 Fife AC's Megan Crawford – wins £1000 after GP efforts

+++
Shettleston Harriers celebrated double success at the Great Scottish Run – as they took the team golds in the Scottish Half Marathon Champs for both men and women.
With Tsegai Tewelde and Tewolde Mengisteab winning silver and bronze medals in the individual Scottish championsip, the team golds were tied up with 10 points thanks to Kamil Sieracki's fifth place. Ronhill Cambuslang Harriers take the team silvers by a point from Edinburgh AC.
Shettleston women were well-served by Fionnuala Ross, who took the individual silver, and Carole Setchell and Avril Mason. There were silvers for Fife AC and bronzes for Bell Road Runners.
Result:
Men:
Shettleston 2 (Tsegai Tewelde) 3 (Tewolde Megisteab) 5 (Kamil Sieracki) = 10
Cambuslang 8 (Robert Gilroy) 15 (Kerry Liam Wilson) 27 (Iain Reid) = 50
Edinburgh 11 (Bryan Mackie) 14 (Stuart Johnston) 26 (Adam Rouse) = 51
Women:
Shettleston 2 (Finnoula Ross) 7 (Carol Sketchell) 17 (Avril Mason) = 26
Fife 10 (Megan Crawford) 12 (Sheena Logan) 15 (Sophie Mullins) = 37
Bella RR 19 (Deborah Gray) 27 (Louise Ross) 34 (Claire Wharton) = 80
Tags: Beth Potter, Callum Hawkins, Craig Ruddy, Megan Crawford, Road Race Grand Prix, Tewolde Mengisteab