Young Athletes Road Race review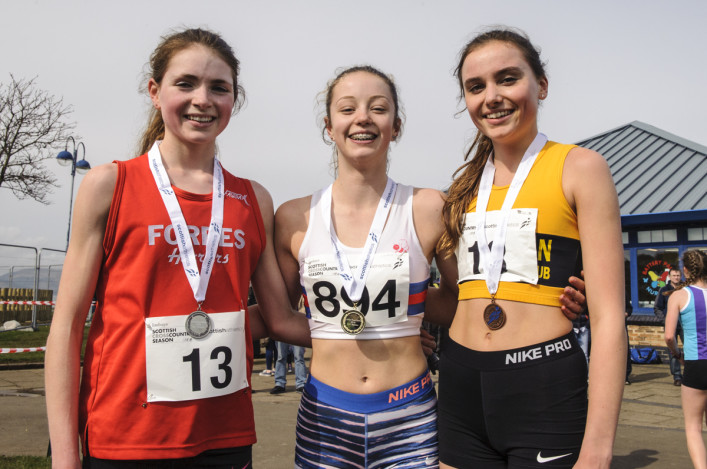 Lasswade's U17 champion Lauren Dickson with medallists Anna Macfadyen (left, silver) and Iona Miller (right, bronze) at Greenock (photo by Bobby Gavin)
Young Athletes Road Race Results 2016 – Amended
Lauren Dickson hasn't been a stranger to the podium in recent years but she picked up her first Scottish title at the Young Athletes Road Races in Greenock.
The Lasswade AC athlete did so with a strong finish to see off the challenge of National XC winner, Anna Macfadyen, and win by four seconds to claim that first deserved gold.
Ben Greenwood joined her as U17 champion in the Men's race and there are clear signs that Scotland can head to the London Mini Marathon with hopes of a strong performance in that category.
Kilbarchan, Cumbernauld, Giffnock North and Edinburgh AC enjoyed individual success at U15 and U13 on a day when it was good to see medals heading to some of our smaller clubs.
'Lauren works really hard at her athletics so I'm delighted she has won her first Scottish title,' said Dickson's coach, Linda Smith.
'She would run all day if allowed and it was a really strong run today to win it. She's going to London now for the Mini Marathon and will hope to do well there although obviously there's a lot of depth in that race.
'It is very positive for Lasswade AC as a club to have a gold medal winner. We came here last year and the girls picked up team medals so that was encouraging.
'Lauren does a bit of swimming as well as her running and while she's done well at 1500m, I think even longer distances may suit her better in later years.'
Kilbarchan AAC's Iona Miller picked up the bronze in that U17 Women's race as Central AC took home the team golds.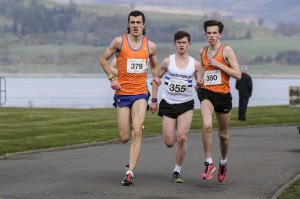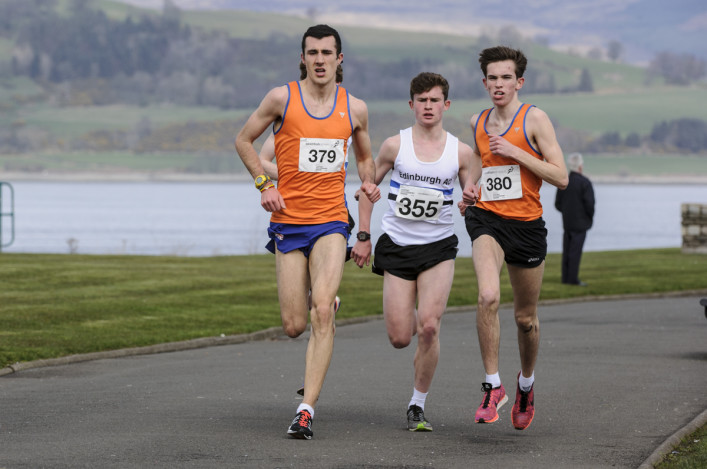 U17 Men's medallists battle it out at Greenock 
Greenwood sprinted clear of his Perth Strathtay team-mate, Sol Sweeney, late in the race to win by three seconds over 4.9K in an impressive 14.49. Joe Arthur of Edinburgh AC took bronze.
Those three medallists are part of what looks a strong Scotland U17 Men's team for London.
'We're looking forward to it and we've all of the East of Scotland team who took silvers at Birmingham in the Inter-Counties,' said Ben, with VP-Glasgow taking the team title in that race.
'I think we must have a chance to team medals if a few of us can run well and that's the main focus for me at the moment before the summer track season really starts.'
Andrew MacAngus of Kilbarchan and Eloise Walker of Edinburgh AC took the U15 titles. MacAngus won it from Keir Howieson (Central AC) and Cameron Watson (Inverclyde AC). Walker finished five seconds clear of Jessica Macleod (Corstorphine AAC) with Lynn McKenna (Giffnock North AAC) in third.
Giffnock North AAC won the U15 Girls gold and Kilbarchan AAC took the U15 boys team title.
The U13 Girls had been the first race of the day and there was success there for Kate Richardson. The Giffnock North athlete was the most dominant winner of the day as she went clear of Edinburgh AC's Emma Johnston to win by 19 seconds. East Kilbride AC had a medallist there with Hannah Anderson taking home bronze.
Richardson's success helped Giffnock win the team golds.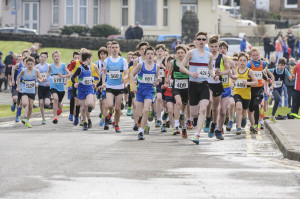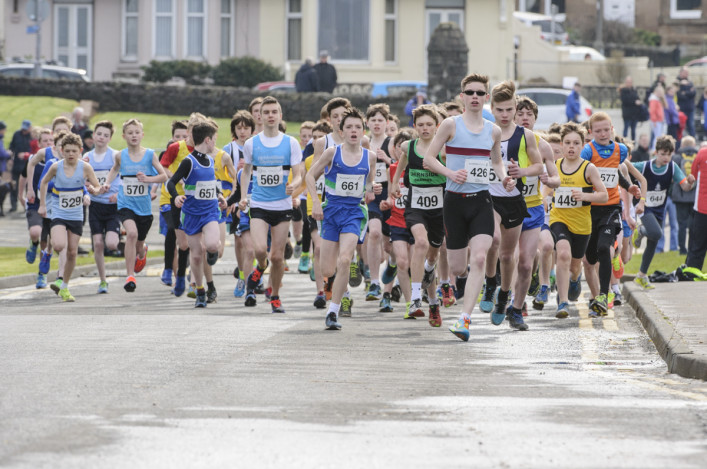 Action from the U13 Boys race
In the U13 Boys, Cumbernauld savoured a national title win for Alasdair McMonagle. He saw off the challenge of Pitreavie's Lewis Dow as Chirnside Chasers athlete, Oscar Onley, took third. Giffnock won the team race and there were silvers for Inverness Harriers – due reward for a big effort to compete.
'I think it was worth all the travelling and the boys have done really well,' said one of the Inverness coaches.
'We've made an effort, as have some other North athletes, and wanted to race because it is a National Championships. Hopefully we will be back again next year with a larger contingent from Inverness Harriers and other clubs, too.'
Many thanks to all involved in the staging of these championships – particularly the Inverclyde local athletics partnership and all the volunteers on duty on the day including Leslie Roy, John Rodger, Alan Potts, Clare Barr, Ian Gebbie, Gerry Gaffney and a number of others.
Winning teams:
U17 Men: VP-Glasgow: Guy Evans-Haggerty 6; John Law 10; Charlie Milarvie 16
U17 Women: Central AC: Lauren McCulloch 6; Lauryn Turnbull 10; Jodie Currie 12.
U15 Boys: Kilbarchan AAC: Andrew MacAngus 1; Craig Kennedy 6; Cameron Wright 9
U15 Girls: Giffnock North AAC: Lynn McKenna 3; Emily Crusher 4; Charlotte McKenna 5
U13 Boys: Giffnock North AAC: Ethan Carolan 4; Murray Fotheringham 6; Christopher Watson-Sweeney 37
U13 Girls: Giffnock North AAC: Kate Richardson 1; Jill Carswell 5; Helen Chong 6.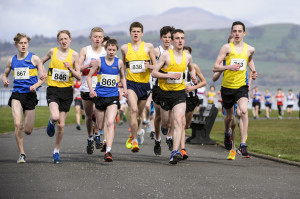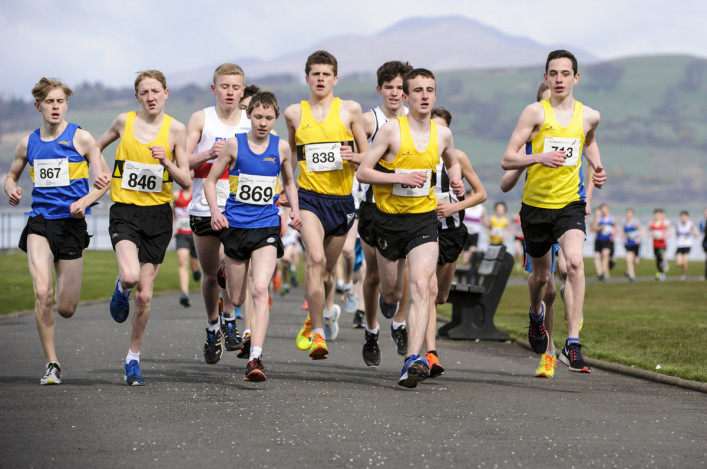 Action from the U15 Boys race
With thanks to Bobby Gavin for these photos
Tags: