XC Previews – Home Countries; World Cross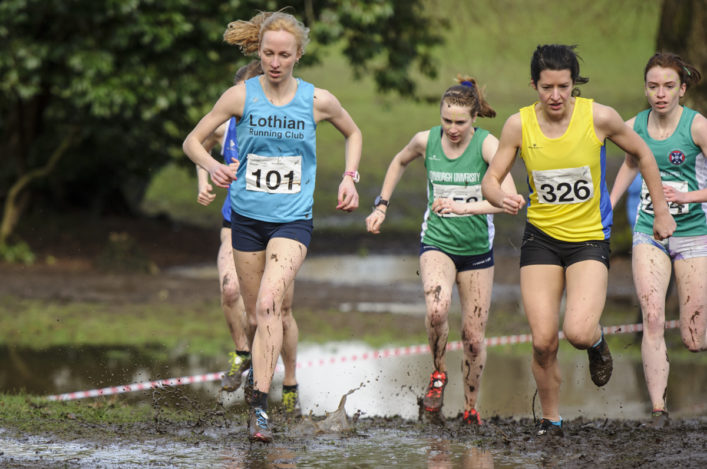 Sarah Inglis (light blue vest), Mhairi Maclennan and Steph Pennycook (green vests) are all selected for Scotland (photo by Bobby Gavin)
Scotland selections for Home Countries XC International
It's the final weekend of the cross country season at home and abroad and Scottish athletes will be in action on Saturday and Sunday from as far afield as Port Talbot in Wales and Kampala, Uganda.
Let's start with Saturday's Home Countries International XC competition, which is being hosted this year by Welsh athletics.
Scotland sends south male and female teams in the Senior and U20 Age Groups – with 24 athletes selected in all for this opportunity, largely off the performances at the Lindsays National XC.
The Port Talbot event also includes international action at school level with the SIAB XC featuring Scotland teams, which have been selected by the Scottish Schools Athletics Association (not scottishathletics).
In fact, the bronze medallists in each of the Senior races – Lachlan Oates of Shettleston and Sarah Inglis of Lothian Running Club – will lead Scotland at Senior level that day.
In the Senior Men's team, it's good to see a well-deserved Scotland vest for Calum McKenzie of Corstorphine AAC after recent development while Murray Strain and Ross Matheson are rewarded for their good runs in the mud at Falkirk.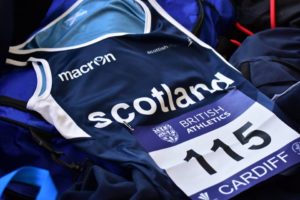 Scotland Senior Men:
Lachlan Oates (Shettleston); Murray Strain (Hunters Bog Trotters), Calum McKenzie (Corstorphine AAC), Ross Matheson (Lasswade AAC).
Scotland Senior Women:
Sarah Inglis (Lothian RC); Steph Pennycook (Edinburgh Uni); Rosie Smith (Hunters Bog Trotters); Mhairi Maclennan (Edinburgh Uni).
Scotland U20 Men:
Broc Drury (Aberdeen AAC); Euan Gillham (Kilbarchan AAC); Jamie Williamson (Springburn); Logan Rees (Fife AC).
Scotland U20 Women:
Sarah Dempsey (Kilbarchan AAC); Anna Tait (VP-Glasgow); Catriona Graves (Edinburgh Uni).
Congratulations to each of these athletes and their families and coaches on this well-earned representative honour. And credit, too, to the clubs involved in their development over the years.
+++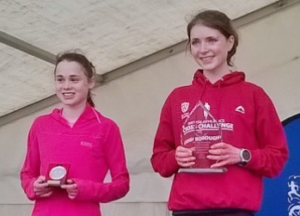 As Scotland compete in Wales, two of our best U20 athletes will represent GB and NI in Kampala, Uganda.
It has been a hectic week or so for Anna Macfadyen of Forres Harriers and Gillian Black of VP-Glasgow since they were named in the selection by British Athletics after finishing 1-2 at the Inter-Counties in Loughborough.
A number of important inoculations were required last week ahead of the trip to Africa as well as trying to fit in training with school and college commitments.
And Anna and Gillian each found time to do a couple of interviews, with Left Spike Fanzine and the Glasgow Athletics Association, respectively.
Here's a couple of their comments and links below to each of those pieces in full.
Anna Macfadyen: 'My greatest achievement is definitely winning the Inter-Counties Cross Country and getting selected for GB for the World Cross Country Champs, which I still can't quite believe!
'Winning the National XC last year was a huge surprise and was a really special moment for me. The club at Forres is small but everyone is so supportive and I'm always really proud to wear my red vest.'
Gillian Black: 'I just want to do my best in Kampala and to do the team proud! I'm hoping to be able to give my all and that as a team we can perform to our best!
'I'm not too sure about Summer yet but ultimately I just want to be injury free and to be able to perform to the best I can throughout the season.'
Q and A with Anna by Left Spike Fanzine
We wish both athletes all the best for the IAAF World Cross and forward our congratulations to their families, coaches and clubs.
Tags: Anna Macfadyen, Forres Harriers, Gillian Black, Home Countries International XC, IAAF World Cross, Port Talbot, Uganda, VP-Glasgow