Wyper inspired by Dobbin and Nelson looks south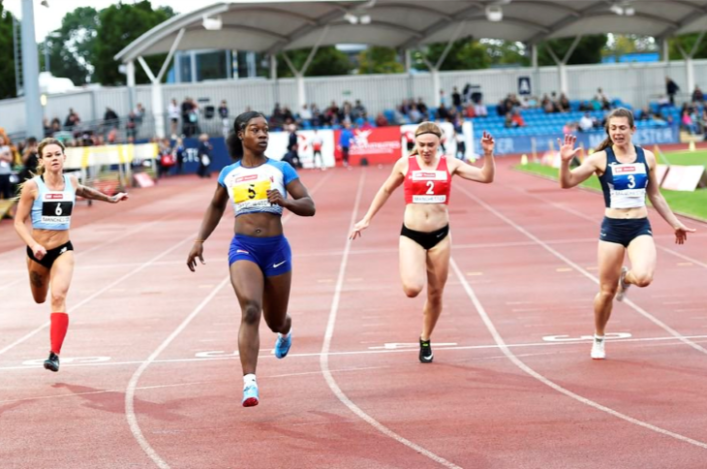 Katy Wyper (on right, Scotland vest) crosses the line in the 100m at the Manchester International to take third (photo via British Athletics)
Scots impress at Manchester International
Katy Wyper delivered strong performances for Scotland at the Manchester International and then insisted there's no reason why our sprinters can't continue to improve.
Wyper defied the start-lists to take second in the 200m and third in the 100m at the Manchester International Arena despite facing opposition with quicker PBs.
Beth Dobbin's appearance in the European Championships final at 200m in a year when Zoey Clark, Grant Plenderleith, Alisha Rees and Michael Olsen have all represented GB in sprints and relays event is inspirational, according to Blackpool-based Wyper.
'I'm so pleased for Beth and the way she has performed this season – you get to know people on the circuit, and she deserves all the success and profile she is now enjoying' said Katy, who won the 100m gold at the FPSG Seniors as Rees made it four 200m titles in a row.
'It really does inspire you and motivate you. There's no reason to write off Scottish sprinters now, to be honest. We're getting there and you have to have belief in yourself.
'I'm really pleased with my positions in the two races at Manchester International and I'm not even bothered about the times or the wind or whatever.
'I looked at the lineups and wondered if it would be possible for me to somehow get in the ix for the podium place so I'm delighted to get third in the 100m and then come through for second in the 200m. '
With Stephen Maguire arriving soon as new Performance Director at scottishathletics, there will be even stronger hopes of a further revival within the event group.
Sandy Wilson made his Senior Scotland debut in Manchester and joined Alec Thomas, Greg Kelly and Stephen Dunlop in the 4 x 100m team on a night when there were windy PB performances posted by the likes of Wilson and Kelly.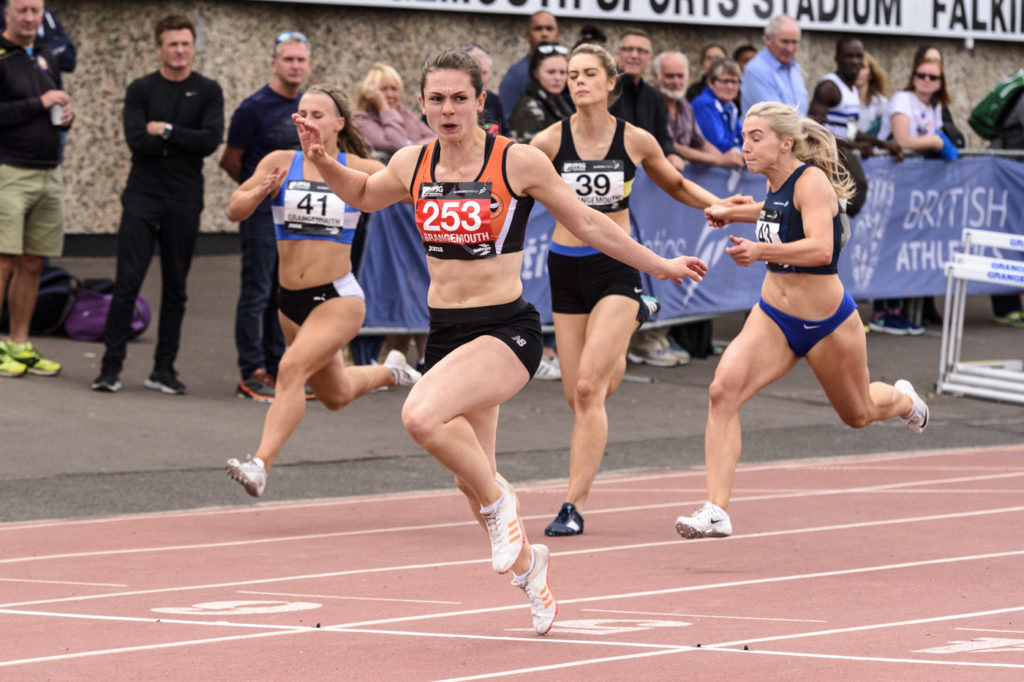 Katy Wyper takes the 100m title at the FPSG Seniors at Grangemouth (photo by Bobby Gavin)
+++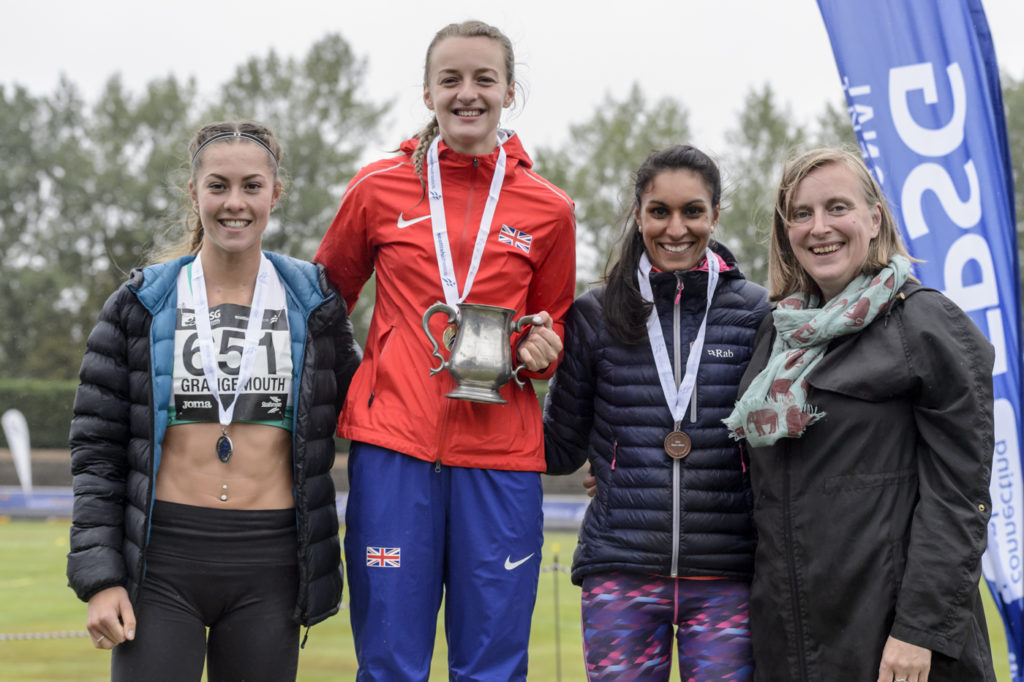 Anna Nelson (on left) took silver at the FPSG Scottish Seniors to Kirsten McAslan and is now moving to Loughborough (photo by Bobby Gavin)
Anna Nelson was one of the Scots to win a first Senior vest at the Manchester International and savoured the experience as she brought an end to a strong season.
The 400m hurdler from Edinburgh AC will soon head to Loughborough Uni for a two-year Masters course.
'I've run for Scotland before at the likes of the Celtics and for Scottish Schools at the SIAB and the UK School Games,' said Anna. 'But this was another level up and I was delighted to be asked to compete and it's been a good experience.
'I feel I've made a big step this season from 60.3 to 58.8 and I had four PBs early in the season.
'I didn't run all that great in Manchester and the relay was maybe better than the hurdles but it does feel now like it has been a long season.
'I was part of the group in Edinburgh coached by John Lees and he is really knowledgeable. Francis Smith helps me with hurdles training. Working with athletes who focus on 800, 1500 and 3000 definitely had advantages but now I am really looking forward to joining a more hurdles-based group.
'I'm moving to Loughborough and Nick Dakin is the coach. Jessica Tuner, European U23 silver medallist last summer, is part of the group and I can't wait to get training with her and the rest of the group.
'We will see how it goes but hopefully I can kick on again next season and make another big improvement like 2018.'

Tags: Anna Nelson, Beth Dobbin, FPSG Seniors, Katy Wyper, Manchester International, Scotland