Women win team race in Armagh 3K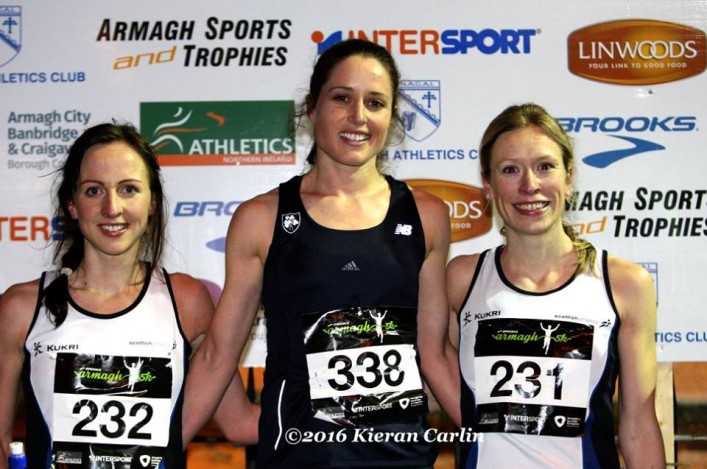 Sarah Inglis and Laura Whittle on the podium – photo by Kieran Carlin
Scotland's women were in fine form at the Armagh International Road Race – as they took second and third via Sarah Inglis and Laura Whittle in the 3K race and claimed team gold!
And the men took second place to Poland in their overall team race at 5K, with Cameron Boyek replicating the good form he showed in the Great Edinburgh XC 4 x 1K relay.
It was another remarkable evening of racing at the event in Northern Ireland as no fewer than 67 men went under 15 minutes for 5K.
The best Scottish performances were by Inglis, who finished less than a second behind winner Sara Treacy, and third-placed Whittle, who was also within touching distance of repeating her 2014 race win at Armagh.
Treacy's time was 9.18.20 and Inglis was only just adrift of that in 9.19.01 with Whittle given at 9.19.27 in a really tight finish at an event with a growing reputation.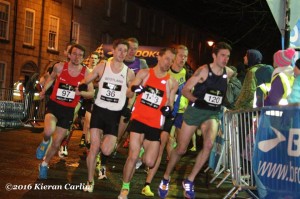 Cameron Boyek amid the leaders
Eilish McColgan made her comeback following injury and came up with a fine fifth place in 9.22.58 and the other perfomers in Scotland vests were Steph Pennycook at 14th and Beth Potter at 15th. Pennycook and Potter were both given the same time at 9.29.76 to make it five Scots in the top 15 finishers in the Women's 3K.
And, as if just to emphasise that our women's road running is strongly currently, Shettleston Harriers took second place in the Women's club team race.
The depth of competition in the men's race is clear and Charlie Hulson won it in 14.02. Boyek was the best-placed Scot at 14.08 with Jake Wightman 22nd in 14.25 and Ben Stevenson 36th  in 14.35.
Lachlan Oates of Shettleston had a good run to finish 34th in 14.34 with his club-mate, Tewolde Mengisteab, in 39th place. Scotland's U20, Jonny Glen, was 60th.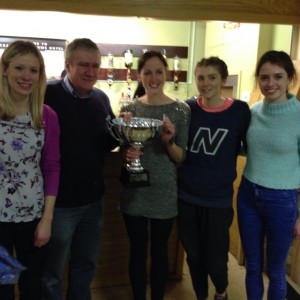 Scotland women with the trophy – (L-R) Laura Whittle, Sarah Inglis, Beth Potter and Steph Pennycook
Inverness Harriers coach Charles Bannerman was among the large Scottish party in Armagh and he sent us a blog post piece about the event.
From Charles Bannerman in Armagh
Sainsburys in Armagh City Centre might as well have been Silverknowes, Scotstoun or Strathclyde Park on race morning as it spontaneously filled up with the sizeable Scottish contingent at these splendid races across the Irish Sea.
Eager anticipation of the evening's action had been growing even as the first arrivals gathered in the City Hotel the previous evening and grew further as more and more Scots crowded in.
There was certainly that formidable looking women's international team. But how much more would there be for this very clearly branded Scottish party of athletes, coaches, managers and relatives to cheer about by the end of the evening? Of that, more in a moment.
Armagh is an event where visitors are looked after very well indeed – and food plays a major part in the wonderful Irish hospitality.
Let's start with the lunch-time civic reception for team managers and other "non combatants" where the Lord Mayor handed out commemorative plaques – and Ronhill Cambuslang Harriers reciprocated with a unique gift of a box of Mallaig kippers!
The talk at the Scottish table was of how we could really do with races like this back home. We have plenty of longer city centre events, but little with this kind of concentration of international talent, and certainly not over the shorter distances.
The reception over, it was a short walk to the City Hotel and even more food in the form of the all-in lunch. Here another Scottish table (see what I mean about collective identity) was very easy indeed to find. Standing out a mile was Robert Gilroy's trademark white baseball cap, albeit still to perform its familiar 180 degree rotation into racing mode.
As dusk descended on Armagh, it became clear that the universal runners' prayer would be answered and the wind would stay down, although the chill in the air was deceptive.
Night racing is very atmospheric, especially when contained within the 1K loop of the Armagh Mall with its splendid floodlit buildings. Transverse pathways made it possible, if you put a step in it, to follow the races at half lap intervals.
First up after the kids' events was the international women's 3K which saw 28 athletes – more than twice the previous record and including seven Scots – break 10 minutes.
Eilish McColgan in Dundee Hawkhill vest
The race Round-up report can be found above, but Sarah Inglis and Laura Whittle battling it out for top three places in a frantic sprint finish down the floodlit Armagh Mall inspired the Scottish support to say the least. That was a moment of magic.
It also spearheaded a famous team victory which, note, was achieved with the luxury of late entrant Eilish McColgan taking her fifth place in a club rather than a national vest.
But this was just the beginning. Cameron Boyek, just six seconds off the winner, then led home the men's team to the runner-up spot behind Poland in the international 5K which put even bigger smiles on Scottish faces. Spare a thought, though, for Cambuslang's baseball capped Gilroy whose 14:59.11 will be returned as 15:00!
There were further podium places for Inverness Harrier Stephen MacKay, sixth in the men's open 3K, and for Shettleston Harriers, second in the women's club team contest.
And then it was straight back to food, first sandwiches and home bakes in a nearby church hall before the 11pm post-race meal and presentation – and a little sleep before early airport departures.
Add in that the organisers pick you up and return you to your Belfast or Dublin airports and generally make absolutely sure you have a trip to remember and the only conclusion has to be that the Scottish presence at these races really must continue to increase.
So make a provisional note in your diary and come and join the Scottish experience at Armagh in 2017.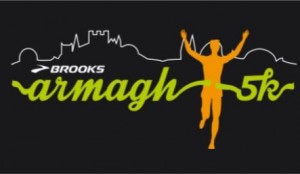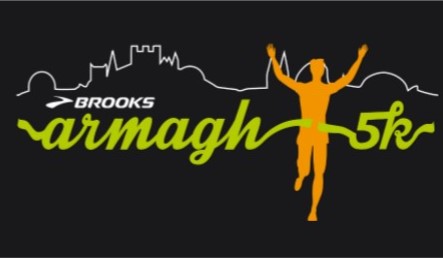 Tags: Armagh International Road Race, Ben Stevenson, Beth Potter, Cameron Boyek, Eilish McColgan, Jake Wightman, Jonny Glen, Lachlan Oates, Laura Whittle, Sarah Inglis, Steph Pennycook, Tewolde Mengisteab