Weekend Round-up: Throws GP; School Games; YDL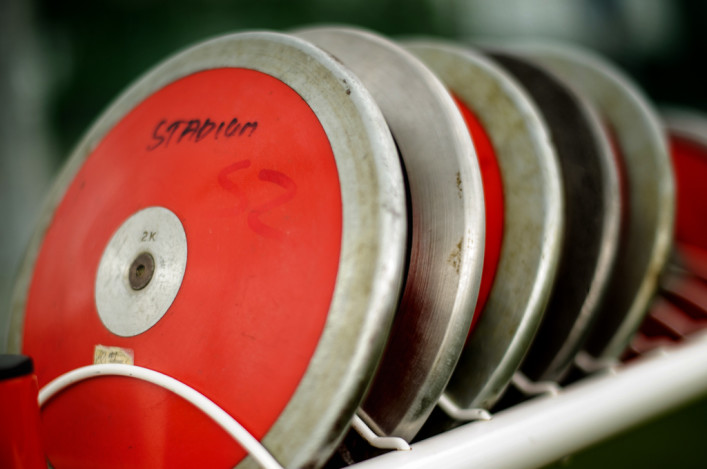 The scottishathletics Throws GP Final took place at Craigswood Stadium Livingston on Saturday, rounding off a successful season for the Throws community in Scotland.
As the Track and Field season for 2016  draws to a close, it might be a good time to look back at the Throws for 2016.
Scots throwers have achieved success at all levels this season with Chris Bennett and Mark Dry competing at both the European Championships and the Rio Olympics.
Nick Percy also had a great season r- writing the Scottish record Book for Discus and  becoming the first Scots man to win an outdoor NCAA Title in the USA. Only Meg Ritchie winning the Discus and Shot Title in 1982 had achieved that honour. Nick went on to take the British Senior and U23 Titles to round off a remarkable season.
IPC World Champion Jo Butterfield, one of the Throws GP's biggest supporters has competed at all our meets this season bar the final as she is in Brazil preparing for the Rio Paralympics. Our best wishes go with Jo.
George Evans represented GB at the World Junior Championships. Our Junior athletes, including George, won numerous British Titles at all the Age Group Championships throughout the season the most recent beingInverness Harriers athlete, Finbar Dunne, in the U15 Champs and Adam Boyletaking the Javelin U17 title.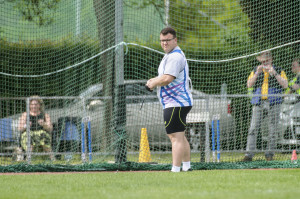 Chris Bennett – won British title and represented GB in Holland and Rio
Alan Bertram may have left us but his legacy continues in the Hammer with it being arguably the strongest event of all the throws. We currently have two Senior Men over 75m and three women over 60m. Throughout the age groups, from U15 upwards for both boys and girls, we have athletes throwing between 50m and 60m.
The Hammerama Trophies were awarded at the weekend as follows:
YOURI SEDYKH CRYSTAL TROPHY for commitment, performance and potential – Heather Fawcett (Kilbarchan)
ALAN BERTRAM TROPHY or commitment, performance and potential – Andrew Costello (Kilbarchan)
PADDY RYAN MEMORIAL TROPHY for consistency of performance throughout the season – Chris Bennett (Shaftesbury Barnett).
The Throws Grand Prix Series Winners were.
Male Javelin: U13 – Craig Watts (Inverness);  U15 – Sam Blunt (Edinburgh)
Female Javelin: U13 – Claudia Preiss (Edinburgh); U15 – Kiera Waddell (Chirnside Chasers);  U17 – Charlotte Steele (VP-Glasgow)
Male Discus: U13 – Craig Watts ( Inverness); U15 – Finbar Dunne (Inverness); U17 – Andrew Peck (VP-Glasgow);  U20 – George Evans (Shaftesbury Barnett)
Female Discus: U13 – Stella Coutts (Cumbernauld); U15 – Hayley Berry (Law&Dist);  U17 – Rebecca Porter (Pitreavie)
Male Shot: U13 – Archie Fuller (Chirnside Chasers);  U17 – Andrew Peck (VP-Glasgow); Sen – Sinclair Patience (Inverness)
Female Shot: U13 – Stella Coutts (Cumbernauld); U15 – Hayley Berry (Law&Dist); U17 – Shona Crossan (Shettleston)
Male Hammer: U13 – Cian Jones (Moray RR); U17 – Andrew Costello (Kilbarchan); Sen – Ciaran Wright (Falkirk V)
Female Hammer: U13 – Stella Coutts (Cumbernauld); U15 – Kirsty Costello (Kilbarchan); U17 – Heather Fawcett (Kilbarchan);
U20 – Stephanie Fowler (Edinburgh); Sen – Mhairi Porterfield (VPCOG)
Special Awards were also made to:
Matt MacFarlane (Inverness) U15 Hammer – Biggest Improvement to PB in Current Season
Paddy Dunne (Inverness) U17 Javelin – Biggest Improvement to PB in Current Season
Meghan Porterfield (East Kilbride)  U11 Shot/Discus/Hammer – Biggest Improvement to PB all events in Current Season.
Next season's GP Series is already in the planning stage with dates to be announced later. One venue next year will be Inverness, to give our Northern athletes an opportunity to compete on home soil. The possibility of a one-off competition during the Winter is also being discussed.
A final thanks to our athletes and coaches for their support throughout the season for making the event the success that it is. And of course a big thankyou to those people without which none of our athletics meetings could take place, our scottishathletics Officials (You know who you are).
RESULTS from Livingston are online on Power of Ten
With thanks to Hugh Murray
+++
The UK School Games took place in Loughborough this year, with a Scottish team competing in athletics in this mult-sport event.
Scottish Schools placed fifth with seven wins, five of them coming from the ambulant/wheelchair events.
Calum Henderson repeated his Long Jump victory from the SIAB international and Holly McArthur took the 300H title. The Para athletes to post event wins were Abbie McNally (two); Shelby Watson (two) and Nathan Fleetwood.
In the Results summary here (with thanks to scotstats.net) those marked *are PB performances.
U17M 100 6 John Maclennan 11.33/+0.3.  200 6 Adam Clayton 22.78w/+2.3.  400 7 Ben Grant 53.14. 800 5 Sam Brown 2:00.70. 1500 2 Euan Boyle 4:18.06. 3000 6 Struan Paton 9:18.95. 100H 4 Michael Dennis 13.97w/+2.7. 400H 4 Joel McFarlane 56.54. 1500S 6 Lewis Pentecost 5:01.28. HJ 5 Ethan Dear 1.85. PV 7 Scott Connal 3.80. LJ 1 Calum Henderson 6.97/+0.5. TJ 4 Aidan Quinn 13.87/-0.5. SP 6 Ben Wightman 12.13. DT 2 Andrew Peck 48.52. HT 4 Andrew Costello 59.41*. JT 2 Adam Boyle 57.76. 4×100 6 Connal, Maclennan, Clayton, McFarlane 44.89. 4×400 4 Henderson, Grant, Michael Swinton, E Boyle 3:30.08.
U17W 100 5 Katie Forbes 12.48/+0.4. 200 6 Laura Greig 25.46w/+2.2. 300 6 Sophie Haldane 41.00. 800 5 Rebecca Eggeling 2:11.38*. 1500 3 Shelby Morrison 4:39.44. 3000 4 Kate Galagher 10:12.59. 80H 3 Jade Henry 11.52*/+1.8 (10 ATU17). 300H 1 Holly McArthur 43.62. 1500S 4 Holly Little 5:26.39* (9 ATU17). HJ 4 Kate MacKay 1.63. PV 6 Alana Dunsmore 2.80. LJ 6 Bessong Etchu 5.11/+0.3. TJ 2 Kara Dobbie 11.25/-0.7. SP 7 Emma Rae 10.00. DT 6 Shona Crossan 35.29* (2016 5th). HT 6 Heather Fawcett 50.61. JT 6 Charlotte Steele 34.48. 4×100 4 Madeline Silcock, Greig, Forbes, Henry 48.68. 4×300 – McArthur, Olivia Vareille, Nicola Brechany, Haldane DQ.
Ambulant and Wheelchair events
U20M 100 1 Nathan Fleetwood 11.70/+0.7. 100WC 3 Luke Deighan 17.35/-0.1. 200 4 Ross Paterson 26.37/+1.4. 400 4 Paterson 59.27, 5 Ewan Waite 60.75. 800WC 4 Kyle Brotherton 2:17.83*. LJ 3 Fleetwood 4.32/-0.5. SP 2 Connaire McLindon 8.63. DT 3 McLindon 19.54.
U20W 100Amb 1 Abbie McNally 15.73/+0.7. 100WC 1 Shelby Watson 21.52/+0.1.  200Amb 1 McNally 32.42/+1.4. 400Amb 3 Margaret Newell 73.43. 800WC 1 Watson 2:40.30. LJAmb 3 Newell 3.45/-0.6
+++
Bedford was the venue for the UK Youth Development League finals in both the lower and upper age groups over the weekend.
And there was a strong Scottish presence, with Edinburgh AC competing in the U15/U13 event and Team Edinburgh and Team Glasgow outfits in the upper age group final.
Congratulations to Edinburgh AC on a fine effort at U15/U13 level as they took second place – only 3.5 points adrift of event winners and overall champions, Southampton.
Team Edinburgh also took second place in the U20/U17 age group final. Team Glasgow, who are supported by the Glasgow Athletics Association, finished in fourth place.
Well done to both Team Edinburgh and Team Glasgow, and all their athletes and coaches. With eight teams competing in that National final, this was a fine collective performance by Scots at  U20/U17 level over the season and in the final.
Tags: Edinburgh AC, Livingston, Loughborough, Throws GP, UK School Games, Youth Development League