Weekend round-up: Throws GP; ERRA; Round the Houses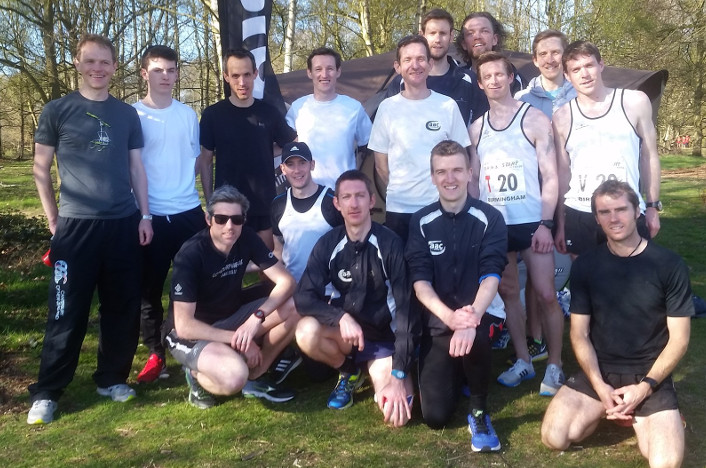 Corstorphine AAC team at ERRA – thanks to the club for the photo
+++
The first of our Throws GP events took place at Livingston on Saturday in fine conditions.
It was the opening event of four in total in the Series and it is good to see the Throws GP receiving support from athletes and coaches. As always on these occasions, a big thank-you to our scottishathletics Officials as they start the hard work for a long summer season.
Results will be posted online in due course.
The remaining three dates are:
Saturday 20 May GP2: Queens Park, Inverness
Saturday 24 June GP3: Craigswood, Livingston
Saturday 9 September GP4: Craigswood, Livingston
The events will incorporate the Hammerama and IPC Throws competitions. Entries are online and close seven days before each event – with no entries on the day.
+++
Three Scottish clubs headed south to the ERRA 12-Stage Road Relays at Birmingham on Saturday – and competed well.
The Scottish contest-within-a-contest saw Central AC and Corstorphine AAC battle it out for a long spell with Cambuslang Harriers not quite able to get in close enough touch.
Ultimately, Central AC took 14th place overall with Corstorphine delighted to record a top-20 finish at 18th place, as Cambuslang coming home just outside that at 21st place. Among those to perform well for Central were Cameron Milne, Aidan Thomson, Jamie Crowe, Conan McCaughey, Alastair Hay and Scott Green.
Dundee-based Kristian Jones helped Swansea to their golds medals with his 25.59 rated as fourth fastest in the long legs. Calum Mckenzie of Corstorphine came up with the best long leg effort from the Scottish clubs at 26.26, while Craig Jardine of Cambuslang was the fastest on the short legs at 16.03.
With the likes of Craig Ruddy and Murray Strain competing for their English clubs, around 40 Scottish athletes were involved at an event where 54 full teams finished the Men's 12-Stage event. Susan Partridge prepared for London Marathon with team gold for Leeds in the Women's 6-Stage race. Susan's 30.03 was second equal fastest on the women's long leg times.
Well done to Central, Corstorphine and Cambuslang for their commitment to competition at this level and making the journey to Birmingham.
+++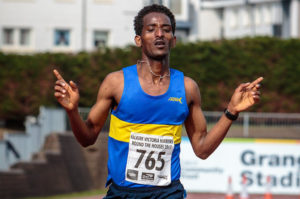 At Falkirk Victoria's Round the Houses 10K, new Scottish 10 Mile Champion Wayney Ghebresilassie (pictured) built on last weekend's success by bringing home a win for Shettleston Harriers, with Edinburgh University Hare and Hounds scooping second and third places courtesy of Euan Gillham and Logan Rees respectively – that, unsurprisingly, helped them to a team win in the men's race with Scott Stirling and Craig Campbell also contributing to that victory.
Fiona Brian of Metro Aberdeen won the women's race, with Gemma Rankin (Kilbarchan) second and Jenny Bannerman (Inverness Harriers) third. Metro Aberdeen were the winning women's team thanks to Fiona, Kayleigh Jarrett and Jennifer Elvin.
Winning Scottish students were Louise Mercer  and Euan Gillham, both of Edinburgh University Hare and Hounds.
Thanks to Iain Spowart on Twitter for the photo of Wayney – he has more photos here.
Tags: Cambuslang, Central AC, Corstorphine AAC, ERRA English Road Relays, ERRA Relays, Round the Houses, Throws GP, Throws Grand Prix, Wayney Ghebresilassie