Weekend round-up 25/26 October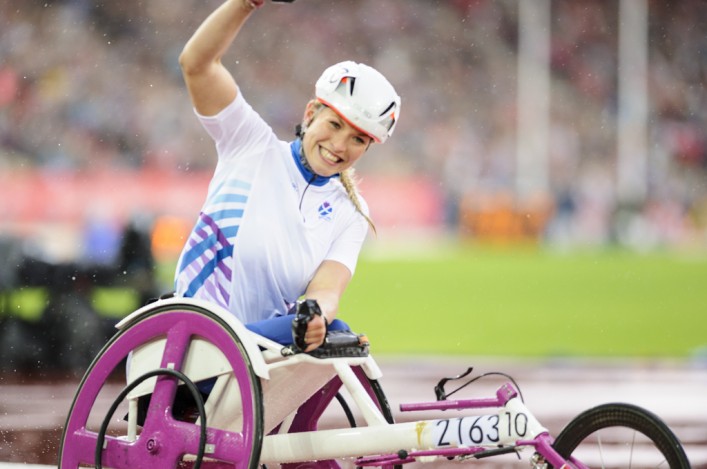 Team Scotland's Sammi Kinghorn took almost a minute off her own Scottish 10k record at the Scottish 10k Wheelchair Champs at Jedburgh.
There was a record field of 15 races for the event with fast times despite difficult conditions.
Kinghorn was second behind Jade Jones in 26.33 while Mark Telford was second overall with 25.08 behind Carlisle's Simon Lawson. Gemma Scott recorded a big PB in only her second road race.
Results: Men: 1 Simon Lawson Carlisle Tri 21.47; 2 Mark Telford Scotland 25.08; 3 Isaac Towers Blackpool Wyre and Fylde 25.09
Women: 1 Jade Jones New Marske Harriers 25.16; 2 Sammi Kinghorn Red Star AC  26.33; 3 Mel Nicholls Coventry Godiva 27.31.
*In the Jedburgh Half Marathon, Scottish marathon champion Patryk Gierjatowicz was the winner in 70.43 as he won from Ian Harding and David Millar. Dianne Lauder was the first woman home in 10th place with 80.31.
In the Jedburgh 10k, there was a win for Richard Morrell of Morpeth with 32.09 from Carl Avery and Guy Bracken. Gala youngster Gavin Bryson was fourth in 34.08. Rowena Halliday of Edinburgh was the first woman home in 41.37.
*At the Great South Run, Team Scotland track athletes Laura Whittle and Luke Caldwell were both in action racing 10 miles on the road.
And they had every reason to feel pretty satisfied with each achieving a 10th place finish in quality fields.
Luke clocked 48.47 for the distance while Laura was at 58.21 for her 10 Miles. Caldwell beat Andy Vernon for a fine run in Portsmouth with the race won by Kenyan James Rungaru.
*Libby Clegg has been short-listed for a significant award in the Sunday Times and Sky Sports Sportwomen of the Year accolades.
The Commonwealth Games gold-medallist is among the contenders for the 2014 title in the Disability Sportswomen of the Year catefory.
It is all online but unfortunately the online voting only applies to the Team of the Year category.
Tags: Laura Whittle, Luke Caldwell, Para events, Sammi Kinghorn