Volunteers made Glasgow 2014 – Shelley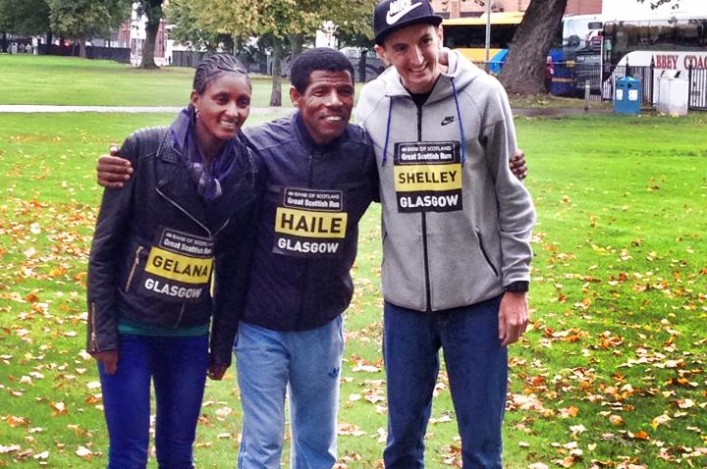 Commonwealth marathon champion Michael Shelley is back in Scotland for the Great Scottish Run – and the Australian believes volunteers made the Glasgow 2014 experience special.
Shelley faces the man known as the greatest endurance athlete of all-time, Haile Gebrselassie, and some African talent in the half marathon.
It will be the culmination of a weekend which features around 30,000 people of all ages, stages and paces taking to the streets of Glasgow to run.
In the women's race, there's sure to be a good contest for the Scottish Half Marathon title with the field including Team Scotland marathon trio from the Games – Susan Partridge, Hayley Haining and Joasia Zakrzewski as well as Beth Potter, who ran the 10,000m and 5000m at Hampden.
It is a first half marathon race for Potter while Partridge will be defending her title against some serious quality in Olympic 2012 marathon gold medallist, Tiki Gelana, and two-time World Champs Marathon winner, Edna Kiplagat.
'I'm delighted to be back in Glasgow and this is my first race since the Commonwealths,' said Shelley.
'I went out for a few strides and found myself right at the point in Glasgow Green where the finish line was back in July. It brought back a few memories, that's for sure.
'The whole Commonwealth Games were great and something I will never forget. There were good crowds around the city that day and I think for me the volunteers really made Glasgow 2014. We'd so much help and support and everyone seemed to be enjoying themselves. It all created a great atmosphere.
'It is nice to be racing Haile Gebrselassie here because I grew up admiring his world records and marvelling at his performances. Stephen Chemlany, the Kenyan who took the silver in the Commonwealth marathon, is running as well and hopefully we can all push each other on for a good race.'
The weekend events began on Friday morning as 3000 pupils from across the greater Glasgow area took part in the 1.5k Schools Challenge in the Glasgow Green venue where the Commonwealth Games marathon start and finish took place.
A further 3000 athletes – children and families – are due to run tomorrow as part of 'Super Saturday' events, with those races a complete sell-out for the second year in a row.
This will be followed by the 10k and half marathon on Sunday which will see almost 25,000 take to the streets of Glasgow. The Bank of Scotland Great Scottish Run will be broadcast live on BBC 2 on Sunday: coverage starts from 10.30am.
Gebrselassie and Shelley look the favourites for the men's Great Scottish Run with Haile having run the quickest time for a half marathon race in Scotland when winning last year in 61.09.
Haile said: 'Running is more than just competing. It is more than just winning. It is a passion. That is why I like running in races like the Great Scottish Run and the other Great Run races around the world – the Great North Run in Newcastle, the Great Manchester Run, the Great Ethiopian Run and so on.
'The organisation is perfect and the races are full of many people who have that passion for running. Running every day, or most days, helps them with their lives. It is the same for me.'
The 41-year-old Ethiopian won last year's race in what was also a world age-group record.
'I have fantastic memories of my first race in Scotland and I am delighted to be coming back to race in the Bank of Scotland Great Scottish Run for a second time,' said Gebrselassie.
'I had a problem earlier this year – I had a small surgery to my knee – but that is gone now.  My training is going well. When you are an older athlete you have to be serious in your training and in how you take your rest and how you are preparing, but I am still doing well at 41.'
In the women's race, in addition to those already mentioned, there could be a challenge for the Scottish medals from Gemma Rankin (Kilbarchan), Lisa Finlay (Dumfries) and Shona McIntosh (Hunters Bog Trotters).
The Scottish half marathon title race is likely to feature the likes of Tewolde Mengisteab (Shettleston), Patryk Gierjatowicz (Edinburgh Uni), Michael Crawley (Corstorphine), Robert Gilroy (Cambuslang) and others.
First off on Sunday morning is the 10k with with the elite fields featuring the likes of Sean Fontana (VP-Glasgow), Luke Traynor (Giffnock North), Lyndsay Morrison (Central AC), Jenny Bannerman (Inverness Harriers), Keira Murray (Lasswade AC) and Jill Knowles (Scottish Prison Service).
Tags: Beth Potter, Great Scottish Run, Haile Gebrselassie, Hayley Haining, Joasia Zakrzewski, Michael Shelley, Susan Partridge, Tewolde Mengisteab