'Unity of purpose helps our sport,' – Beattie
Atmosphere at National XC at Falkirk is a credit to our clubs, says Chairman Ian Beattie
Feelgood factor can last says Butchart
Ian Beattie believes improved unity in the sport can help athletics in Scotland flourish in the years ahead.
Our chairman was thrilled when three marathon men and then 10,000m runner Beth Potter were named for the Olympics in Team GB and NI.
He fully expects to experience another roller-coaster in a fortnight's time as Olympic aspirations face make-or-break at the British Trials in Birmingham.
But, beneath an elite group of athletes who are currently commanding a growing media profile, Beattie believes essential work is being carried out at all levels to bolster the base of the pyramid.
Ian makes his points in a special Q and A for PB magazine, which is being issued to members this week, as he looks ahead to another four-year term as Chair.
'I wanted to continue because I enjoy the role and love being part of scottishathletics at this level,' he said.
'While we have seen some really positive things happen in the last four years, I am convinced that there is a lot more to come in the years ahead.
'Results don't happen overnight, but take many years of hard work. Swimming is an excellent example of a Scottish sport that has performed at a high level for quite a number of years, but which took a few years to get everything in place.
'We have now put down some strong foundations for the future, and I expect to see Scottish athletes perform at a very high level in the years ahead.
'I am delighted at the way people are working together more and I think it is one of the most important factors in helping us improve our overall performance as a sport.
'The development work in clubs has been terrific and reflects a huge amount of effort from the athletes, coaches, officials, and other volunteers within those clubs, often in partnership with the staff at scottishathletics.
'Communication of what is going on has improved considerably and has helped develop a culture that is honest and open.
'I think there is now a recognition that all of us want the same thing – a hugely successful, highly performing sport in all areas. And indeed that we will be much more successful if we work together in an atmosphere of mutual respect.'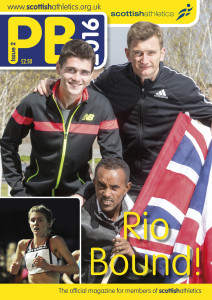 Cover story – new edition of PB
In top-class sport, assumptions and predictions count for nothing, of course, but Beattie is genuinely excited at the prospect of Scotland enjoying the best track and field representation at the Olympics for many years.
'I found watching the London Marathon a very emotional experience this year,' said ultra runner Ian, who himself has raced the London event on a number of occasions.
'To have three Scottish athletes run sub 2.13 at the Olympic trial was an outstanding achievement, and I am sure there is even more to come from all of them.
'There is no doubt in my mind that performances like that give a boost to the entire Scottish athletics community and provide a great motivation to others to improve their performances.
'I was particularly pleased for everyone at Kilbarchan AAC and Shettleston Harriers. Both are clubs which have done a lot of tremendous work over the last few years and are two of our leading 'Club Together' (development programme) clubs.
'It is great to see their hard work recognised by having their athletes selected to be part of the British Olympic team in Rio and of course Beth Potter then followed that up with success in the British 10,000m trials at Highgate in London.'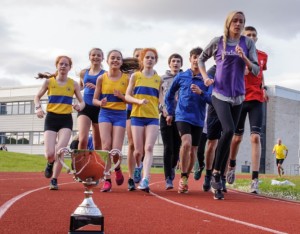 Eilish McColgan – presented Giffnock North AAC with Lindsays Trophy
With no more than five Scots in Team GB and NI for the past six Olympic Games, it is understood there was an official 'target' of six set for Rio in high-level discussions.
As well as the four selected, a further eight athletes head to Birmingham already with the required qualification standards and needing a top two finish in their event to gain automatic selection (in the Women's 5000m, three Scottish women are competing for those two automatic places – Steph Twell, Eilish McColgan and Laura Whittle).
Beattie, who firmly believes the credit for current form lies with the athletes, their coaches and their support teams – after development work by their clubs – is cautiously optimistic.
'I am confident there will be quite of few other Scots joining the four already selected,' he said.
'It's an exciting time for our top end athletes and it is really positive to see an increasing number of Scottish athletes becoming realistic contenders for places in UK teams.
'Of course, there is still a lot of hard work ahead for all of our athletes, and they will need to 'Perform When It Counts' at the Olympic trial and beyond. But, at this moment, the signs are very encouraging.
'We must not forget that the performances we are seeing now are the result of many years of hard work and did not happen overnight – it is one of the reasons why all of the development work going on in our clubs is so important.'
Chief Operating Officer of legal firm Lindsays in his day job, Beattie has stretched that connection for the firm to sponsor Eilish McColgan and the Scottish Cross Country Season.
The latter agreement has seen a big rise in entry number for events like the National XC at Callendar Park in Falkirk, with this year's women's winner Beth Potter already Rio-bound and men's champion Andrew Butchart a contender to join her.
'The National Cross Country Championship has always been one of my favourite days in the running calendar,' added Ian.
'Although I am now a bit further back in the field than I was a few years ago, I still love everything about the event; in particular the camaraderie that the event generates, with so many club athletes giving their all regardless of the weather or the conditions.
'There must have been more than 3,000 people this year at Callendar Park, which is more than most Scottish football matches that day.
'The increase in numbers taking part in recent years has been great to see and is a real credit to the work being done at clubs all over the country.'
Laura Muir delighted to be a role model
Tags: Ian Beattie, Olympics, PB magazine, Rio, scottishathletics