'Feelgood factor can last' – Butchart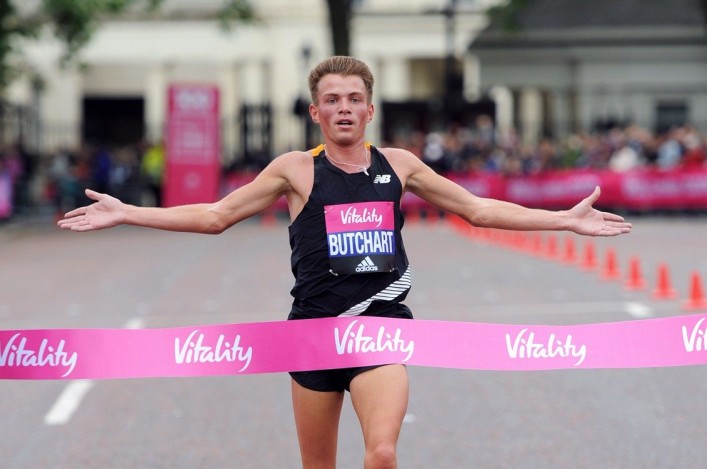 Andrew Butchart celebrates his Vitality 10K win in London on Monday – in 28.28
Scotsman coverage on Butchart's 5000m record
Andrew Butchart believes encouraging signs for Scottish athletes will stretch beyond the latest Olympic and Commonwealth Games cycles.
The Central AC athlete, the National XC champion for 2016, is very much in the vanguard of the 'Class of 2016' following recent performances – including taking Nat Muir's 36-year-old record at 5000m.
Four Scottish athletes have already landed automatic selection for Team GB and NI for Rio with marathon trio Callum Hawkins, Tsegai Tewelde and Derek Hawkins having been joined by Beth Potter at 10,000m.
It has also now been confirmed by British Athletics that Potter, Scottish National XC champion for 2016, earned the British 10,000m track title at the Highgate event with race winner Jess Andrews not eligible for the gold.
That means Beth, who was a silver medallist at 10,000m in 2014 to Jo Pavey,  has followed on from Rhona Auckland's 2015 gold in these championships.
With a string of Scots set to feature in the NCAA track and field finals in America, and others set to contest Diamond league fixtures over the next few days in Rome and Birmingham, the current 'feelgood factor' spans the Atlantic.
Butchart, for his part, added a British Road 10K title on Monday morning with a 28.28 run that gave him a big winning margin over Andy Vernon and second place on the Scottish all-time list. Only Allister Hutton, with 28.13 back in 1984, has run 10K faster on the Road.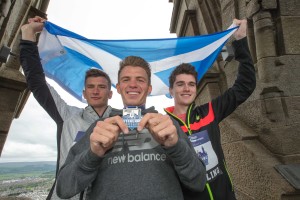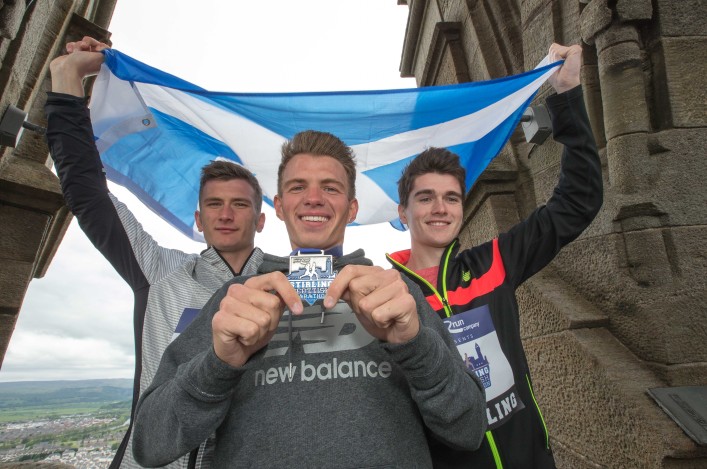 Derek Hawkins, Andrew Butchart and Callum Hawkins
'I think it is pretty clear over the past couple of years that there are some good Scottish athletes around,' Andrew told scottishathletics.
'We've seen that with performances. This year, of course, there are big incentives with the Olympics coming up and a European Championship. Athletes are trying to pull out big perofrmances to get a qualifying mark.
But I actually think there's something happening now which can stand for the next five years. I mean that in terms of the athletes we've got capable of operating at a very high level.
'We are seeing that in endurance, definitely, and there are good signs in some of the other events, as well. I am thrilled to be part of that.'
It is clear, too, that a good team spirit – and healthy rivalry – is developing with our own scottishathletic social media channels often the starting point for athletes to keep encouraging one another.
'We were all delighted for Beth Potter on the Saturday night the other week when she did so well to qualify for Rio at the Highgate night of 10Ks,' said Butchart, who was in Holland at the time with the likes of Eilish McColgan, Steph Twell, Allan Smith, Guy Learmonth and Josephine Moultrie.
'There were about 20 of us around a table in Holland watching a live stream from Highgate on a laptop. And the half a dozen of us who were Scots were cheering the loudest for Beth.
'She's made it to Rio now and that's brilliant for her. The likes of Eilish and myself would love to follow her but someone could still spoil the party at the British Trials. We will wait and see what happens in Birmingham.'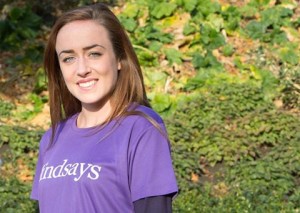 Eilish McColgan – 'Class of 2016' athletes have grown up together
Eilish McColgan agreed with Butchart and is thrilled she already has friends selected for the Olympics – like Derek Hawkins and Beth Potter.
'There's so much happening at the moment in terms of the Scots and the potential for Rio that it is really exciting,' said Eilish.
'A lot of us have grown up together competing at events, being on teams, training together at camps at home and abroad.
'I'm thrilled for someone like Derek, in particular, because I've known him for about 10 years. When he ran so well at London and then the Rio selection announcement came through, I think I was one of the first to text him 'well done'. I was delighted.
'I was in America recently for a training camp with Beth and Andrew was there, too. I hadn't met Andrew before but he's a great guy and I was there track-side in Holland when he took that Scottish 5000m record.
'He'd been bawling for me a bit earlier in my 5000m race and now we are both in the same position – we have the two required qualifying standards and need to get in the top two at the trial.
'At the start of 2016 I never even thought the Olympics would be possible. I thought it was just a comeback year. But I went through something like this in 2011 and 2012 to get to London 2012 – and a hurdler the other day was telling me 'maybe your timing is quite good!''
Tags: Andrew Butchart, Beth Potter, Eilish McColgan, Olympics, Rio