U20 Gavin bridges gap to Seniors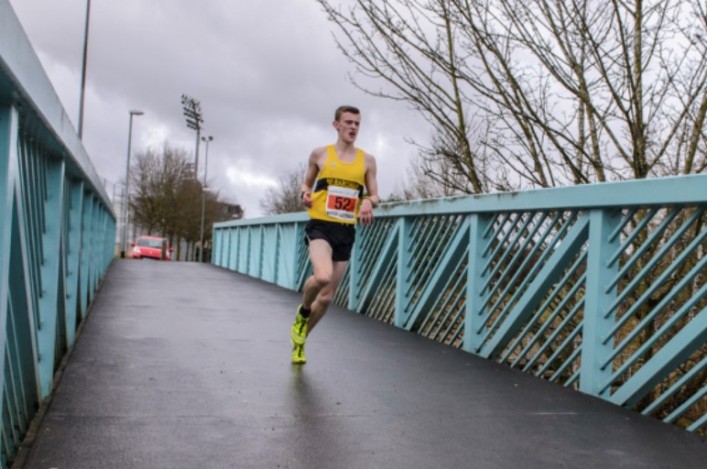 Fastest short leg – Gavin McArdle (photographed by Bobby Gavin)
Scottish 5K Road Champs – enter now
Scottish 10,000m Track Champs – enter now
Gavin McArdle helped Kilbarchan win the National Road Relays for the first time in the club's history at Livingston at the weekend.
And the 18-year-old, who has made a big impression at 1500m and 3000m over the past couple of years, proved his speed by recording the fastest short lap on the course at the West Lothian venue.
McArdle was one of three U20 athletes utilised by Kilbarchan as they targeted success in the race with Callum Matthews and Euan Gillham also made significant impact.
Gavin clocked 15.25 for the 3.15 mile short leg at Livingston and that takes him in at No 20 on the  all-time list for the short legs during the 17-year history of the event.
Checking this year's short leg times, it is noticeable the impact made by U20 athletes seeking to bridge the gap from Junior to Senior athlete.
No fewer than five made the top ten with McArdle joined by his Kilbarchan club-mate Matthews, Dale Colley and Aidan Thompson (Central) and Ryan Thomson (Ronhill Cambuslang Harriers). All five collected medals to prove their worth to their teams, with Gillham at 11th fastest for the 5.8 mile long legs on Sunday.
Among the Women's fastest times for the short leg, the U20 impact was impressive, too. Fife's Stephie Pennycook ran 17.55 for the best time with Mhairi Maclennan (Inverness Harriers) second fastest at 17.59.
Both are U20 athletes and Fife's Annabel Simpson made it three of the top four fastest over the short leg from the U20 age group with 18.26. Pennycook and Simpson ensured Fife's silver medallists had half a team from U20 level – like Kilbarchan's men.
+++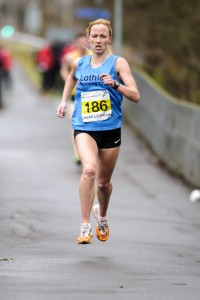 Sarah Inglis – second fastest long leg at Livingston
Sarah Inglis is heading for altitude training in Boulder, Colorada, in a few weeks following a terrific run at the Road Relays.
The Canada-based student turned out for hosts Lothian Running Club and helped them to an historic first victory in the Women's race with a fine last lap.
Sarah's time pf 32.36 was in fact second fastest on the list for the long leg in the event with only Hayley Haining of Kilbarchan having bettered that during the 17 years at Livingston.
Inglis is not the only one of last Sunday's runners with Colorado on her radar – Olympian Freya Ross is now in the United States with coach Steve Jones following her appearance last weekend.
Freya is just coming back a period of rehabilitation following injury and her run of 18.20 was the third fastest on the short legs for this year's event.
+++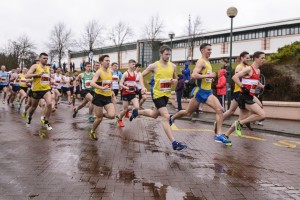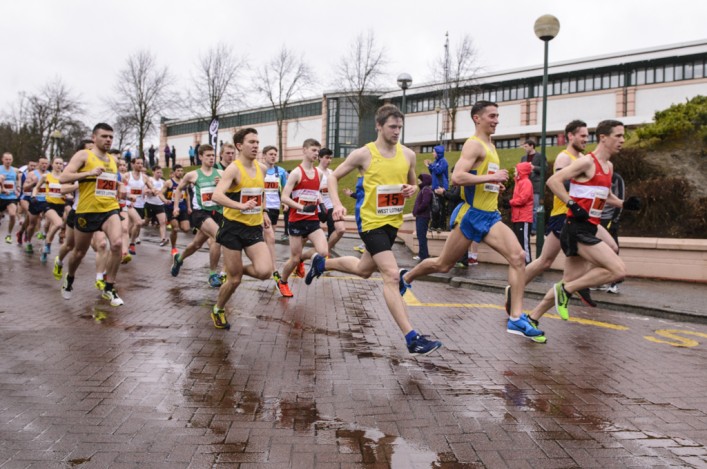 Off and running at the start . . . 
Finisher numbers show that the 2015 Road Relays attracted record numbers.
We reported in advance of Livingston how no fewer than 139 teams had entered for the 6 and 4-Stage Relays with the tally of 55 teams the biggest entry received for the Women's race.
As it transpired, 29 full Women's teams finished plus three V50 teams for 32 in total – exactly the same as last year. In the Men's, there were 49 full teams finished plus 10 teams in the V50 race for 59 in total. There were 39 full teams finished last year and five V50 so a significant increase there
All these figures can be checked on the Road Running and Cross Country Commission's comprehensive archive site.
+++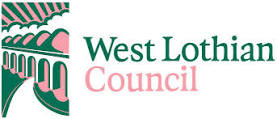 Last word on the Road Relays: all at scottishathletics would like to say a big thank you once again to West Lothian Council for their continued support.
The race has been held for the past 17 years at Livingston venue with great backing from the local authority. It is appreciated.
And we want to thank, too, clubs who supplied marshals again last Sunday as follows:
Edinburgh AC 7; Hunters Bog Trotters 2; Central AC 1; Ronhill Cambuslang 1; jogscotland 2; Lothian Running Club 7; Livingston and District AC 1; Corstorphine AAC 1; West Lothian Council 6.
So, podium places there for EAC, Lothian RC,  est Lothian Council  . . .
PS: Motherwell AC vet athlete, Mark Gallacher, has bee making a comeback this season after a couple of decades out of the sport. He's blogged on his appearance at the Road Relays.
Tags: Annabel Simpson, Callum Matthews, Dale Colley, Euan Gillham Stephie Pennycook, Gavin McArdle, Mhairi Maclennan, Ryan thomson. Aidan Thompson, Scottish National Road Relays