Toughest conditions I've known – Morag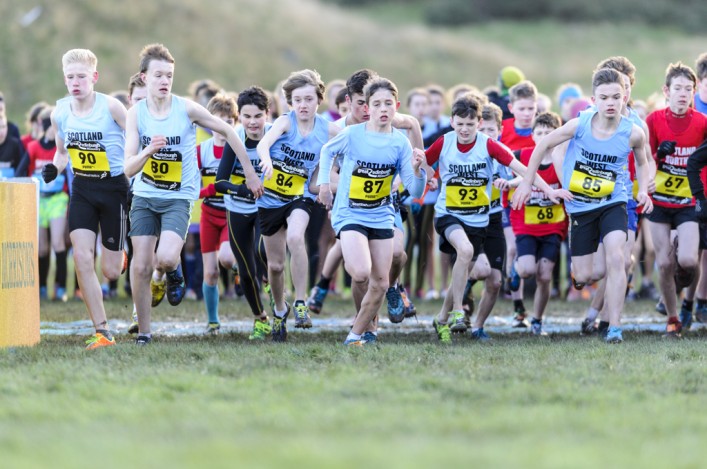 Off and running at Holyrood – photo by Bobby Gavin
 All the Inter-District Results from Edinburgh
Clubs: Enter names now for the National XC
Morag MacLarty carved out a gritty and impressive victory in the Scottish Inter-District championship in the worst cross country conditions she has ever known.
It was tough for everyone from athletes to marshals to spectators at the Great Edinburgh XC on Saturday – but there is little doubt the weather was it its brutal worst for the Senior Women.
A heavy hail and snow storm seemed to last only for the race itself with sunshine breaking out as the athletes made their way off the course.
MacLarty held off the North of England athlete, Ashley Gibson, to secure full points in the Scottish Cross Country Grand Prix. But she now fully expects Rhona Auckland to be hot favourite come the National XC at Falkirk.
East District champion Murray Strain took the Inter-District gold in the Senior Men's race, finishing second in between North of England  pair Daniel Cliffe and Carl Hardman.
Elsewhere, across the age-groups, there were individual Inter-District gold medals for: U17 Connor Maclean (North) and Gillian Black (West); U15 Erin Wallace (West) and Cameron Main (North); and U13 Hamish Armitt (West) and Emma Frew (West).
Maclean's success at U17 was a quite outstanding performance as he eclipsed four GB U20 athletes in the combined race and we will have more on this in due course (in a story at a later date).
Black and U17 silver medallist Laura Stark each claimed international 'scalps' too, with the gold medallist Gillian beating two each from the USA and Europe U20 selections while still 16.
'That was tough out there,' sighed MacLarty.
'It was probably the worst conditions I have ever raced in over a number of years. And then the sun came out right after the finish! Talk about irony.
'I was in that kind of weather in training a couple of weeks ago and you turn your back into the hail almost to try and keep going. That wasn't really an option in a race.
'Having the North of England athletes there was definitely a different element. It made it more competitive and I had a challenge. I welcomed that because I don't like running on my own.
'I am pleased to win and get more points in the Grand Prix but I am pretty sure Rhona Auckland will be the favourite for the National. She is flying at the moment and it is great to see someone so nice, with nice people as her coaches, doing so well.
'Ken and Joyce Hogg have shouted  me on during races like the 4k and the Relays and you appreciate that kind of support when you are out there running.'
Strain is looking forward to the National XC as a season's priority, too, but expects GB pair Callum Hawkins and Andrew Butchart to be very strong opposition at Callendar Park.
'Did I enjoy it? – sort of!,' said Strain.
'With the cold and the wind like that t is never all that enjoyable but it was a decent run. I am into orienteering so I am used to it being quite tough but I think everyone found the conditions a challenge on Saturday. The North of England have brought some more quality to the race and made it even more competitive.
'The National XC is the main target for the season for me. If Callum and Andrew are both there then it becomes hard for anyone else but certainly I am looking to do the best I can. I did not run the 4k but I won the East and was second here (gold and full points in Scottish Inter-Districts with the North of England as guests) so that helps for the Grand Prix points.'
Tewolde Mengisteab finished fourth for the silver Inter-District medal and Scott McDonald the bronze while, in the Women's, Diane Lauder was the second-best Scottish athlete in fifth place behind MacLarty to take the silver with Jennifer Wetton landing the bronze.
One feature of both races was a number of U20 athletes finishing in the top 20, with some representing Scottish students and others their geographical regions.
Among those with fine runs were the likes of Catriona Graves, Mhairi MacLennan, Rachael Dunn and Stephie Pennycook in the Senior Women's and Michael Ferguson, Ryan Thomson, Dale Colley and Aidan Thompson.
From Ayr to Aberdeen, people made the journey to Holyrood Park and all at scottishathletics would like to commend the continuing commitment to competition by so many in our sport. We know that those from the North District in particular had challenging travel conditions; and many from other parts of the country, too.
Trying circumstances on Saturday made it an 'endurance event' not just for the runners and thank to all those involved in coaching, team management, course help, race organisation, results and so on.
Tags: